To
The memory of my father, whose
historical heart and mind
were my inspiration and help.
STORIES OF MAINE
BY
SOPHlE SWETT
NEW YORK CINCINNATI CHICAGO
AMERlCAN BOOK COMPANY
COPYRIGHT, 1899, BY
SOPHIE SWETT.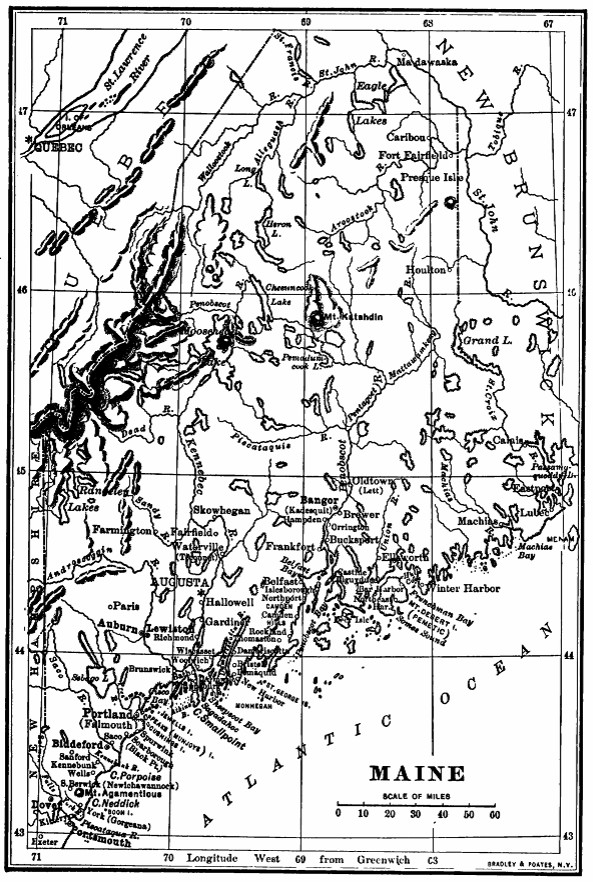 THE stories of the smallest, the least important, the most favored by fate of the United States of the New World, are well worth the telling. It may therefore be wondered that those of Maine — historically the beginning of New England, the scene of the bloodiest Indian wars, the place where different European nations contended most fiercely for supremacy, and whose records are so dramatic that they read like folklore and legend rather than veritable history — should have been so little told. Many of those that have been told are to be found in histories that are out of print and forgotten, and in the musty folios of the historical societies, where the young people, at least, seldom look. Some not yet, and perhaps never to be read, have been written by glaciers and fossil remains on rocky headlands and in obscure caves. In remote graveyards strange foreign names and inscriptions hint of others.
The writer has sought to select, from an overflowing store, those narratives which most vividly and dramatically illustrate the evolution of the great state from a savage-haunted wilderness to a community whose commerce, in ships of her own building, has extended over the whole civilized world, whose institutions of learning rank with the first, and whose statesmen, soldiers, orators, and authors form a list that few of the other states can rival.
That these stories do not assume to be a history of Maine is evident at the outset; but it is the author's hope that the valuable historical facts with which they are filled may be absorbed by eager readers — as the pill is swallowed, all unwittingly, in the jelly.
CONTENTS