A babe is in the Indian's hut,
A babe but lately born,
And yet the dwelling is not shut,

At noon, or night, or morn,
But heat and cold, and light and air,
The little stranger learns to bear.
And daily in the stream or flood
The tender child is bathed,
And daily to a piece of wood,
With bandage closely swathed;
That spreading joint, or crooked limb,
May not deform and trouble him.


And when the mother goes abroad,
And bears her infant young,
Still fastened to this piece of board,
Upon her back 'tis hung;
Through summer's heat and winter's snow,
For many a mile they travel so.


Sometimes in basket sleeping laid,
'Twas hung upon a tree,
The wind a lulling music made,
And rock'd it merrily;
Hard by, her work the mother plied,
And listened when it waked or cried.
She made no garment thick or thin,
Its person to array;
No cap was tied beneath its chin,

Bedeck'd with ribbons gay,
And not a single frill of lace,
Was round the Indian baby's face.
And yet it eat, and drank and slept,
And grew as fast and strong,
As if in splendid chamber kept,
By servants tended long,
Perhaps the little Indian, too,
As mindful of its parents grew.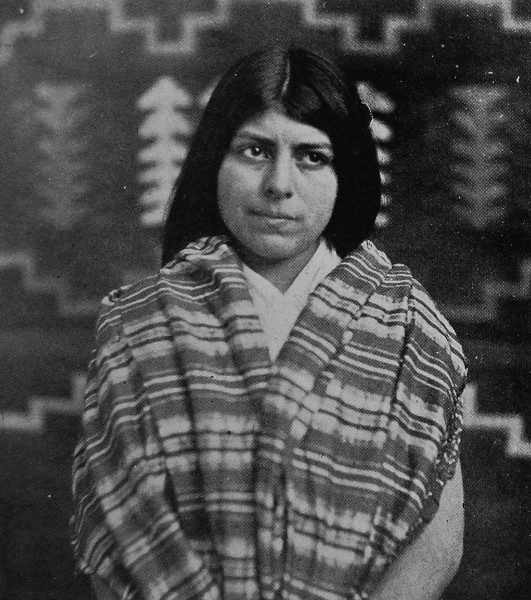 For as we read, of lash or thong
But little use was made,
And yet the aged, by the young,
Were reverenced and obeyed;
And in this day 'twere not amiss,
For all to heed and copy this.
To the forest fine, where the oak and pine
With spreading branches grew,
In days of old, came the Indian bold,
Who wanted a canoe.
When his practised eyes, a tree espies
Of proper size and strength,
With ready blow he lays it low,

And hews to proper length.
All this is done with axe of stone,
And arm of labor stout;
But 'twill now require the aid of fire,
The trunk to hollow out.
With careful hands the glowing brands
On the russet bark are laid,
And watched and turned, till the core is burn'd,
And the needful hollow made.


His boat thus made, from the forest's shade
The Indian bears with pride,
And with paddle good of oaken wood,
Impels it o'er the tide.


Unlike indeed, in form and speed,

Was the Indian's poor canoe,
To the pinnace gay, which now each bay
And harbor brings to view.
And every lad may well be glad

As he sails in vessel trim,
That this early day hath passed away,
And a better risen for him,
The Indian hunter rose at morn,
His food was scant, his venison gone,
And he must hunt perchance all day,
E'er he his hunger can allay.


His bow the hunter closely eyes,
Its string of twisted sinews tries;
Since steel or iron he had none,
His arrow heads were sharpened stone.


With these equipped, and round him tied
His garments of the dun deer's hide,
He from his wigwam's opening came,
With steps erect and sturdy frame.


True to his purpose, all the day
He ranged the forest for his prey,
Nor sought alone the antler'd deer
And tender fawn to make him cheer.


The hunter knew how sweet and fresh,
Was rabbit's and was squirrel's flesh;
Nor lightly was esteemed by him,
The woodchuck and the weasel's limb.


The sun was in the western sky,
His children with impatient eye,
Had long looked out, in hopes to greet
The hunter's home returning feet.


His form is seen, and shout and whoop
Come loudly from the merry troop,
For meat beside, he seldom fails
To bring them fox and squirrel's tails.


Now nearer come, his gladsome squaw
A fresh supply of venison saw;
For one fine deer, with smaller game,
The victims of the chase became.


Now placed within the wigwam's bounds,
The impatient group the food surrounds,
And the brisk wife prepares to dress,
In fashion rude her evening mess.


You who would learn the way they took,
With neither pot nor pan to cook,
May read the next-ensuing verses,
Which Indian cookery rehearses.
No little girl or boy hath guess'd
The process or the art,
By which the early Indians dress'd
And cut their meat apart;
Since neither knife, nor spoon, nor fork,
Had they to aid them in their work.

A piece of flint or sharpen'd shell,

The place of knife supplied,
And answered every purpose well,
To free it from the hide,
To clear the entrails, scrape the hair,
And make the carcass clean and fair.


Then in the earth a pit was made,
To hold the fish or game,
With stones at side and bottom laid,
An oven soon became:
No better did their wants require
And here they lighted up a fire.
From this when gained sufficient heat,
The glowing coals were dug.
And here deposited the meat,
With leaves encompass'd snug;
With heated stones 'twas covered up,
Till time to breakfast, dine, or sup.
But how without a pot to boil,

Must puzzle Indian wit;
A stone they sought, and mighty toil
A hollow made in it,
And water got its warmth alone
From heated pebbles in it thrown.
And other pebbles burning hot,

Kept up the boiling heat,
Within this strangely fashioned pot,
And here they cooked their meat;
Not over nice, for Indian eye
Beheld not dainty cookery.


And fish well broiled on embers red,
The Indians often saw,
And shell-fish from their rocky bed,
Were eaten roast and raw:
Yet poor the viands Indians prized
Would seem to people civlized.
The war council ended, some sachem of might,
Bade all his brave warriors be ready for fight;
Some neighboring tribe had his people annoyed,
Their wigwams had plundered, or corn had destroyed.
Then up rose each warrior, his tomahawk tried,
His bow and his arrows most carefully eyed,
And soon to the gathering came in a fierce throng,
To join in the war dance and sing the war song.


The song and the dance, how unlike was the tune
And the motion, to that of the hall and saloon;
They sung in wild screams how their foes they'd engage,
And the dance was but gestures of fury and rage.
And then with her paint an old woman came in,
To daub every warrior from forehead to chin,
They imagined their foemen would view them with dread,
When each was made hideous with black, white and red.
These colors the matron at random disposes,
On cheeks and on foreheads, on eyelids and noses,
Their hair long and lank in a close knot she gathers,
And sticks in the centre a bunch of gay feathers.


A small stock of corn which the women must parch,
Is all the provision they make for their march;
And with little farewell to wife, parent or daughter,
The war-party goes on its errand of slaughter.
I follow them not where the battle arose,
I tell not of scalped or of tomahawk'd foes:
The deeds of their arms are too sad for my story,
For war they call'd pleasure, and cruelty glory.
"I do not like this frock of mine,"
Said little Ellen to her mother;
"The girls at school are dress'd so fine,
I wish you would get me another.
"And will you get one very gay,
And a new bonnet trim'd with lace,
That I may look as smart as they,
Nor be ashamed to show my face!"
Her mother answered her,
"My dear Your clothes, I'm sure, are very good,
Nor would I wish you to appear
So fine and gaudy if you could.


"But if you'll love your studies, child,

I'll buy you many pretty books;
And be good-natur'd, kind and mild,
And all your friends will like your looks,"
We love the town in wintry weather,
Here houses are all close together,
When not a single leaf of green,
Is in the fields or gardens seen;
But when summer comes so warm,
What so pleasant as a Farm,
O how children love to play,
Where the men are raking hay;
Now with baskets see them go,
Where the grapes or berries grow.
In the orchard next you'll see
Them picking fruit from tree to tree,
What lovely apples, pears and plums,
Hang on the trees when autumn comes.
Little friends who yet have left
Grandmothers whom age endears;
Little friends who are bereft
Of this joy of early years,
Unto me your ears incline,
While I fondly tell of mine.


Memory yet delights to view,
Hours of infantine delight,
When her high-heeled velvet shoe,
With its silver buckle bright,
Gave her grandchild greater joy,
Than the most expensive toy.


Half my joy cannot be told,
When from pockets deep and wide,
Treasures new and treasures old,
Lay commingled side by side,
All my admiration won,
E'en her worsted pin cushion.


Other charms, as years went by,
In this lov'd one could I see;
Soon I noticed that her eye
Sent her fondest glance to me;
None like her had healing skill,
When her little girl was ill.


Then her cap of cambric fine
Cover'd locks as white as snow,
These my fingers oft would twine,
While her neck they compass'd slow,
Every golden bead to tell,
Though I knew their number well.


Others painted for my choice,
Good and evil deed and thought,
But my own grandmother's voice,
To my heart their lessons brought;
For that heart had confidence,
In her wisdom, love, and sense.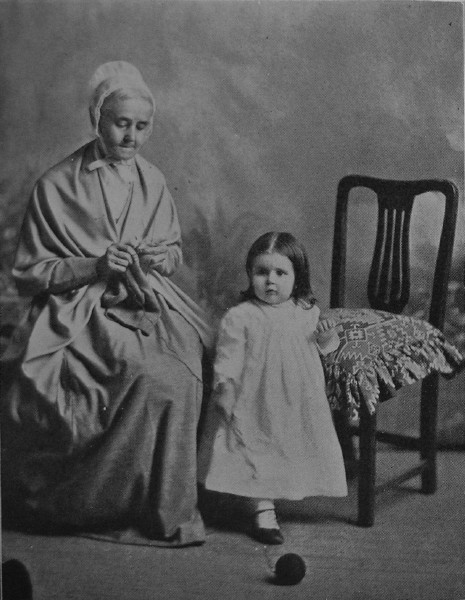 I have seen since I was young,
Many a year of care and strife;
But the precepts of her tongue,
And the lessons of her life,
Still have power my feet to stay,
From a tempting evil way.


Since the time that she was born,
More than eighty years had passed,
Like a shock of ripen'd corn,
To the grave she sunk at last,
And we humbly trust found rest,
With the spirits of the blest.
'Tis twilight when the glorious sun,
Has left his place on high,
When evening shades have just begun
To steal along the sky.


The swallow leaves the fields of air,
The busy bee the flower,
And busier man is glad to share,
The quiet of the hour.


Tho' small in size, the cricket tries,
His voice so shrill and strong,
And many a frog from pond and bog,
Sends forth its croaking song.


'Tis now the time when children dear
May rest their wearied limbs,

And as the time for bed draws near,
Repeat their evening hymns.


Too dark to read, if now should fail
Their little stock of verse,
May listen to some pleasant tale,

Which others can rehearse.


For one dear boy, who loved the power
Of twilight's quiet time,
A friend belov'd, in leisure hour
Composed this book of rhyme.


For at the close of every day,
Did Thomas seek this friend,
To ask for some amusing lay,
Which she had heard or penn'd.


If good and gentle was the boy,
Her arms she round him threw,
And from her memory drew with joy,
Her stories old and new.


But if departing from the right,
His deeds had been amiss,
No twilight tale had he that night,
Or pleasant parting kiss.


And here behold in fair array,

A part of this her work,
Printed and sold by Mahlon Day,
Who lives in famed New-York.


In Pearl-street stands his handsome store,
The number we affix,
In figures marked above the door,
Three hundred seventy-six.
By the door of his house a planter stood,
In fair Virginia's clime,
When the setting sun had tinged the wood
With its golden hue sublime.


The lands of this planter were broadly spread,
He lacked not gold or gear,
And his house had plenty of meat and bread
To make them goodly cheer.


An Indian came from the forest deep,
A hunter in weary plight,
Who in humble accents asked to sleep
'Neath the planter's roof that night.


To the Indian's need he took no heed,
But forbade his longer stay:
"Then give me," he said, "but a crust of bread,
"And I'll travel on my way."
In wrath the planter this denied,
Forgetting the golden rule;
"Then give me, for mercy's sake," he cried,
"A cup of water cool.


"All day I have travel'd o'er fen and bog,
"In chase of the bounding deer;"
"Away," cried the planter, "you Indian dog,
"For you shall have nothing here."
The Indian turned to his distant home,
Though hungry and travel sore,
And the planter enter'd his goodly dome,
Nor thought of the Indian more.


When the leaves were sere, to chase the deer,
This self same planter went,
And bewildered stood, in a dismal wood,
When the day was fully spent.


He had lost his way in the chase that clay,
And in vain to find it tried,
When a glimmering light fell on his sight,
From a wigwam close beside.


He thither ran, and a savage man
Received him as a guest;
He brought him cheer, the flesh of deer,
And gave him of the best.


Then kindly spread for the white man's bed,
His softest skins beside,
And at break of day, through the forest way,
Went forth to be his guide.


At the forest's verge, did the planter urge,
His service to have paid,
But the savage bold refused his gold,

And thus to the white man said:
"I came of late to the white man's gate,
"And weary and faint was I,
"Yet neither meat, nor water sweet,

"Did the Indian's wants supply.


"Again should he come to the white man's home,
"My service let him pay,
"Nor say again to the fainting man,
"You 'Indian dog, away!' "
"The Steam-boat has come, so let us be off,"
Said Robert to some idle boys,
"We will see all the passengers land on the wharf,
And hear all the clatter and noise."
Away they all ran, with Bob at their head,
Whom his parents thought safe in the school;
Oh! how 't would have griev'd them to know that instead,
He was idling and playing the fool.


So speedily over the Steam-boat he went,
He tri'd every passage and stair,
Through this room and that room his footsteps he bent,
For nobody knew he was there.


And when the machinery came in his view
Of this thing and that thing he feels
And thought not of danger, for little lie knew
The terrible power of the wheels.


But as he was turning from what he had seen,
To view something else that was near,
His foot was caught fast in the dreadful machine,
As it rolled in its rapid career.


He screamed till they heard him and stopp'd the great wheel,
Then up to the deck he was borne,
But sad to relate, from his toe to his heel
Was dreadfully mangled and torn.
The poor little fellow was put in the chair,

And conveyed to his own father's door;
A surgeon was sent for, who dress'd it with care,
But the blood ran in streams to the floor.


Long he lay on his bed, where he suffer'd so much,
That his folly he deeply deplores,
And through all his life must he walk with a crutch,
With which he just hobbles out doors.


Little boys, have a care, and keep close to your homes
Nor pleasures forbidden pursue,
Not only yourselves, but when punishment comes,
All who love you must suffer with you.


Little boys, have a care, 'tis our Father in Heaven,
Who has bless'd us with life and with limb,
And to carelessly trifle with what he hath given,
Is surely displeasing to him.
A little happy boy, one day,
Jump'd up into a chair to play,
Not thinking any harm;
When, O how sad! I grieve to tell,
Down came the chair, and William fell
And broke his little arm.


Poor little fellow, how he cried,
His mother grieved, and all beside
Who heard what had been done:
A tedious time he had to wait,
Until the doctor set it straight,
And put the splinters on.


His mother held him all the while,
And pleased was she to see him smile,
When all the pain was o'er,
When on his bed he sweetly slept,
'Twas then she sat her down and wept,
Till she could weep no more.


He suffer'd much before 'twas set,
But still he did not scream and fret,
As many would have done:
All lov'd him more than words can tell,
Because he did behave so well,
With such a broken bone.


His father, aunts, and cousins too,
All brought him sweetmeats not a few,
He was so good a child:
Then little children don't you see,
How happy 'tis for one to be
So gentle, and so mild.
From Maine to Georgia, children dear,
I wish you all a happy year!
The most industrious, it is true,
Will always be the happiest too—
If little fingers fast will fly,
There'll be no time to fret and sigh;
And if the head have full employ,
The heart will always dance with joy.
If good and active, children dear,
You're sure to have a happy year.
What poor little urchin is that in the street,

With sooty clothes tatter'd and torn?
An old cap on his head, but no shoes on his feet,
O surely he looks most forlorn!
O why don't his mother take off his old clothes,
And wash him and dress him up neat?
He scares all the children wherever he goes,
A screaming so loud in the street.


O don't be afraid of the poor little boy,
Because he is ragged and black;
I dare say his mother beholds him with joy,
And calls him her poor little Jack.
He's oblig'd to sweep chimneys to earn her some bread,
Because she is feeble and poor,
With the money he earns all the children are fed,
Then Jack's a good boy I am sure.


And he has no father, he died long ago,
When Jack was a very small boy:
O then do not wonder to see him look so,
And have not a better employ.


And boys should not call him a dunce and a fool,
Because the poor Sweep-O could not go to school.
Note,—Little colored boys in cities used to find employment sweeping out chimneys, They went about the streets with their brushes calling out "Sweep-O, Sweep-O," much the same as newsboys now call out their papers.
For those who have fathers and mothers to feel,
A grief in their follies, a joy in their weal,
But sometimes forget the obedience their due,
This story is written as sad as 'tis true.


A kind hearted Lady, a friend to the poor,
One bitter cold morning beheld at her door,
A poor little fellow, his jacket was thin,
And the rags called his trowsers scarce cover'd his skin.


She spoke to the child in a compassionate tone,
And found he subsisted by begging alone,
He early was forced for his living to strive,
For of years he yet wanted some months to be five.


Yet bright and intelligent Willy appear'd,
Surpassing far many more tenderly rear'd;
His father, a soldier, was gone from the state,
And three little children were left with his mate.


This mother of Willy's, the neighbors all thought,
Spent a good deal more money in gin than she ought,
While he and his sister asked victuals and wood,
The poor little baby made out as it could.


When marked by the blows which her anger in­spired,
Thus Willy excused her to all that inquired:
Mother said I was saucy, and missing the place
Where her hand meant to strike me, it fell on my face.


His kind benefactress did all that she could,
She fed him, she clothed him, advised him for good,
He must beg for his mother as long as 'tis cool,
But when the spring comes she will send him to school.


But you who have fathers and mothers to feel,
A grief in your follies, and joy in your weal,
Remember, I pray you, how much is their due,
Lest poor little Will should be better than you.