"RHODE ISLAND TALES! pray tell me why?"
Cries many a little tongue,
"For narrow is her boundary,
The other states among.
"Like Massachusetts or New York,
She has no city fair,
Nor is there any mighty work


Of art or science there."
Take then a map, my little friends,
And looking on the same,
Behold the verdant Island, whence
The state derives its name.
A lovlier island doth not lay
Beneath the moon and sun,
The Indians called it

Aquiday

,
And here dwelt many a one.
Till near two hundred years ago,
Came white men o'er the main,
And brought of toys, a goodly show.
The natives' land to gain.
Among the rest, a little band
This lovely island chose,
And of the sachem bought the land,


For cloths, and beads, and hoes.
A pleasant town they built with speed,
And wholesome laws did frame,
And 'stead of Aquiday, decreed
Rhode-Island

as its name.
And to this early race succeeds,
As year roll'd after year,
The boys and girls, whose names or deeds,
You find recorded here.
For all these children, weak or wise,
Whom good or ill befell,
With her who wrote their histories,
Doth on that island dwell.
And thus a reason fair and good,
Its title doth explain;
And if its aim be understood,


This book is not in vain.
YOUNG THOMAS rose one morning,
And from his chamber high,
Saw, with delight, the sun was bright,
And beautiful the sky.

For with his mother and his aunt.
This day full well he knew,
For him was plann'd a pleasant jaunt,
Across the water blue.

And soon from head to foot complete,
This little boy was drest,
But yet no breakfast could he eat,
So full of joy his breast.

Ere ten o'clock their trunks were pack'd,
And all were in array,
Nor yet a piece of cake they lack'd,
To eat upon the way.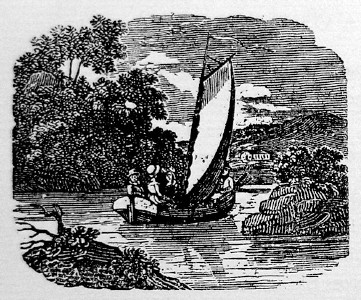 Oh had you seen the pretty boat
With mast, and sail, and oar,
In which the happy party float
The peaceful billows o'er.

By pebbly shore and island green,
Where thick the bushes grew,
Each little girl and boy I ween,
Had longed to be there too.

But soon arrived, they find with joy,
Their cousin kind had come,
With greeting fair to meet them there,
And take them to his home

With good brown horse and wagon bright,
In which was room enough,
For better far than chaises light,
Are these when roads are rough.

The good horse trotted with his load,
The whip he did not need,
And o'er the high and rugged road,
Our travellers bore with speed.

I cannot tell each charming sight,
That rose on Thomas' view,
Nor paint his wonder and delight,
For all to him was new.

Here swam a flock of gabbling geese,
In waters bright and still,
Nor did the sheep their gambols cease,
About the verdant hill.

The cattle from their grassy meal,
Rais'd up a heavy eye,
And many a pig sent forth its squeal,
As roll'd the wagon by.

And now the house appear'd in view,
That they should tarry in,
And forth the little house-dog flew,
And forth came all their kin.

And kindly welcome gave each guest,
And full refreshment brought,
Till evening came, and needful rest
Each weary traveller sought.
"Dear mother," next morning the little boy said.
"Pray tell me by whom this fine country was made;
At home, in our town, where the houses are thick,
I know how they make them of timber and brick;
I have oft seen the mason and carpenter too,
With trowel and hammer their labors pursue;
And the paver lay down the round stone with his hand,
Then fill all the spaces with gravel and sand.
But not half so fine do his labors appear,
A s doth the fair covering that's every where here.
This beautiful grass with its flowers so sweet—
Nor do I remember a house in the street
So high as that tree where the little bird sings,
Do tell me, dear mother, who made all these things?"
"Our Father in Heaven," did his mother reply,
"The Lord, thy Creator, who dwells in the sky,
Above the bright cloud which thou lov'st to behold,
At sunset all spotted with crimson and gold;
He made all these things, the wide earth and the seas,
The hills and the mountains, the rocks and the trees,
This carpet of grass with its blossoms so fair,
The beasts of the wood, and the fowls of the air,
All which thou beholdest in sunshine or shade,
Thy Father, thy own Heavenly Father bath made.
And life, health and strength bath he given to thee,
And hearing and eye-sight these beauties to see.
If thou art but good in thy grief and thy joy,
He will guard thee and make thee his own little boy;
Will lead thee in safety, through life, and will even
Take thee to dwell in His beautiful Heaven."
'Twas near the close of the day, yet bright
The sun shone o'er the hill,
And pour'd a flood of golden light
On every object still.

With hat in hand and reeking brows,
Did little Thomas come,
For he had been to bring the cows,
From distant pasture home.

Now seated on the gray stone wall,
Which all the yard surrounds,
His eye attentive noted all
That passed within its bounds.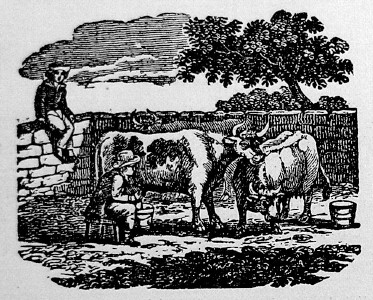 With snow-white pail, the dairy's pride,
Each milker seated low,
Rested his head against the side
Of every gentle Cow.

From Brown, and Pied, and Black, and Red,
The milk with ease was drawn,
But Brindle fiercely shook her head,
And raised her pointed horn.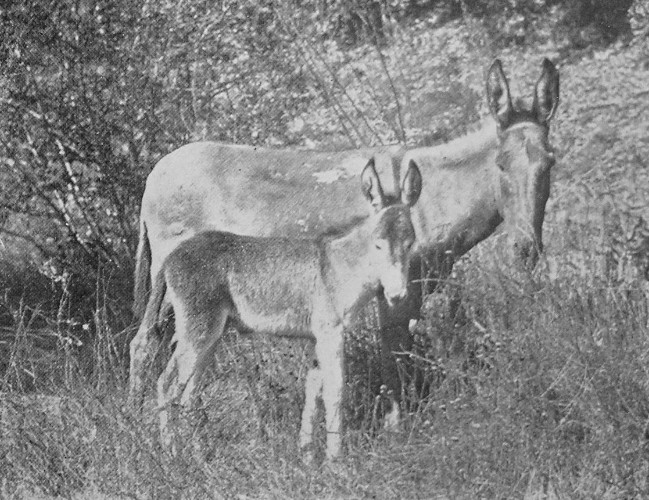 Away she ran, but boy and man
Soon overtook and tied her,
And sturdy Ben, to milk her then,
Sat closely down beside her.

"So! so!" they cried, "stand steady now!"
But all would not avail,
For with her foot the restless cow,
Soon overthrew the pail.

On dirt and sward the milk was pour'd,
By Brindle's luckless blow,
And in a pen, they put her then,
Till she should tamer grow.

The rest were turn'd (the milking done)
To feed in grassy field,
Till summon'd by the rising sun,
Their morning's milk to yield.
One morning Thomas stood beside
Where all the pigs were feeding,
And much was he amazed to see
Their utter want of breeding.

Their breakfast, whether thick or thin,
So greedily they swallow,
Not only mouth and nose went in,
But feet and legs must follow.

They fought and kick'd, and squeal'd and cri'd,
In long and loud contention,
As each fat porker push'd aside
Some pig of less dimension.

Full many a pail of whey they pour
Into a trough well hollow'd,
And each, when he could eat no more,
Into a puddle wallow'd.

Save one, who slily made his way
Where a large tub was filling,
And of sweet buttermilk and whey,
Long unperceived, kept swilling.

Till now quite full, he turned around
To join his muddy brothers,
But felt so ill that soon he found
He could not reach the others.

And as fie cried aloud with pain,
Upon the green grass lying,
The people came, and very plain
They saw the pig was dying.

For of the buttermilk and whey,
His skin was full to bursting,
And there his swelling carcass lay,
A figure most disgusting!

His breath grew shorter till he died,
And there a grave they made him,
A very pleasant pond beside,
Where quietly they laid him.

In Thomas' eyes came tear-drops big,
And quick his heart was beating;
Nor has he yet forgot the pig
That died from over-eating.
The Wrens, a busy little race,
When April days were warm,
To seek a summer's dwelling place,
Came flying round the farm,

And not a former tenant fail'd,
His last year's lodge to spy,
For many a little box was nail'd
About the buildings high.

Beside the chamber window, there
Hung one of curious frame,
To this a newly wedded pair,
To take possession came.

Here sticks, and straws, and moss they brought,
Their little nests to form,
And many an hour the couple wrought,
To make it snug and warm.

One from the house beheld them oft,
And strove the work to aid,
By locks of wool and cotton soft,
Upon the window laid.

With joy she saw them bear them hence,
And to their nest convey,
And still increasing confidence
They gather'd every day.

Their friend, kind hearted, often came
With many a goodly crumb,
And knocking on the window frame,
Would say, "Are Wrens at home?"

Forth at the sound the little birds
Would come, and fearless stand,
To take the bread and snow-white curds
From her protecting hand.

They laid their eggs, they hatch'd their young,
In peace and safety there,
And many a grateful song they sung,
On summer mornings fair.
The days of the visit went rapidly by,
And the time for returning to Newport was nigh,
Yet Thomas was almost astonish'd to learn
That a week had elapsed, and 'twas time to return.
He had been to the wood midst the forest trees fine,
He had seen the tall maple, the oak, and the pine,
The walnut, with fruit, yet unripe, well supplied,
And the chestnut, with burs like the porcupine's side.
Here birds for their nests and their young ones found room,
Here dwelt the grey squirrel, with tail like a plume,
In some old hollow tree was his house and his young,
And their little eyes glistened the branches among.
And Thomas had been where the bushes were seen
All loaded with berries, black, scarlet and green.
The black and the ripe he had gather'd, but still
Hung the rest for the sun-beams to ripen and fill.
And hundreds of sheep in the pasture at play,
With their beautiful lambs, he had seen every day;
And hens with their chickens, both half-grown and small,
The geese in the water, and calves in the stall.
And ere he departed, this little boy had
A kind invitation which made his heart glad,
Next summer to come, when the weather was warm,
And again spend a week with his friends at the farm.
The morning was fine and the weather was cool,
When Thomas return'd to his books and his school,
And often doth he to his play-mates unfold
Some part of the story that here hath been told.
At midnight from the silent street,
There came a mingled hum,
Of voices and of passing feet,
And loudly beaten drum.

A child was lost, nor could be found
In alley, street, or lane;
His friends and father sought around,
But sought him all in vain.

Though many a lantern lent its aid,
And torches beam'd on high,
In vain the mournful party stray'd,
Till morning lit the sky.

Then by the water's side they came,
And there, Oh! sad they say,
All cold and wet his lifeless frame
Upon the sea-weed lay.

That morning when he stray'd from home,
The little fellow plann'd,
Along the water's edge to roam.
Among the yellow sand.

And as he sported free from care,
The slippery rocks around,
The rising tide surpris'd him there,
And overwhelm'd and drown'd!

They bore him home, a mournful sight!
And speedily array'd
His little form in spotless white,
And in a coffin laid.

Next came his friends, a mournful band,
To form the funeral throng,
Where many children hand in hand,
Went mournfully along.

In grave-yard green may still be seen
A monumental stone,
And letters fair engraven there,
His name and age make known.
In eighteen hundred and eighteen,
In pleasant time of spring,
The pretty kitten first was seen,
Whose history I sing.
And first her pedigree to tell,
Was born, I understand,
Of parents as respectable,
As any in the land.
Tib, she was called, for why?—
It was her mother's name—
And lively was the kitten's eye,
And active was her frame.
The coat of fur that cover'd her,
Was goodly to the sight,
For spots of grey and yellow shone
Amid a milky white.
She quickly learned, both rat and mouse
To combat or surprise,
For these abounded in the house
Where, first she op'd her eyes.
For half a year she tarried here,
Then hasten'd to reside
Among a quiet family,
Whose cat had lately died.
Here play'd she many a youthful trick,
Which gain'd her great applause;
The rolling ball would follow quick,
And seize between her paws.
The floating feather she would chase,
And with a spring attain,
And not a fly could buzz in peace,
About the window pane.
But one mischievous trick of puss,
I mention to her shame:
To see the mistress of the house,
A gentle lady came.
Tib saw the bonnet of the guest
Most carefully laid down,
Then slily crept to take her rest
Within the satin crown.
She drew her head, and tail, and ears,
Into this quiet station,
And not a single hair appears
To common observation.
And when at length she took her hat,
The lady could but stare,
And laugh to see a sleeping cat,
So snugly settled there.
Six years roll'd smoothly like the first,
From every evil free,
And many a kitten had she nurs'd,
The prettiest that might be.
These to their mother did afford
Much joy and recreation,
And each when grown was placed abroad,
In proper situation.
A most unusual sound one night
Was heard, and Tib thereby
Was waken'd from her slumbers light,
It was a baby's cry.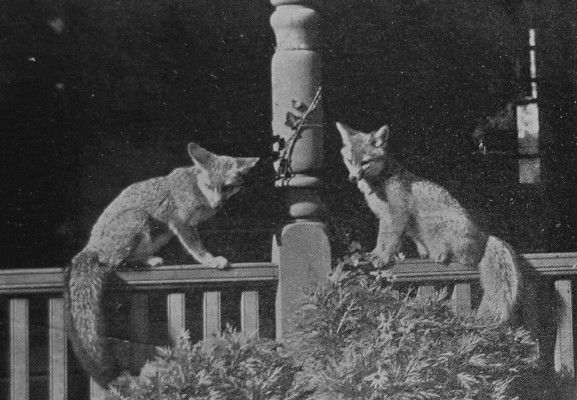 TAME FOXES
And no such sound had met her ears
Within that ancient dome,
In all the many quiet years
That this had been her home.
Straight up the stairway did she spring,
And there beheld the elf,
A little helpless whining thing,
No bigger than herself.
She lov'd him from his earliest day,
And oft would rub her head
Against his side in friendly way,
And sit beside his bed.
Tib now is old, while little Tom
Has grown a stately boy,
Who, since her feeble days have come,
Doth many an hour employ,
In playing with the gentle cat,
With bread and milk doth feed,
And gives her meat both lean and fat,
According to her need.
She yet may live for years to come,
Nor will a cruel heart,
E'er bid her from her ancient home,
And early friends depart.
And should a trick unkind be wrought
By any upon her,
It shall be told as quick as thought
By her biographer.
It now becomes me to relate,
The time of Tibby's death
In eighteen hundred twenty-eight,
She drew her latest breath.
Old age and slow disease conspired,
This faithful cat to slay,
And in the garden she expired,
About the last of May.
Her's was a happy life indeed,
So shelter'd and secure,
From all the persecutions freed.
That many cats endure,
Tho' duly fed with meat and bread,
At morn and evening too,
No man, or youth, or child in truth,
A better mouser knew.
The closet door oft stood ajar,
Each shelf with viands crown'd,
Yet not the worse, for honest puss,
Were ere the dishes found.
If even a cat such praise can gain,
For honest, faithful deed,
O how much more should those attain,
Who think, and speak, and read.
John to his mother softly cri'd,
"God made us all, I know,
And sometimes when our friends have died.
You said, 'God will'd it so.' "
"He forms us, puts us here on earth.
Then makes us sick and die,
Why is it so, this death and birth,
Dear mother, tell me why?"
The earth is all the Lord's my dear,
And every girl and boy,
He kindly made, and plac'd them here,
Its beauties to enjoy.
He gives them fathers, mothers kind,
And guards them night and day,
And bids them all his precepts mind,
While here on earth they stay.
If good to evil they prefer,
And daily seek his grace,
Death comes but as the messenger,
To lead them to His face.
There lovelier than the rainbow bright,
Their dwelling place will be,
With angels and with saints in light,
A glorious company.
To serve the Lord, from youth to age,
Thy being hath been given,
And may thy earthly pilgrimage
Prepare thy mind for Heaven.
"This box little Lydia can put in its place,"
Said her uncle so feeble and lame,
So he gave her his razor shut up in its case,
And bade her take care of the same.
But Lydia had seen one so polish'd and bright
In the hand of her uncle display'd,
And when she was once fairly out of his sight,
She open'd the case, and beheld with delight,
The beautiful handle and blade.
She met her young sister, "Dear Abby," she said,
"This beautiful thing only see;
Sit down here directly and hold up your head,
And I'll shave you as nice as can be."
Now Abby was wash'd, and a plaster they bring,
For the wound on the face most befitting,
And Lydia was told what a terrible thing,
She had been on the point of committing.
Both resolv'd for the future such playthings to shun,
And well they remember'd the warning,
For I've heard of no mischief that either has done,
Since that most unfortunate morning.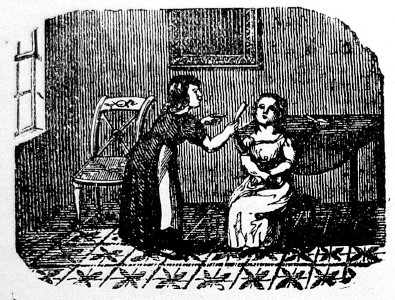 Little Abby consented, and straight they begin
Their dangerous play with delight,
But oh! the first stroke brought the blood from her chin,
And they both screamed aloud with affright.
At the sound of their voices their mother appear'd,
And well might such figures amaze her,
For one little girl was with blood all besmear'd,
And the other was holding a razor.
My shining needle much I prize,
Thy taper form and slender size,
And well I love thee now,
Though when I first began to sew.
Before thy proper use I knew,
And often prick'd my fingers through,
A trial sore wert thou.

But soon thy motions to control
In collar, wristband, button hole,
My ready hand attains,
And then a pretty case suppli'd,
With "Hemming's Royal silver eyed,"
All placed in papers side by side,
Was giv'n me for my pains.

My needle, when with thee employ'd,
How many an hour have I enjoy'd,
That else had heavy hung;
For while my fingers guided thee,
My thoughts have travell'd pleasantly
O'er hill and dale, o'er land and sea,
And distant friends among.

Alone with thee, I often times
Fill up the hour in singing rhymes,
And making sounds agree;
Convenience, comfort, neatness, too,
My polish'd needle are thy due,
And dearly will each damsel rue
Her negligence of thee.

And not alone in labors light,
I'll speed thee on, my needle bright,
The helpless oft shall find,
A little girl can help to form
Full many a garment stout and warm,
To shield from winter's wind and storm
The aged and the blind.
I knew a lass, but quite too long
Was her whole name to weave in song,
And lest a change she should condemn,
We'll only call her Sarah M.
—

Now from her youth, this damsel's mind
Was most industriously inclin'd,
No little girl could stitch or hem,
Or sew a seam like Sarah M.
—

Her father had not wealth to spare,
For other children claimed his care,
And little Sarah early learn'd,
That her own living must he earn'd.

Yet no complaining Sally made,
That she must work while others play'd,
But set about with right good will,
The task her fingers should fulfill.

Though aching head and weary sight,
Were sometimes hers, her heart was light,
For equal was her well-earn'd store,
For food, and clothes, and something more.

And while she diligently drew,
Her ready needle through and through,
She gain'd far more than worldly pelf,
She learn'd to commune with herself.

And this communion deep and still,
Soon led her heart to know its ill,
And ask her Maker to impart,
For Jesus' sake, a better heart.

Now had she spent in early days,
Her time in idleness and plays,
At work repining, sought her joys
With careless girls and idle boys

Her after years had never known,
The independence now her own,
Perhaps the frolic hours had even
Dispell'd the thoughts which turned to heaven,

But care and industry are found,
With heaven, and earth's best blessing crown'd.
And those who truly value them,
Should early do like Sarah M.—
The roving eye might vainly seek
A fairer to behold,
Than little Edward's rosy cheek,
When he was eight years old.
And those who love a merry glance,
No brighter eye had seen,
Nor lighter limb to skip a dance
In meadow or in green.
But Edward's charms of better kind,
With more delight I praise,
For sweet and gentle was his mind,
And pleasant all his ways.
No angry passions fierce and wild,
No evil thought or plan,
Had place in this beloved child.

Throughout his little span.
In health and strength he grew, till came
His ninth revolving year,
Then sickness seized his little frame
And suffering most severe.
For many a month upon his bed

His feverish limbs were laid,
Nor could he raise his aching head
Without his mother's aid.
Yet patient lay the little boy,

And no repining word,
Or fretful wish for others' joy,
From Edward's lips was heard.
Though gentle summer came, and strew'd
Fresh beauties o'er the earth,
He went not to the field or wood
To share his play-mates' mirth.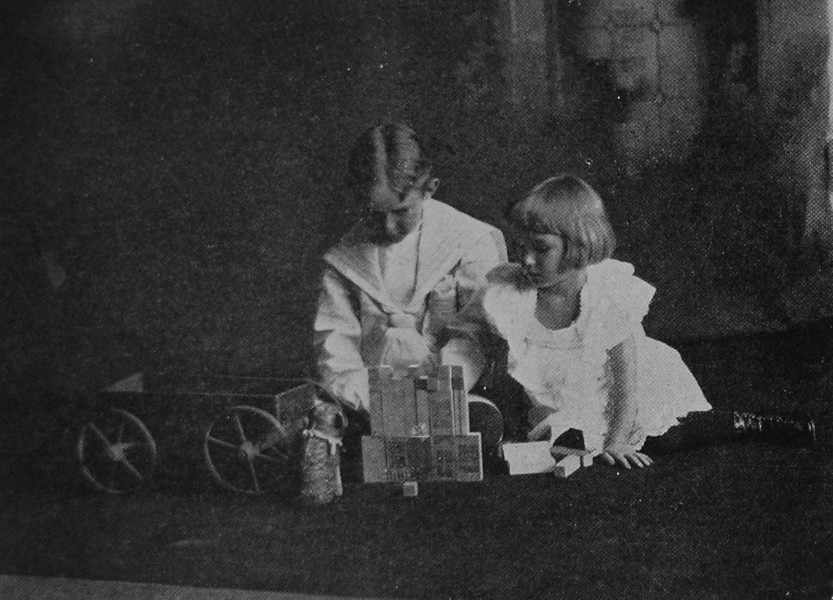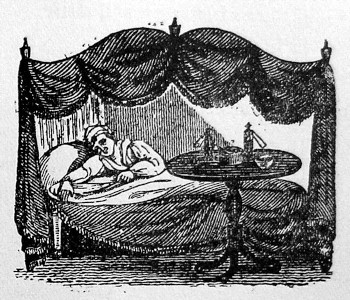 Though winter, from the frozen north,
Brought ice and snow along,
Yet little Edward went not forth
To join the merry throng,
The rose departed from his cheek,
The brightness from his eye;
And soon his spirit fled to seek
Its Father in the sky;
Who in his love, from pain and strife,
Such little ones will take,
And give them endless light and life
For our Redeemer's sake.
His happy spirit went to heaven,
To join in praising God,
His body to the earth was given,

And rests beneath the sod,
Long will his many friends approve
His manners sweet and mild,
And tell his innocence and love
To many a listening child,
His mother's heart the sad, the sweet
Remembrance doth employ,
And full her trust in heaven to meet
Her blessed little boy.
One afternoon, the drenching rain
Came pattering on the window pane,
And little Thomas had not power
To reach the school-house through the shower.
His seat was to the fire-side drawn,
He brought a basket filled with corn,
And there commenced the mighty job,
To part the kernel from the cob.
Success attended Thomas' pains,
Down rattled fast the falling grains,
And in an hour or two he'd shell'd
Each well dried ear his basket held.


Now carefully in shovel spread,
He parch'd them o'er the embers red,
And shaken off with motion true,
Away the bouncing white caps flew.
He gathered these with shouts of mirth
From every corner of the hearth,
And in his basket clean and tight,
Deposited both brown and white.
His aunt, with busy fingers sewing,
Oft turned to see what Tom was doing;
And when completed, smiling said,
'On corn like this the Indians fed.'
The Indians—that delightful word,
With pleasure Thomas always heard,
And straight began he to implore,
For stories often heard before.
He took his basket, made his seat
Upon the cushion at her feet,
And while his eyes with pleasure glisten,
Began at once to eat and listen.
The Indians who my tale describes
Have long since passed away,
But feeble remnants of the tribes,
Survive the present day.
Yet once in free and fearless guise
They roved this land within,
With straight black hair, and coal black eyes,
And copper-colored skin.
They dwelt in wigwams strange and rude,
To polished lands unknown;
For skins, or straw, on poles of wood,
Were fashioned like a cone.
No pleasant window gave it light,
No chimney rose to view,
But a small hole at topmost height,
The smoke came pouring through.
A log of wood, or well dried skin,
Supplied the place of door;
No chair or table was within,
And all without a floor.
No whitewashed wall the wigwam graced,
No mason lent his aid;
But stones were in the middle placed,
Whereon the fire was laid.
Round this the Indians squatted close,
When winter storms were wild,
Squaws

were their women, and

papoose
They called each little child.
Around the blazing wigwam fire
They fags and oziers brought,
And mats and baskets, son and sire
With skillful fingers wrought.
The females lent their willing aid,
For mats were all their bed,
Their limbs beside the fire were laid,
With skins of beasts o'erspread.
Instead of glass or pictures hung,
The wigwam to adorn,
Dried fish about the walls were strung,
And ears of Indian corn.
A bow and arrows fashioned neat,
His venison to procure,
With fishing tackle, made complete
An Indian's furniture.
Pray would you ken, how Indian men
Contrived to manage trading,
When not a cent was ever spent,
And not a dollar paid in.
Of notes or change, this people strange
Had not the smallest notion,
But bought and sold, instead of gold,

With shells from out the ocean.


But not each kind which they might find,
Increased their stock of riches;
They wrought with art a little part
Of one peculiar species.
This shell they sought, this part they wrought
In beads fair, round and shining,
Which wampum named, were priz'd and fam'd
Through all the lands adjoining.


Some beads were made of pearly shade,
For chieftain's decoration;
Some black as jet, were valued yet
In higher estimation.


The Sachem felt from wampum belt,

All honor, pride and pleasure,
That e'er did knight from baldric bright,
Or merchant from his treasure.


When chiefs desire the council fire,
For purpose high convening,
The wampum strings each warrior brings,
Have here peculiar meaning.


These varied cords, like written words,
Record the chiefs' proceedings,
Like parchment roll, or printed scroll,
Laid up for after reading.


You well may call these Indians all,
A people strange and funny,
Since beads they took for record book,
And ornaments and money.
When cold in death the Indian lay,
From sharp disease or slow decay,
The attending friends around him crowd,
And raise their lamentations loud.


No winding sheet of spotless hue,
Around his stiffen'd limbs they drew,
Nor e'en do they with mournful care,
A coffin for his form prepare.
Arrayed in all his choicest things,
His furs, his plume, his wampum strings,
On skin of deer, or household mat,
They place him as in life he sat.


And thus address the senseless clay:
"My brother, wilt thou go away?"
Why leave our fields and forests fair,
"To wander in the trackless air?
"Thy hands were strong and keen thine eyes,
"Thy foot was fleet, thy words were wise;
"In peace or war, in grief or mirth,
"We'll mourn thy absence from the earth.
"Thy bow we place beside thy hand,
"To aid thee in the spirits' land,
"And fur, and plume, and wampum bead,
"On thy long journey wilt thou need."
Thus they the silent corpse address,
In words of woe and tenderness,
Then raise a wild and mournful yell,
To hid the dead a last farewell.


The corpse then wrapped in mat and skin,
They place a shallow grave within,
And earth and stones o'er this they raise,
To mark the spot in after days.
Who views with scorn our Indian corn,
When filled with milky juice;
Who has not known, when fully grown,
Its excellence and use.


This chief of vegetable food,
The Indian's wants supplied,
And dressed in many a fashion rude,
Was eaten green and dried.


The women first prepared the soil,
In which the corn must grow,
And heavy must have been the toil,
With clam-shell for a hoe.


The chiefs and warriors held in scorn
The labors on the land,
And hunters thought that raising corn
Was fit for woman's hand.


'Twas theirs to till, to tend each hill,
To gather its produce,
And then prepare their dishes rare,
For

sannup

* and

papoose

.§
Full many a name uncouth and harsh
These preparations own,
When boil'd with beans 'twas

succatash

,
Nausamp

, when boil'd alone.
Nokekick

, or

nocake

, dried and parched
And into powder beat;
Full many a mile the Indians marched,
With only this to eat.
When came our pilgrim fathers forth,
This grain they ne'er had seen,
But from the Indians learned its worth,
And uses, dried and green.
Now not a child of six years old,

In fair New England horn,
Has need, by word or sign, be told,
The use of Indian corn.
* Husband

§ Child