No rains had descended, the fountains were dry,
The streamlets no water afford;
No clouds thick and heavy bespoke a supply,
When a voice to Elijah descends from on high,
And spoke the commands of the Lord.
Arise, O Elijah! to Zion repair,
Awhile in Zarephath remain;
A poor widow woman will welcome thee there,
To thee of her little a portion will spare,
And with food and with water sustain.


The Prophet arose at the heav'nly desire,
His steps to Zarephath he bound,
When lo! the poor widow in humble attire,
And busied with gathering sticks for her fire,
At the gates of the city he found.


He said, "I have travell'd a wearisome way,
"From Cherith to-day I have hied;
"I have passed by no fountain my thirst to allay,
"Then fetch me a draught of cold water I pray,
"Lest I perish with thirst at thy side."
She turned, when again to the woman he spoke,
"A stranger am I in the land,
"And since in compassion my thirst thou wilt slake,
"Remember I also am hunger'd, and take
"A morsel of bread in thy hand."
She answered, "as liveth thy Maker and Lord,
"No bread for thy hunger have I;
"Of oil but a little my cruise can afford,
"But an handful of meal in my barrel is stor'd,
"And from none can I ask a supply.


"For fuel to dress this small portion to day,
"To the gates of the city I hie,
"And now with these sticks I return on my way,
"That my son and myself may our hunger allay,
"Then calmly resign us to die."
Then answer'd Elijah, "as thou hast begun,
"Go on till thy home shall appear;
"Make cakes of thy meal, and first bake for me one,
"Then after another for thee and thy son,
"And your hunger allay without fear.
"For thus saith thy Maker, the meal shall not waste,
"And the oil in the cruise shall not fail,
"But thou and thy household his bounty shall taste,
"Till the day when his wrath and his anger is past,
"And showers of plenty prevail."
No need had Elijah the words to repeat,

To the house of the widow he went;
Many days he sojourned in the quiet retreat,
And she, and her son, and the prophet did eat,
And the oil and the meal were not spent.


Yet more would you hear how this widow was bless'd,
How her son from the dead was restor'd,
Go turn to the book where the tale is express'd,
Of Elijah, belov'd of the Lord.
What little smiling boys are those,
Which hand in hand we see,
They are two brothers, I suppose;
How pleas'd they seem to be!


No, but those little happy boys,
Are cousins to each other,
Though none could love more than they,
A sister or a brother.


And Robert and his Cousin play,
So prettily together;
Their friends delight to take them out,
To walk in pleasant weather.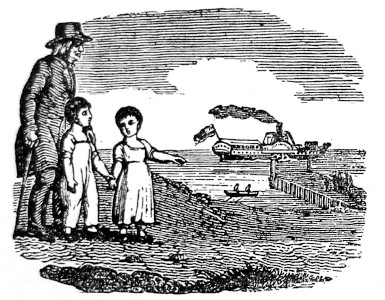 And when the steam-boat's coming in,
'Tis grand-papa's delight,
To take the children to the shore,
To see the pretty sight.
Is this new life so sweet to thee, my little baby boy,
That thus thy minutes seem to be a constant course of joy?
I gaze upon thy laughing face, I hear thy joyous tone,
Till the glad feeling of thy heart, oft passes to my own.


No titled infant for whose brow, a coronet shines fair,
Is blest with better health than thou, or nursed with tenderer care;
And be it prince or peasant's child, the station high or low,
These blessings are the only ones its earliest days can know.


I would not damp thy present joy with tales of future care,
Nor paint the ills of life, dear boy, which thou must feel and bear:
The early dew, is fair to view, although it vanish soon,
And lovely is the morning flower, that withers when 'tis noon.


Thy heavenly Father, by whose will a living soul is thine,
By his good spirit visits still, this heritage divine,
And children who in innocence the path of life have trod,
Hear often in their tender minds, the in-dwelling of God.


As reason dawns, as mind expands, in childhood's opening day,
Thou oft will hear his high commands, to shun the evil way:
And every evil thought resign'd to this divine control
Will bring a sweetness to thy mind, a blessing to thy soul.


Dear as thy welfare is to me, I cannot frame a thought,
I cannot breathe a wish for thee, with happiness more fraught,
Than that this heavenly Friend may prove the ruler of thy way,
And thy young heart incline to love, to hearken, and obey.
How dearly I love, how. indulgent you are!
Little William one morning said to his mamma;
If I had but money, whatever you need,
Were it hundreds or thousands, I'd give you with speed.


I would get you a house all surrounded with green
And a garden, the prettiest that ever was seen;
I would buy you a beautiful carriage besides,
And two prancing horses to take you to ride.

His mother said kindly, your love must be shown
By obedience at present, I'd much rather own
A dear little fellow who minds my commands,
Than carriage, or horses, or houses, or lands.

William wondered, but merrily went to his play,
And nothing occurr'd to the close of the day,
Shut the door little boy, said his mother at night,
Yet off went the youngster, unheeding her quite.


Come pick up my needle and thread case my son;
Directly, mamma, when this wagon is done,
When that was completed he moved not a jot,
His mother's desires were entirely forgot.


When absent a moment, she left a command,
That William by all means should keep from the stand,
She feared with the candles her work might he burned,
Or by his quick motions the whole overturned.


His wagon was loaded, himself was the horse,
For a while he remember'd the stand in his course
But forgetting at length in his rapid career,
His mother's injunction, approached it too near.


He stumbled and fell, but alas! in his fall,
He overturned work-table, candles and all.


When back came his mother, her muslin was spoil'd,
The candles were broken, the carpet was soiled.

She looked much astonish'd, yet nothing she said,
But took weeping William directly to bed.


By the side of his pillow some moments she staid,
And finding him penitent, did not upbraid.

But patiently showed him how contrary quite,
His professions at morning and practice at night.
And after, when feeling his parents were dear,
He strove by obedience to make it appear:
And always the maxim most carefully heeds,
Professions are nothing till proved by our deeds.
In Summer when the sun shines warm,
And we forget the winter's storm,
How pleasant 'tis to walk without,
While flowers are blooming all about,
The wind is mild, the air is sweet,
The grass is green beneath our feet.
In Winter when snow blows about,
We do not love to wander out;
But choose within the house to stay,
Where we can work, or read, or play,
While sitting by the fire-side warm,
We listen to the howling storm.
Then children shelter'd from the street,
With clothing warm, and food to eat,
Should never cry, be cross, or fret,
And tease for what they cannot get.
One morning over hill and plain,
The sunbeams brightly fell,
And loudly from the steepled fane,
Rung out the Sabbath bell.

And they who loved the day of rest,
Went forth with one accord;
Each in the way he deem'd the best,
To wait upon the Lord.

But not with these in lane or street,
Was Henry seen that day;
He had not learn'd to turn his feet
To wisdom's pleasant way.

And he with boys of evil make,
Had plann'd the woods to rove,
And every tree for nuts to shake,
Throughout the walnut grove.

With basket o'er his shoulders thrown,
With garments soiled and torn,
Young Henry saunter'd from the town,
This pleasant Sabbath morn.

His widow'd mother, ill and poor,
Had taught him better things;
And thus to see him leave the door,
Her heart with sorrow wrings.

She strove the holy book to heed,
Which spread before her lay:
But often while she tried to read,
Her thoughts were far away.

The sun his parting radiance shed,

Each hour increased her care,
When stranger's steps with heavy tread,
Came up her narrow stair.

And in their arms her son they bore,
Insensible and pale,
While many a stain of crimson gore,
Revealed the hapless tale.

The day he'd spent amid the wood,
In merriment and glee,
And near its close triumphant stood,
Upon a lofty tree.

The bough, the very topmost bough,
Beneath his weight gave way,
And senseless on the rocks below,
The unhappy Henry lay.

With mangled flesh and lab'ring breath,
And sadly fractured limb,
For many a week he lay, till death
A mercy seemed to him.

Yet ere its bonds the spirit burst,

Deep penitence was given,
And thus for Jesus' sake, we trust,

Acceptance found in heaven.
A damsel, (it must be confessed
'Twas many years ago,)
Had used be very plainly dressed,
Nor ribbon, lace, or bow,
Ere'd been thought needful to adorn
Young Hannah's cap of snowy lawn.


Of those the world bath Quakers named
The damsel's parents were,
And Hannah never was ashamed
Of her profession fair;
Yet sometimes in her bosom rose,
A passing wish for finer clothes.


A ribbon worn by neighboring miss,
Had caught her youthful eye,
And much she longed for one like this,
About her cap to tie;
And felt at length resolved to be,
At the next visit, fine as she.
'Twas bought, an invitation too,
Received without delay,
And Hannah to her purpose true,
Put on her best array;
And round her cap, with ready hand,
Arranged the glossy silken band.


She took her seat among the rest,
But soon the conscious maid,
Thought a strange smile, but ill suppress'd,
On every visage play'd;
And hand to head she oft applied,
To feel if all were safely tied.


Unto the distant mirror then,
Full many a glance was thrown,
Till came the thought, how strange and vain
My friends will think me grown,
And with this thought a crimson glow
Came mantling o'er her cheek and brow.


Hannah was famed above the rest
In hours of social glee,
For pleasant tale, and harmless jest,
And lively repartee;
But now unwonted decoration,
Took all her thoughts from conversation.

And one remark'd her absent look,
And eye that wandered still,
Another kinder interest took,
And asked if she were ill,
Till vexed by all she sees and hears,
The maid could scarce refrain from tears.


At home, with readier hand she drew
The ribbon from her head,
Each wish for novel fashion, too,

Had from her bosom fled;
Nor from that day was Hannah deck'd
With aught unfitting for her sect.
When age had made her visage pale,
And furrowed deep her brow,
Her children's children heard the tale
Far better told than now,
And each young heart this moral traced,
Nothing is beautiful, misplaced.
When Mary Ann was ten years old,
So hardy she had grown,
That though the nights were long and cold,
The damsel slept alone.


Save when her grandmother was there,
Who dwelt some miles away,
And when the roads were rough, to share
Her grand-child's bed would stay.


Her failing strength, both shaking head
And trembling hand betrayed,
And grandma often went to bed
Before the little maid.


For Mary Ann till eight would sit,
Beside the candle's beam,
And many a winter's stocking knit,

And sewed full many a seam.


The dame one night had gone to bed,
And eight o'clock had pass'd,
When Mary Ann wound up her thread,
And stuck her needle fast.


She went up stairs with footsteps fleet,
And placed the candle nigh,
And grandma from her slumbers sweet,
Was not awaked thereby.


Her night cap on her brow she brings,
Puts off her creaking shoes,
But knotted were her apron strings,
Beyond her power to loose.


As she to break them oft essayed,

(No scissors were in view,)
The foolish thought came o'er the maid,

That she could burn them through.


So to the candle's blaze she brings

The knotted tape with speed,
Then seized the parted burning strings,
To put them out with heed.


Then laid her down, and deep repose
O'ercame her senses quite;
Such sleep as guileless childhood knows,
Was Mary Ann's that night.
But ere the warning clock had spoke,
With twelve repeated sounds,
Grandmother woke, and stifling smoke
And smell of fire surrounds.


She waked the child, she sought the stair,
She called each inmates name;
The opened door let in the air,
And fiercely rose the flame.


Up came the frighted household band,
And pails of water threw,
But scarce, though laboured every hand,
Could they the fire subdue.


This done at length, the chamber shew'd
A mass of mud and cinder,
For many a garment stout and good,

Was that night burnt to tinder.


Poor Mary's apron, frock and all,
Had helped the fire to feed,
And woefully did she recall
Her own incautious deed.


And had she slept that night alone,
Her usual situation,
The pangs of death she sure had known,
By fire or suffocation


The lesson Mary ne'er forgot,
While she on earth existed,
And never after burned a knot,
Howe'er it might be twisted.
Grandmother lived to go abroad,

And make this full relation,
And telling, humbly thanked the Lord
For Mary's preservation.
Who is this that we so often do see,
With so many children surrounded,
And when she can make for them candy and cake,
Her pleasure is almost unbounded.
O Robert can tell, for she loves him so well,
And sends for him many a day;
'Tis Nancy, whose joy is to have this dear boy,
Come in her clean kitchen to play.


Though dark is her face, of the African race,
She is a most kind hearted creature,
For 'tis well understood, that all can be good,
Though diff'rent in color and feature.
It was one pleasant summer morn,
Soon after day began to dawn,
Before the brilliant sun arose,
Or children woke from sweet repose;
When near the shore, upon a green
Were many people to be seen,
Why do they thus assemble round?
Alas! a little boy is drown'd,
It was a little Irish boy,
His parent's only pride and joy;
And they had sought for him all night,
Nor found him until morning light;
When his poor mother was the one
To find her little lifeless son,
She saw him in a watery bed,
With no soft pillow for his head,
And O, she scream'd with sorrow wild,
When thus she found her darling child,
When craz'd with grief the father ran,
All piti'd the poor frantic man;
'Twas then the wife subdued her grief,
And strove to give him some relief.
The father's arms his child enfold,
Tho' it was wet, and stiff, and cold;
When on the grass his son he laid,
The mother knelt beside and pray'd,
But ah, her prayers were all in vain
To call his spirit back again:
Perhaps she pray'd for strength to be
Resign'd to His all-wise decree,
Who took the treasure He had given,
That they might look for it in heaven—
And hope to meet his spirit there
When they should quit this world of care.
Who morn and eve is sure to come,
And drive the cows from pasture home,
When milk'd, he drives them down again,
Through scorching heat, or wind, or rain;
And ne'er neglects his sole employ,—
Alas! 'tis a poor Idiot Boy.


He seems more happy than a king,
As tho' in want of no one thing;
And as he passes thro' the streets,
He smiles at every one he meets:
No sorrow e'er disturbs the joy
Of this poor harmless Idiot Boy.

Unconscious of his humble lot,
The wisest head he envies not;
And children who with sense are blest,
Should never dare this boy molest,
Or ever any way annoy
This inoffensive Idiot Boy.
"Dear Aunt," one evening Thomas said,
"Of all the stories you have read,

I pray you tell me one;
But not of people old or sick,
Or naughty boys, but tell me quick
Some dog, or cat, or monkey's trick,
That made a deal of fun!"

Now to this Aunt, full many a rhyme
And story of the olden time,
Had oft been said or sung;
She paus'd a while, the fire she stirr'd,
And then repeated word for word,
This tale, which she in prose had heard,
When she was very young.
Once, in the hope of honest gain,

From Afric's golden store,
A brisk young sailor cross'd the main
And landed on her shore.


And leaving soon the sultry strand,
Where his fair vessel lay,
He travell'd o'er the neighboring land,
To trade in peaceful way.


Full many a toy had he to sell,

And caps of scarlet dye,
All such things as he knew full well,

Would please the native's eye.


But as he travell'd through the woods,
He long'd to take a nap,
And opening there his pack of goods,
Took out a scarlet cap.


And drew it on his head, thereby
To shield him from the sun,
Then soundly slept, nor thought an eye
Had seen what he had done.


But many a monkey dwelling there,
Though hidden from his view,
Had closely watched the whole affair,
And long'd to do so too.


And while he slept did each one seize
A cap to deck his brows,
Then climbing up the highest trees,

Sat chattering on the boughs.


The sailor wak'd, his caps were gone,
And loud and long he grieves,
Till looking up with heart forlorn,
He spied at once the thieves.


With cap of red upon each head,
Full fifty faces grim,
The sailor sees amid the trees,

With eyes all fix'd on him.
He brandish'd quick a mighty stick,
But could not reach their bower,
Nor yet could stone, for every one
Was far beyond his power.


Alas! he thought, I've safely brought
My caps far over seas,
But could not guess it was to dress

Such little rogues as these.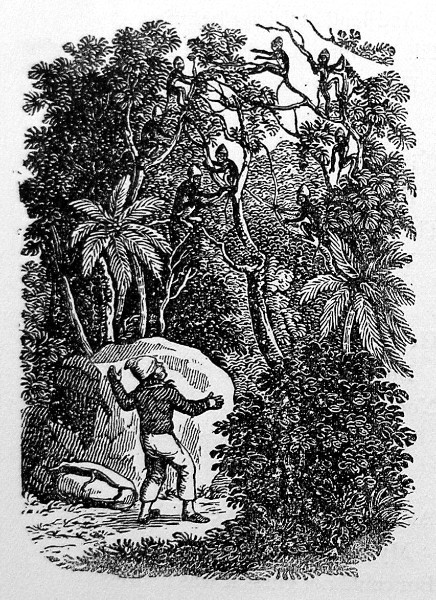 Then quickly down he threw his own,
And loud in anger cri'd,
Take this one too, you thievish crew,
Since you have all beside.


But quick as thought the caps were caught
From every monkey's crown,
And like himself, each little elf
Threw his directly down


He then with ease did gather these,
And in his pack did bind,
Then through the woods convey'd his goods,
And sold them to his mind.
Among Rhode Island's early sons,
Was one whose orchards fair,
By plenteous and well-flavoured fruit,
Rewarded all his care.


For household use they stored the best,
And all the rest conveyed
To neighboring mill, were ground and press'd,
And into cider made.


The wandering Indian oft partook
The generous farmer's cheer;
He liked his food, but better still
His cider fine and clear.


And as he quaff'd the pleasant draught,
The kitchen fire before,
He long'd for some to carry home,

And asked for more and more.


The farmer saw a basket new

Beside the Indian bold,
And smiling said, "I'll give to you

"As much as that will hold."

Both laugh'd, for how could liquid thing
Within a basket stay;
But yet the lest unanswering,
The Indian went his way.


When next from rest the farmer sprung,
So very cold the morn,
The icicles like diamonds hung,
On every spray and thorn.


The brook that babbl'd by his door,
Was deep, and clear, and strong,
And yet unfetter'd by the frost,
Leap'd merrily along.


The self-same Indian by this brook
The astonish'd farmer sees;
He laid his basket in the stream,
Then hung it up to freeze.
And by this process oft renewed,
The basket soon became
A well glazed vessel, tight and good,
Of most capacious frame.


The door he entered speedily,
And claim'd the promis'd boon,
The farmer laughing heartily,
Fulfilled his promise soon.


Up to the basket's brim he saw

The sparkling cider rise,
And to rejoice his absent squaw,
He bore away the prize.


Long lived the good man at the farm,
The house is standing still,
And still leaps merrily along,
The much diminish'd rill.


And his descendants still remain,

And tell to those who ask it,
The story they have often heard,
About the

Indian's basket.
* The danger of the drink habit was not realized in that day.

The picture reminds us that when this book was written there were no steel pens to write with. Every teacher then must have a penknife and know how to make pens for his pupils out of goosequills. There are many persons still living who learned how to write with a quill pen. In those days it was a familiar sound in the schoolroom. "Teacher, please to mend my pen."
The Stages go a rapid pace,
To carry folks from place to place;
When people only ride for pleasure,
They choose to go more at their leisure,
Though when they go to see their friends,
Care not how soon their journey ends,
Horses many miles can go,
They are so very strong;
But sometimes they will weary grow,
And slowly move along:
Then drivers change them at a stable,
For those that are more strong and able,
On Sabbath-days the horse is seen
Unshackled on the meadow green,
I Love to see the pretty Mill,
That stands so high up on the hill,
And listen to the pleasing sound,
When the wind blows the sails around.
The farmer's boy will early rise,
Before the sun ascends the skies,
And mounting on old Dobbin's back,
He takes to mill the great corn sack;
As carelessly he jogs along,
We often hear his merry song.
Who would not be a farmer's boy,
In such an honest safe employ!
His bag of corn the miller takes,
And all into the hopper shakes,
Which comes out meal both fine and sweet,
To make good bread for all to eat.
There was a little idle shirk,
Who neither lov'd to read or work,
And nothing would he do all day,
But saunter through the streets and play,
And sleep in stables on the hay,
Till to the work-house he was sent,
Where quite reluctantly he went;
And many a one was glad the day
That lazy George was sent away.
For well they knew that he must mind
His master, who was good and kind,
But now his father hears with joy,
That he's a good industrious boy.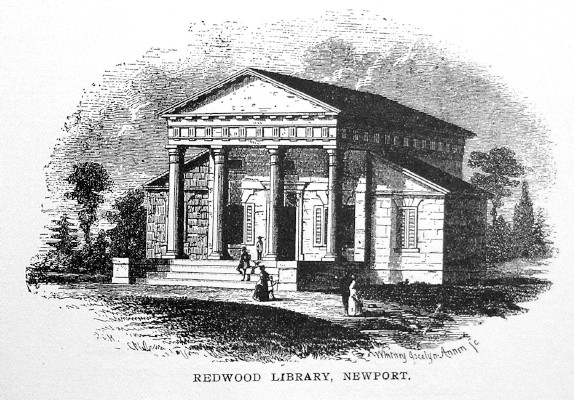 "The first newspaper published in Newport, R, I,, was issued in 1732 by James Franklin, It was the size of the large letter paper used at that time,"
Some wee little girls, 'twas a long time ago,
Were very desirous of learning to sew,
Or perhaps they thought they already knew
As such very small dressmakers often do.

That the dolls needed garments was real to them,
There were seams to sew up and borders to hem,
One trouble they had in their doll sewing play;
The needles they used went so often astray.


And those that were bent or too crooked to use
Were thought just as well for the children to lose,
And that sort, we have heard, with care were laid by,
That the little ones, always, might have a supply.


But the stock got exhausted, all the needles were straight,
And it would likely for more, be a long while to wait,
A sorry time, to be sure, it must have been,
To have their work stop, just for one little thing.
Well, in this dilemma it still is told,
For, as I have said, the story is old,
Little Julia, more thoughtful than all the rest,
It seems, went to her mother with this request:
That the first time she drove to town for more
Of other things, she would go to the store
Where they sold crooked needles; dear innocent face!
"The crooked needle store," she said, was the place.


This artless appeal, as we all might expect,
Touched a tender chord that had its effect,
For a crookedT needle she had not to wait,
But went back to her play with one that was straight.
'Tis pleasant in a little boat,
To sail when winds are mild;
But who would wish to be afloat,
When storms are raging wild.


And little boys should never dare
To sail in one alone,
For all who do not sail with care,
Are in the water thrown,
But men can manage them with ease,
And sail large ships across the seas,

Some men delight to sail away,
And visit distant lands,
While others choose at home to stay
And labour with their hands,
There is a Power above can keep,
Mankind from danger on the deep.