A NEW
BOOK OF
PATIENCE GAMES
BY
ERNEST BERGHOLT
AUTHOR OF "THE PRINCIPLES AND PRACTICE OF WHIST," "THE PRINCIPLES AND PRACTICE OF BRIDGE," "DOUBLE DUMMY BRIDGE" (THE BRIDGE PROBLEM‑BOOK), "ROYAL SPADES OR LILY AUCTION BRIDGE," ETC. AND EDITOR OF "HOYLE'S GAMES MODERNIZED"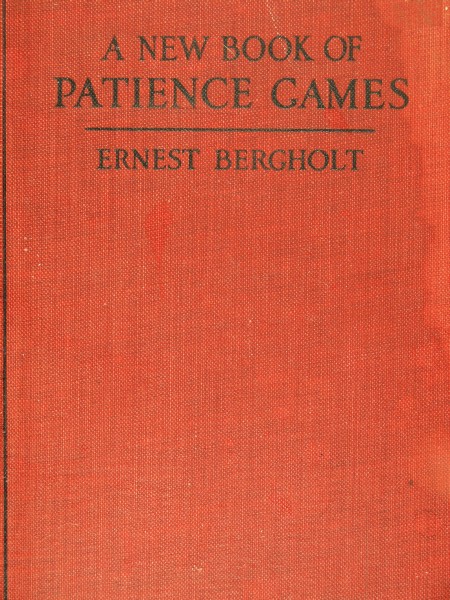 FULLY ILLUSTRATED
SECOND IMPRESSION
LONDON
GEORGE ROUTLEDGE AND SONS, LIMITED
NEW YORK: E. P. DUTTON AND COMPANY
1917
PREFACE
THE present book and its companion, A Second New Book of Patience Games, do not repeat any game that has already appeared in the Illustrated Book of Patience Games, and form, therefore, an indispensable complement to that popular — indeed, classical — work. Many of the games which follow are wholly original, and are now published for the first time in book-form; of the older games only the best known and most widely popular have been included.
A special feature of this series is the detailed clearness with which every game that is at all intricate has been described, and amply illustrated by means of specimen games played right through. It is confidently hoped that the difficulties of those who say that "they can only learn a Patience game by being actually shown how to play it" will thus be removed.
I have to acknowledge valuable help from Mrs. Margaretta Byrde, who not only invented many of the original games in the book, but has helped me materially in revising the proof sheets.
ERNEST BERGHOLT.