copyright, Kellscraft Studio
1999-2003

(Return to Web Text-ures)

Click Here to return to
Old Coventry
Content Page


(HOME)
The Cathedral Porch
THE South Porch of the Cathedral has great interest and great beauty. It is a fragment of the older church pulled down to be replaced by the Botoner's vast and superb structure. It offers, instead of a magnificent design and detail not very interesting, exquisite grace, purity of line and the fine severity of the best period of English Gothic.
At one time this Porch was used as a Cloth Mart. Such secular uses of sacred buildings were not rare in the early Middle Ages—towards the Reformation they began to be abused and to be felt as abuses. In 1455 the Leet stopped the practice; no doubt the guilds were stronger and richer and wished to excercise more complete control.
___________________________________________________________________
NOTE—The Drapery Wool Hall was situated where the Drapers' Hall now stands.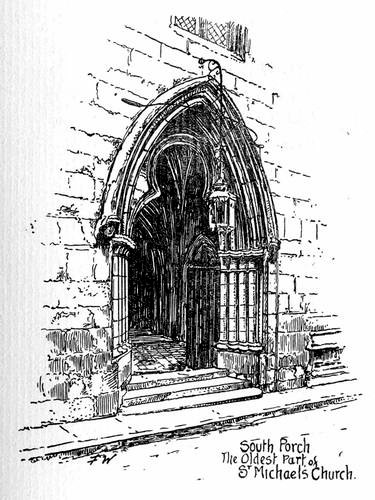 Click the book image to continue to the next chapter