HOW BOBBY PUNISHED THE BAKER.

Bobby was a handsome, shaggy dog.

Bobby was very fond of baker's biscuits.

His master used to hide a penny for Bobby to find.

Then he said:

"Bobby, go to the baker's and buy a biscuit."

Then Bobby would search for the penny.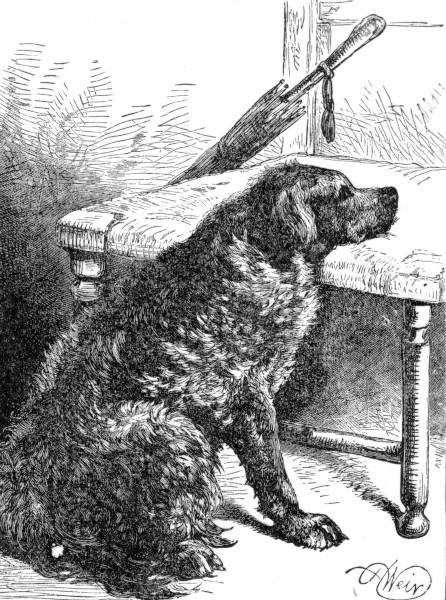 Bobby

When he had found it, he trotted off to the baker's. He carried the penny in his mouth.

He laid the penny down on the floor and showed it to the baker.

Then he put his paw on it.

He always kept his paw on the penny till he got the biscuit.

Bobby knew just how large a biscuit he ought to get for a penny.

If the baker offered a smaller one to him he would growl he would not take it.

If the biscuit was all right, he left the penny and took the bis­cuit.

One day the baker gave Bobby a burnt biscuit.

Bobby took it.

He did not know that a burnt biscuit is not good.

He ate it. But he did not like it. The next morning he carried his penny to the baker's shop as usual.

He showed the penny to the baker.

Then the baker brought Bobby a biscuit.

But Bobby would not take it. He looked at the baker; he wagged his tail.

He seemed to say, "Do you re­member that you gave me a burnt biscuit yesterday?"

Bobby almost laughed.

Then he picked up his penny.

He went across the street to the shop of another baker.

He bought his biscuit there.

He did this every morning.

He always went to the old shop first and showed his penny to the baker.





APRIL.
I saw a little maiden sweet,
All in the springtide weather;
But tears were in each sweet blue eye,
She wept and smiled together;

And violets fell from her hand,
All gemmed with her own weeping;
And where she strayed o'er all the land,
Were tiny grass blades peeping.

"Why do you cry, my bonny maid?"
She wept still more, then told me;
"I'm late this season, I'm afraid,
My Mother Spring will scold me."