MUGGERDITCH'S TROWSERS.

CHAPTER I.

Muggerditch was a little Turkish boy.

Turkey is a country in the southern part of Europe.

Muggerditch's father was poor.

He could not dress his little son in beautiful red and yellow silk, like Achmet.

Achmet was the pasha's son. Muggerditch wore a little quilted calico slip.

The calico slip was tied around his waist with a piece of cloth.

The calico slip was red. The belt was blue.

His shoes turned up at the toe in a long point.

His black hair stuck out from under a little red cap, which the Turks call a "fez."

Muggerditch wore no shirt nor drawers under his calico slip. He was often cold.

One day Muggerditch was run­ning along on the sunny side of the street.

He met a pleasant-looking man.

"Good morning, Bodvilly," said little Muggerditch.

The "Bodvilly " was a good man, who lived at the mission-house.

He had come from America to teach Muggerditch and other little Turkish children.

Turkish children like the Bodvilly. " Bodvilly " means teacher.

"Are you cold, Muggerditch? " asked the Bodvilly.

"Yes, if you please," said Muggerditch.

"Would you like something warmer to wear?" asked Bodvilly. Muggerditch nodded his head.

His black eyes sparkled.

"Come up to the mission-house." said the good Bodvilly.

"The lady will give you a pair of my trowsers.

"She will show your mother how to make a nice suit of clothes for you, out of them."

"Thank you a thousand times, Bodvilly," said Muggerditch. "May your light never go out!"

Little Turkish boys are very polite, when they try to be.




CHAPTER II.

The next Sunday morning Mug­gerditch came to the Bodvilly's church.

The Bodvilly rose and read his text.

He looked around on the people.

He saw Muggerditch. He tried not to laugh. But he did smile.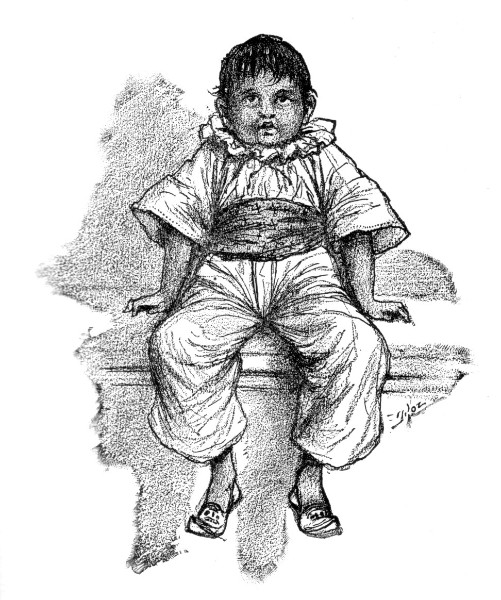 Muggerditch in his New Trowsers

Muggerditch was dressed in the Bodvilly's trowsers.

He had gone to the mission-house and got them.

But he had not told his mother that the lady wished to show her how to cut and make the suit.

His father said he could fix them so that Muggerditch could wear them. They were too long.

So Muggerditch's father cut the legs off at the knee.

He sewed the pieces that came off in at the pocket-holes, for sleeves.

Then he put Muggerditch's feet through the trowsers-legs, and his arms through the sleeves he had made.

Next, he ran a string around the top under the waistband, and tied it around his neck. The waistband looked like a big, stiff frill.

After that he tied a gay handker­chief around his waist for a belt.

Then Muggerditch was ready to go to church.

Muggerditch was very warm and very happy.

He would not change suits with Achmet, the pasha's son.

But do you wonder that the Bodvilly smiled, when he saw him?