A LITTLE ARCTIC GIRL

Axelma is a little girl who lives in the far North, among the frozen fields of Greenland.

But you need not be sorry for her. Nothing would tempt Axelma to live in the United States.

Axelma has good times.

She would not exchange her father's house for the house you live in.

Her father's house looks like a great mound of snow.

It has one small low door.

When her father and mother go out or in they creep upon their hands or knees.

The only window is over the door.

There is no glass in this window. Instead of glass there is thin skin.

Axelma's father took this thin skin from the stomach of a seal.

A little light shines through it.

There is only one room in the house;

They have no stove or fire­places.

Yet this room is warm.

A large lamp is hung in the middle of it.

It is filled with walrus fat or oil.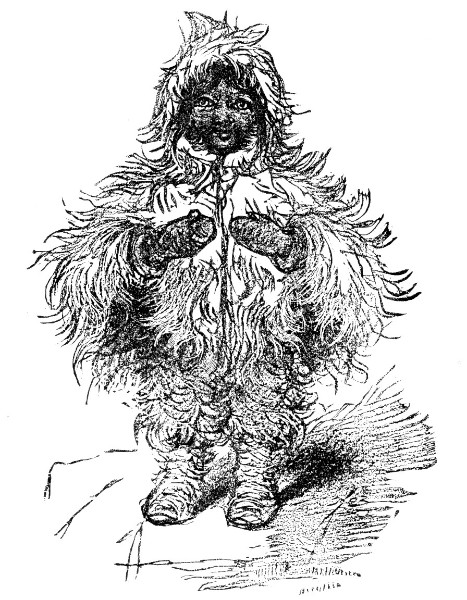 Axelma dressed for a Ride

The long wicks are made of twisted moss.

This lamp warms the room. It is always kept burning.

A shallow kettle hangs over it.

In this kettle Axelma's mother makes soup.

She never has bread or fish, or potatoes or corn in the house;

For breakfast, for dinner, and for supper, they all eat meat or soup.

Long strips of dried meat hang round the room.

In summer they have birds' eggs.

Then Axelma and her little baby brother Lipp are very happy.

Sometimes too they have birds for dinner.

Axelma has a pretty sled.

Her father made it for her.

It was a birthday present.

Axelma was five years old that day. The pretty sled was made of whale and walrus bones.

They were bound together with strips of seal skin.

It is larger than your sleds, and has a back, and arms.

Axelma has a span of white dogs instead of ponies.

Their hair is very long.

They have bright eyes.

Axelma's father made a harness for them of reindeer skin.

He trained them to draw the sled. Axelma's mother made a white

bear-skin robe for the pretty bone sled.

I wish you could see Axelma dressed for a ride.

You would think a little fat bear was coming to meet you.

First her mother puts her riding stockings on, the prettiest ever seen. They are made of bird skin.

The soft feathers come next the plump little feet.

Over them are drawn seal-skin boots.

These boots reach above Axelma's knees.

White bear-skin trowsers come next.

After that, a white bear-skin jacket.

The fur hood of this snug jacket covers her head.

Then she draws on her seal-skin mittens.





Axelma's Carriage

Now she is ready for a ride.

She gets on to her sled.

Axelma's father gets on to his sled.

He is going with his little girl. He gives the word. Off start the two teams.

Axelma looks round and smiles at her mother and baby Lipp.

Then "Lipp" and "Vip," the long­haired dogs, ran away over the snow-fields.

They are wild with fun! Sometimes Axelma goes with her mother to walk.

Baby Lipp goes with them, but he rides.

From out his mother's bear-skin hood peeps the round fat face of the little boy.

His plump legs are around her neck!

He screams and shouts with de­light.

Now and then he has a nap in his fine fur carriage;

If his mother sees any pretty creature running over the snow, she calls:

"Lipp, Lipp"

Out pops the little head.

His sharp eyes see the fun, and he claps his little mittened hands.

A sailor told me about Axelma and her family. He says they have no books, no school.

He says they will never know how to read!

He gave Axelma a gay handker­chief.

He gave a knife to her father and a pair of scissors to her mother.

Now the family think they are rich.