THE VOYAGE

"Amidst the storm they sang,
And the stars heard and the sea."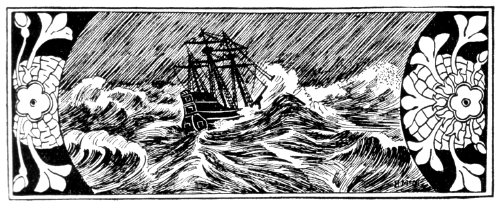 UPON finally getting away from Plymouth they were favored with fair winds and calm seas for some days, their course being due west. On September 6th, however, they ran into a great storm, and amid tempestuous winds and waves experienced great terror. Equinoctial gales shook the Mayflower from stem to stern, and for many days the ship could bear no sail.
The breaking of a main beam below decks and amidships seriously imperiled their safety for a time, but even with the scant facilities at hand, and the services of some of the able members of the company therein, the break was effectually repaired.
During these days the navigators and the leaders of the band were often in close consultation, and the question was raised as to whether it might not be better to return. With so much of the route already covered, this hardly seemed advisable; so they continued their course to the westward amid succeeding storms, with winds so fierce and seas so high that for many days their ship made no appreciable progress.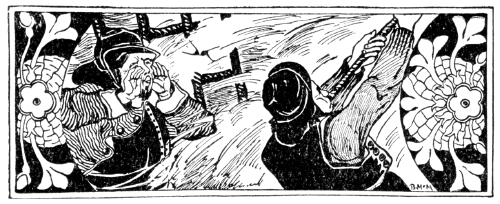 The company crowded below, cold and drenched with sea-water, and the huge waves chased each other day and night over the decks. One John Howland, venturing above the gratings, was washed overboard in a moment, and had it not been that he caught a rope's end, which was thrown to him, would have perished.
On November 6th William Butten, a serving lad to Samuel Fuller, died and was buried at sea. Their number, however, remained the same at the landing, for during the voyage a child was born to Stephen and Elizabeth Hopkins and was christened Oceanus.

Click the book image to continue to the next chapter