IV
JOHN KEBLE'S HURSLEY
THREE villages in the English county of Hampshire have attained a world-wide fame; in each case due to the minister of the parish; and in all three the man to whom the fame is owing sleeps in the churchyard of the hamlet he immortalized. Those three villages are Selborne, Eversley and Hursley. In the first the patient naturalist, Gilbert White, toiled for years on his famous book; in the second the stout-hearted novelist-parson, Charles Kingsley, spent many of his most fruitful years; and the third was for thirty years the loved home of England's greatest religious poet, John Keble.
But Hursley, which lies a few miles from the ancient city of Winchester, attained a quiet notoriety in English history nearly two centuries before it became the home of John Keble. Many centuries earlier still this peaceful parish commended itself to Henry de Blois, the brother of King Stephen, and here he built a castle of which some crumbling fragments still exist on his manor of Merdon. And that the early Britons and then the Romans were not unknown in this picturesque district is proved by archeological discoveries that have been made from time to time.
Interesting, however, though it might be to dwell upon those survivals of early British and Roman days, and to follow the faint clues of Henry de Blois' connection with the parish, more tangible results can be obtained by fixing the mind on the history of Hursley from the date — 1639 — when the manor of Merdon came into the possession of one named Richard Mayor. This Richard Mayor was a son of the mayor of Southampton, and his name persists in the pages of history because it became linked with that of Oliver Cromwell.
In this way. At the opening of the year 1648 Cromwell's eldest son, Richard, was unmarried, but, having reached his twenty-first year, he and his father apparently agreed that it was time he took a life-partner. Cromwell himself was already a figure of note in the national life. The victories of Marston Moor, and Naseby, and Basing were already inscribed on the pages of history, and by this date he was the recognized leader of the Independents and as such a man of importance and influence. So notable a man, it may readily be imagined, might easily have formed a high matrimonial alliance for his eldest son. Indeed, actual offers of such an alliance were not lacking. Cromwell himself states that he "had an offer of a very great proposition from a father of his daughter," which, although not lacking in "fairness," he had put from him because he could not see therein "that assurance of godliness" which he desired in any union for his son.
At this juncture Richard Mayor, of Hursley, appears on the scene. How he and Cromwell became acquainted is not clear; perhaps Mayor had fought in the army and so formed a friendship with Cromwell; at any rate Mayor, in the opening weeks of 1648, informed Cromwell through a mutual friend that he was not averse to a marriage between his elder daughter Dorothy and Richard Cromwell. Fifteen months later that union became an accomplished fact.
That so long an interval elapsed between the opening of the marriage negotiations and their completion must be laid to the charge of Mayor himself. Cromwell was agreeable to the match; the young people appear to have been genuinely in love with each other; but the maiden's father proved a hard bargain-driver. Carlyle characterizes Mayor as "a pious prudent man." He certainly was entitled to the second adjective. Indeed, if the testimony of another dweller at Hursley is to be credited, he had claims to be described in more reprehensible terms. This witness admits that Mayor was "very witty and thrifty," but then adds that he "got more by oppressing his tenants than did all the lords (of the manor of Merdon) in sixty years before him." And in another place this local chronicler declares that when Cromwell became Protector of England Mayor took advantage of his high connection to "usurp authority over his tenants at Hursley."
Cromwell himself had ample experience of Mayor's thriftiness. Among the surviving letters of the Protector there are a round dozen in which the curious may trace the history of the negotiations for Richard Cromwell's marriage with Dorothy Mayor. Unfortunately none of Richard Mayor's epistles are in existence, but those from Cromwell's pen, written during the months when he was the leading spirit of momentous events, show that Dorothy's father employed every possible effort to use the marriage of his daughter for his own monetary gain. Indeed, Mayor, the "pious prudent man," proved so obstinate on matters of settlement that the negotiations were broken off and remained in abeyance for some nine months.
Meanwhile events had happened which probably appealed to the prudence if not to the piety of Richard Mayor. Cromwell had suppressed an insurrection in Wales, had defeated the Scottish Royalists at Preston, and Charles I was on the threshold of the scaffold. So the astute lord of the manor at Hursley enlisted the services of a Puritan preacher at Southampton, and through him contrived to reopen negotiations for the union of his daughter with Cromwell's heir. Cromwell himself was not unwilling. The Southampton preacher had adroitly enlarged on the "piety" of the Mayor family, whether on his own initiative or at the suggestion of Richard Mayor himself does not appear. But that was the most effectual channel to Cromwell's heart, and the negotiations thus resumed, went forward as speedily as they could under all the circumstances, and on May Day, 1649, Richard Cromwell and Dorothy Mayor were wedded at Hursley.
By the marriage contract the manor of Mer-don was to descend to the children of the young couple, and it did actually remain in the Cromwell family until 1718, when it was sold for thirty thousand pounds to the family whose descendants possess it to this day. In agreement with Richard Cromwell's own inclination for a country life, he and his wife settled at Hursley, living in the lodge of the manor house. On the testimony of his father's letters alone, and they are the letters of a partial and forbearing parent, Richard Cromwell was of an indolent disposition. An "idle fellow," Carlyle calls him, one who could never relish soldiering in his father's army, who wished above all to "retire to Arcadian felicity and wedded life in the country."
Even when Cromwell had got his son happily wedded and established in "Arcadian felicity" at Hursley he had many anxious thoughts about his mental and spiritual welfare. "I have delivered my son to you," he writes to Mayor, "and I hope you will counsel him; he will need it; and indeed I believe he likes well what you say, and will be advised by you. I wish he may be serious; the times require it." Subsequent letters from Cromwell return again and again to the same themes: "I have committed my son to you; pray give him advice. . . . I would have him mind and understand business, read a little history, study the mathematics and cosmography." From the turmoil of his campaign in Ireland Cromwell asks for the prayers of Mayor and his family, adding, "As for Dick, I do not much expect it from him, knowing his idleness;" and later he bids Dick himself "Take heed of an unactive spirit! Recreate yourself with Sir Walter Raleigh's History; it's a body of History; and will add much more to your understanding than fragments of story." Although Cromwell had matters enough to occupy his attention, he often snatched a few minutes to indite an epistle to Hursley, but the lethargic and unoccupied Dick seldom took an answering pen in hand. Dorothy Cromwell seems to have caught the infection too, or why this rebuke of her father-in-law: "They are at leisure to write often; but indeed they are both idle, and worthy of blame?"
Richard's mother visited him and his young wife at Hursley, but his illustrious father was never able to do so. Despite that fact the village stores its tradition of the Protector, who, according to that legend, "sunk his treasure at the bottom of Merdon Well, in an iron chest which must have been enchanted, for, on an endeavour to draw it up, no one was to speak. One workman unfortunately said, 'Here it comes,' when it immediately sunk to the bottom and (this is quite true) never was seen!"
Notwithstanding his father's iterated and reiterated exhortations to study, to industry and to other commendable occupations of his time, Richard Cromwell allowed the days and weeks and months at Hursley to slip by unprofitably. He even plunged into debt, thereby earning the rebuke of his father, who exclaimed, "God forbid that his being my son should be his allowance to live not pleasingly to our heavenly Father." But Richard Cromwell was as he was; he could not do otherwise than "make pleasures the business of his life;" and thus, when his masterful father passed away, there was scarcely any man in all England so little fit as he to take the Protector's place. He became, it is true, "the phantom king of half a year," but when the Rump Parliament demanded his resignation his essential weakness of character was revealed in his quiet acceptance of the situation. No doubt he was thankful to be able to retire to Hursley again, but the quietness of his retreat was soon broken by demands for the payment of his father's debts, and shortly after he sought safety in flight to the continent. His wife, however, continued to reside at Hursley until her death in 1675.
Of Richard Cromwell's presence at Hursley there is only one surviving memorial. The lime-trees which make such a picturesque belt of verdure around the churchyard are said to have been planted by him. One other possible memento Carlyle dismisses thus: "In pulling down the old Hursley House, above a century since, when the estate had passed into other hands, there was found in some crevice of the old walls a rusty lump of metal, evidently an antiquity; which was carried to the new proprietor at Winchester; who sold it as 'a Roman weight,' for what it would bring. When scoured, it turned out, — or is said by vague Noble, quoting vague 'Vertue,' 'Hughes's Letters,' and 'Ant. Soc.' (Antiquarian Society), to have turned out, — to be the Great Seal of the Commonwealth. If the Antiquarians still have it, let them be chary of it."
One hundred and seventy-six years after Richard Cromwell married Dorothy Mayor there came to Hursley as curate of the parish a young minister named John Keble. At that time his personal worth and unusual gifts were known to but a few; to-day his saintly character and the fruits of his poetic genius are among the choicest treasures of the English Church.
Keble's first sojourn at Hursley as a curate lasted rather less than a year. His acceptance of that position was due to the persuasion of the lord of the manor, Sir William Heathcote, who had been his pupil at Oxford. Hence his surroundings were wholly enjoyable. "The society at Hursley itself, and its neighbourhood, and especially that which would, of course, gather from time to time at Hursley Park; the renewal of his familiar intercourse with his favourite old pupil; the character of the country around him, dry and healthy, a pleasant interchange of breezy down and picturesque woodland, hill and valley, the New Forest, Southampton, and the sea at a convenient distance" —such were his advantages. His friends soon found him out in this ideal retreat; he tried "the coozie powers of the Hursley air" on them, and welcomed, among others, his college companion, Thomas Arnold, who was afterwards to win fame as the great schoolmaster of Rugby. But a death in Keble's family, which laid upon him, as he thought, the responsibility of brightening his father's declining years with his companionship, made him resign his cure.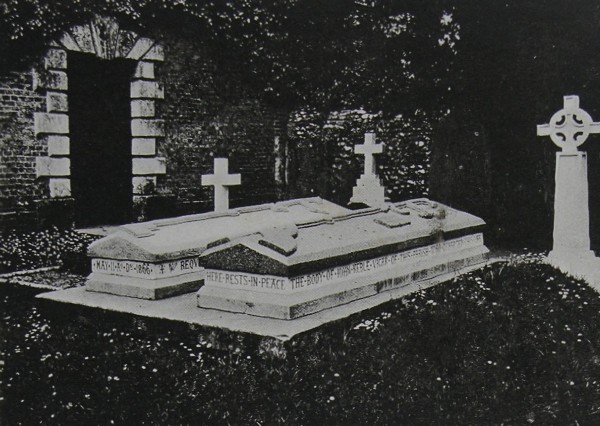 GRAVES OF JOHN KEBLE AND HIS WIFE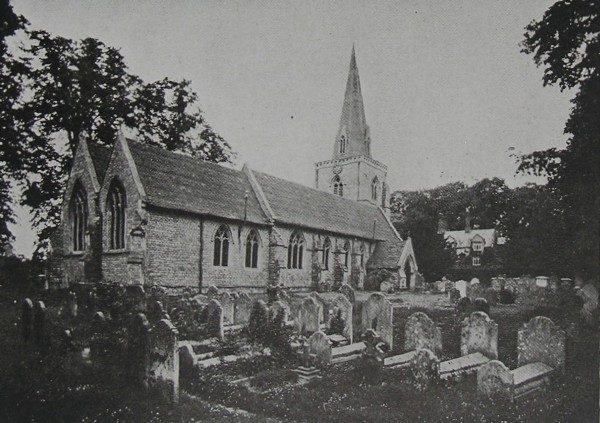 HURSLEY CHURCH
Some ten years later the death of that greatly-loved father coincided with a vacancy in the Hursley living and opened the way for his return thither as vicar of the parish. This was in 1836 and for thirty years thereafter Hursley was the home of Keble and the harvest-field of his labours.
Nine years prior to his return to Hursley Keble had given "The Christian Year" to the world. In the annals of literature that book of sacred verses is, of course, his most abiding memorial, but in the peaceful village of his active ministry as a priest the church itself in its stones and mortar must always perpetuate his name.
At the time he was appointed vicar here he found the church, erected in the eighteenth century, wholly unadapted for such ceremonials as should, in his opinion, characterize the services of the Church of England. For nine years he laboured on amid the depressing conditions of that barn-like building, and then he came to the conclusion that "the irreverence and other mischiefs caused by the present state of Hursley Church" left him no option save to attempt the entire rebuilding of the edifice.
Such an undertaking, however, seemed likely to prove too heavy a burden for the people of a poor rural parish. The original estimate for the work Keble thought necessary amounted to three thousand three hundred and eighty pounds, and there were only two or three among the parishioners whose means would allow them to contribute any material help in raising that sum. Having surveyed all the conditions, the vicar came to the resolve to meet himself the entire expense of the rebuilding, and his next step was to consider how he could most easily raise the necessary sum.
Keble's first thought was to publish his "Lyra Innocentium" in the interests of his building-fund, but when he discovered that such a scheme was not quite so feasible as he imagined, he turned for help to "The Christian Year." That volume had been enormously successful. In little more than twenty years no fewer than forty-three editions had been called for, representing more than a hundred thousand copies. Throughout the author's life, the sale of the volume never flagged; and during the nine months that succeeded his death, seven editions of eleven thousand copies were sold. It is obvious, then, that in the copyright of "The Christian Year" Keble possessed a valuable asset, and that asset he expressed his willingness to relinquish in return for such a sum as would enable him to pay for the rebuilding of Hursley Church.
At this juncture three of his friends intervened. They very stoutly opposed the idea that Keble should sell his copyright. For one thing, they did not think any publisher would be prepared to offer a full equivalent; and they were convinced that "The Christian Year" was exactly the kind of work which ought to remain as long as possible in the author's own hands, and under his control. In order, then, to save Keble from making this sacrifice, his friends proposed to supply him with money as he should want it for the rebuilding of the church, their only condition being that the copyright of the book should in the meantime be regarded as their property as security. Even this arrangement did not for a moment involve Keble in parting with his copyright legally, for his friends did not dream of asking for any formal agreement or legal assignment of the work. It was merely an understanding between four high-minded men, one of whom undertook the business part of arranging the terms for each edition of the book as it was called for, and receiving the price. "No doubt," wrote one who was a party to this honourable transaction, "this was a convenience to Keble, and set his mind free from all anxiety; but it was no inconvenience to us, nor ultimate loss. Keble sacrificed for the time the income he had used to derive from this source, but he never lost the ownership of the book; and the beneficial property returned to him when the account was cleared."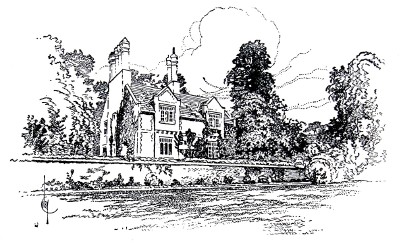 HURSLEY VICARAGE
Fortunate, indeed, was it for the Hursley vicar that such an arrangement was made. The cost of rebuilding greatly exceeded the original estimate. Instead of three thousand three hundred and eighty pounds, the bill totalled up to six thousand pounds, and if the copyright of "The Christian Year" had been disposed of on the basis of the smaller sum, there would have been a heavy deficit to meet. Instead, as has been shown, the three friends continued to advance funds as they were called for, and were able to repay themselves from the sales of the book. Thus Hursley Church, from its foundation to its vane, is the honourable memorial of John Keble.
At the edge of the churchyard, from which it is separated by a low wall, stands the vicarage which was Keble's happy home for thirty years. Many famous men and women have passed within its doors, but the most memorable meeting of which these walls have been the witness took place less than five months before Keble's death. In his young manhood E. B. Pusey and John Henry Newman had been numbered among his most intimate friends. They had laboured together zealously at the dawn of the High Church movement. Then followed the parting of the ways. Newman found that he could not remain in the English Church, and the letter in which he announced his decision to enter the Church of Rome came to Keble at Hursley, to be taken by him for opening and sad perusal in a quiet deserted chalk-pit of his parish. For years thereafter the three never met, and then, on the eve of Keble's death, a strange chance brought them together under his roof at Hursley.
Newman himself gives the following tender account of that memorable meeting. "Keble was at his door speaking to a friend. He did not know me, and asked my name. What was more wonderful, since I had purposely come to his house, I did not know him, and I feared to ask who it was. I gave him my card without speaking. When at length we found out each other, he said, with that tender flurry of manner which I recollected so well, that his wife had been seized with an attack of her complaint that morning, and that he could not receive me as he should wish to do; nor, indeed, had he expected me; for 'Pusey,' he whispered, 'is in the house, as you are aware.' Then he brought me into his study, and embraced me most affectionately, and said he would go and prepare Pusey, and send him to me. I got there in the forenoon, and remained with him four or five hours, dining at one or two. He was in and out of the room all the time I was with him, attending to his wife, and I was left with Pusey. I recollect very little of the conversation that passed at dinner. Pusey was full of the question of the inspiration of Holy Scripture, and Keble expressed his joy that it was a common cause, in which I could not substantially differ from them; and he caught at such words of mine as seemed to show agreement. . . . Just before my time for going, Pusey went to read the evening service in church, and I was alone in the open air with Keble by himself. We walked a little way, and stood looking in silence at the church and churchyard, so beautiful and calm. Then he began to converse with me in more than his old tone of intimacy, as if we had never parted; and soon I was obliged to go."
But a few months later, as has been said, Keble was laid to rest in that churchyard "so beautiful and calm." It was not in this picturesque vicarage that he died, but in apartments at Bournemouth, whither he had gone for the sake of his wife's health. His own illness lasted but a week, and was brought on by rising too early, by taking a cold instead of a warm bath, and then, without having tasted food, standing by his wife's bed to read the lessons for the day until he collapsed in a dead faint. When he had passed away, his dying widow bade her friends assemble in her own room, and then, taking a copy of "The Christian Year," and turning to the stanzas for Good Friday, she told them how assuredly she felt that her husband's last aspiration had been —


"O call Thy wanderer home;
To that dear home, safe in Thy wounded side,
Where only broken hearts their sin and shame may hide."
Six weeks after Mrs. Keble herself passed away, and was laid in the grave which nestles closely beside that of her husband. Than these two graves there are few which speak more eloquently of ideal wedded love.