THE development of Lloyd's from the time of the humble Coffee Tavern in Tower Street, in which its business was transacted over two centuries ago, down to that of the great Maritime Exchange of the present day, was from the first bound to become an eventual success, in view of the extraordinary services which it has continually rendered to the maritime world.
The following paragraph is taken from the London Gazette of 1689: —
"Run away from Capt. J. Bradlye, a tawney Moor, 20 years of age, bow-legged, light coloured coat, white waistcoat, and a pair of shammy breeches. Whoever gives notice at Mr. Lloyd's coffee-house in Great Tower Street, shall have 20 shillings reward."
This allusion gives us an idea of some of the kinds of work in which "Lloyd's" was even in those early days engaged.
Richard Steele, in No. 268 of The Tatler (Dec. 23, 1710), devotes himself to the discussion of a letter, dated from "Lloyd's Coffee House," which he had just received, and wherein a number of the habitués of the place had set forth their opinion that all "Coffee Houses" ought to make arrangements, for the benefit of their clientèle, to have the "news" read aloud every day and that such places of resort should be established and duly recognised as marts for the purveying of news. Thus it is seen how the public function of news distribution Was identified with the institution from the very first. And so it is to-day; "Lloyd's" is still the foremost institution in the world for the dissemination of maritime news.
In the Secretary's room is preserved the original policy which was effected at Lloyd's upon the life of the great Napoleon. It was intended to run for one month and the premium was three guineas per cent. It was worded thus: —
"In consideration of three guineas per one hundred pounds, and according to that rate for every greater or lesser sum received of William Dorrington, we have hereunto subscribed our names, and do for our respective heirs and Ourselves, executors, administrators, and assigns of the other or others of us, assume, engage, and promise that We respectively, or our several re­spective heirs, executors, administrators or assigns, shall and will pay or cause to be paid unto the said William Dorrington the sum and sums of money which we have hereunto respectively subscribed against our names: without any abatement whatsoever, in case Napoleon Bonaparte shall cease to exist, or be taken prisoner on or before the 21st June, 1813.
London, 21st May, 1813.
£100 R. Heath.
£150 Anthony Finn Kemp.
£150 B. I. Mitchell."
In the Committee Room is preserved the first Insurance Policy of which there is any record, and which was taken in the name of a ship, the Golden Fleece, which was insured for a voyage from Lisbon to Venice for £1,200, at 4 per cent., On January 20, 1600.
The wording of the usual policy in use at Lloyd's at the present day is, with one exception, the same that was used in 1779. The exception consists in the substitution of the words, "Be it known that," for "In the name of God, Amen!"
The effecting of Marine Insurance is, however, the main duty of underwriters at Lloyd's, and it is in respect of this very important function that the members of and subscribers to Lloyd's may be classified as (1) the underwriters, who accept the risks; and (2) the brokers, who place the insurance on behalf of the owners of the ships or cargoes.
Here, then, in a great room, without the slightest pretence to artistic surroundings, sits the army of under­writers whose business it is to assist the brokers who appear before them in effecting the insurance of ships throughout the world.
It is very necessary that an underwriter should be possessed of a minute knowledge of ships and of the individual and personal history of the people connected with them, no less than the peculiarities and conditions of the trade in which they may be (or have been) en­gaged, as this information, reinforced by the reports which are constantly being received by Lloyd's Intelligence Department from its correspondents in all parts of the world, places them in a position to determine speedily and correctly the condition of almost every merchant vessel afloat. A great deal of this information is pub­lished daily in Lloyd's List, which is the legitimate successor of Lloyd's News, established in 1696, and which, with the exception of the London Gazette, is the oldest existing newspaper published in Europe.
The Captain's Register is a marine "Dictionary of Biography," wherein is recorded as minutely as the history of the vessels themselves, every known fact regarding the seafaring life of every captain, the names of the various ships which he has commanded, the accidents and disasters his ships have met with, as well as any record he may have for creditable performances or for heroic service; in short, every. thing that can possibly have any bearing on any case connected with him.
In the instance of a ship that has either met with a serious accident or has been wrecked, the whole circum­stances are recorded in the Loss Book, which is posted up from the records supplied to Lloyd's from day to day.
The famous bell which hangs in the Underwriters' Room is tolled twice when an overdue ship is heard from, and once upon the announcement of a ship's being lost. This bell was taken from H.M.S. Lutine, which sank in the Zuider Zee in 1799, carrying down with her treasure amounting to upwards of one million sterling, £40,000 of which were recovered as recently as 1870.
A ship is never "posted" at Lloyd's until all hope is gone. This formality consists simply of posting up a notice to the effect that the ship — left the Port of — on a certain day, and has not since been heard of. After this posting at Lloyd's all insurances on the ill-fated ship become payable, and the crew and officers are then considered legally dead.
An "Inquiry Office" is also established at Lloyd's, where the relatives of the passengers or crew may obtain without cost information concerning the movements of the vessel in which they are interested.
A medal is presented by the Corporation of Lloyd's as an honorary acknowledgment to those who have, by means of extraordinary exertions, contributed to the saving of life at sea, and a medal for "Meritorious Services" is granted to officers and others who, by extraordinary exertions, have contributed to the preservation of their vessels or cargoes.
The legal status of Lloyd's is that of a Society incorporated by Act of Parliament. Its main objects are briefly as follows: —
I. To carry on the business of Marine Insurance.
II. To protect the interests of members of the Society in respect of shipping and cargoes and freight.
III. To collect, publish and diffuse marine intelligence and information.
The duties of Lloyd's agents throughout the world may be broadly defined as follows: —
In case of shipwreck: to render to masters of vessels any advice or assistance they may require; to report by telegraph direct to Lloyd's all casualties which may occur to vessels within their district; and to otherwise report, under rules laid down for their guidance, all marine happenings within their ken.
Lloyd's has also, with the sanction of the various Governments interested, the control and working of Signal Stations in the United Kingdom and abroad. If a shipowner, charterer, or consignee wishes to communicate with any vessel at any Lloyd's Signal Station he has only to communicate with the head office and instructions will be given accordingly.
United Kingdom.
SOUTHEND.




DEAL.




DOVER.




SAND GATE.




DUNGENESS.




BEACHY HEAD.




NO MAN'S FORT, SPITHEAD.




LUNDY ISLAND.




BARRY ISLAND.




MUMBLES HEAD.




ST. ANNE'S HEAD.




ROCHE'S POINT.




OLD HEAD OF KINSALE.




BROW HEAD.




TORY ISLAND.




INISTRAHULL.




MALIN HEAD.




RATHLIN ISLAND.




TORR HEAD.

ST. CATHERINE'S POINT.




PORTLAND BILL.




BRIXHAM.




PRAWLE POINT.




THE LIZARD.




PENZANCE.




SCILLY ISLANDS.




LAMLASH.




KILDONAN.




STORNOWAY.




BUTT OF LEWIS.




DUNNETT HEAD.




PETERHEAD.


ST. ABB'S HEAD.




TYNEMOUTH.




RIVER TEES.




FLAMBOROUGH HEAD.




SPURN HEAD.




ALDEBURGH.
The more important stations abroad are: —
ELSINORE.




HELIGOLAND.




HOLTENAU




(Baltic Entrance of the Kaiser Wilhelm Kiel Canal).


BRUNSBUTTELKOOG




(Elbe Entrance of the Kaiser Wilhelm Canal).


HEYST.




GIBRALTAR.




MALTA.




THE DARDANELLES.




PORT SAID.




SUEZ.




PERIM.




ADEN.




CAPE SPARTEL.




PONTA FERRARIA (St. Mlchael's).




GOODE ISLAND (Torres Straits).




CAPE MARIA VAN DIEMAN (New Zealand).




HONOLULU.

PONTA DO ARNEL




(St. Michael's).


FAYAL.




LAS PALMAS




(Grand Canary).


CAPE VERDE.




ST. HELENA.




ASCENSION.




CAPE POINT.




CAPE L'AGULHAS.




BLUFF (Port Natal).




FORT SAN SEBASTIAN




(Mozambique).


POINT DE GALLE.




HERNANDO NORONHA (Brazil ).




BARBADOS.




BERMUDA.




CAPE RACE (Newfoundland).




FAREWELL SPIT (New Zealand).




NUGGET POINT (New Zealand).
(See also SIGNALS.)
[By kind permission, from

Lloyd's Calendar.

]
STEEL AND IRON SHIPS are classed by Lloyd's Register as A1, with a numeral prefixed, thus — 100 A1, 95 A1, 90 A1, 85 A1, 80 A1, and 75 A1; also A1 (without a numeral) for special trades; for which they re­tain their characters so long as, on careful annual and periodical surveys, they are found to be in a fit and efficient condition to carry dry and perishable cargoes. Every ship must be submitted to a special survey every four years, or oftener in some cases.
WOODEN SHIPS are classed A1 as first-classers for a term of years, subject to occasional or annual surveys when practicable, also to half-time or intermediate special surveys. They are eligible for continuation or restoration of the character Al for further periods upon special surveys.
WOODEN SHIPS are also classed A1 in red. This also is a class of vessel fit for the safe conveyance of dry and perishable goods.
WOODEN SHIPS are likewise classed Æ1, for the conveyance of dry and perishable goods on shorter voyages.
Under the Merchant Shipping Act, 1894, all British ships (excepting those under 80 tons register employed solely in the coasting trade or as fishing boats and pleasure yachts) must be marked with load-lines in accordance with the "Freeboard" tables in the Act. These marks, which are sometimes called Plimsoll marks, after the name of their introducer, consist of a disc with a horizontal line running through the centre and extending somewhat on each side of the circle. In addition to this there are, on steamships, a number of lines at right angles to a perpendicular, which indicate the load limit for different seasons of the year and for fresh water. These ships are marked with the following initials : —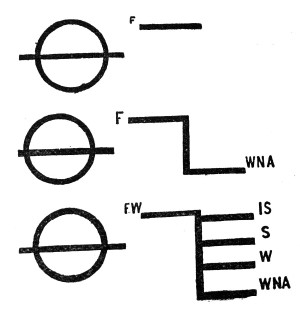 F.W. — Fresh water.

S. — Summer.
I.S. — Indian Summer.

W. — Winter.
W.N.A. — Winter, North Atlantic.
1. Markings on the star­board side of a sailing ship engaged in the coasting trade only.
2. Markings on the starboard side of a sea­going sailing ship.
3. Markings on the star­board side of a steamship.