copyright, Kellscraft Studio
1999-2003

(Return to Web Text-ures)

Click Here to return to
Old Coventry
Content Page


(HOME)
Glass and Tapestry
THERE are two especial glories of St. Mary's. The glass cannot adequately be reproduced in line. We have little enough ecclesiastical stained glass in England and hardly any civic. St. Mary's north window is unique. The row of Kings with their iron grasp on sceptre and orb, and above the blazonries of England and France, Man and Chester, cities and belted earls, the whole glowing with scarlet and toned with grey blue and shimmering silver; all this makes a composition which can challenge any glass of the 15th century in England. The tapestry is of almost equal interest, a little later in date, Flemish in origin, full of quaint design and toned as only old tapestry can be toned. But the glass is English—Coventry—the work of the Thorntons, a family of craftsmen who have few superiors in the whole age of craftmanship, sent for by York for the great east window of the Minster. Judged by the dates the east window of York must have been done by the grandfather of the designer of the window here. Frankly the Coventry work is no whit inferior.
______________________________________________________________________________________________
The drawing represents Margaret of Anjou, consort of Henry VI, kneeling before a covered table with her hands folded on a missal, attended by her ladies.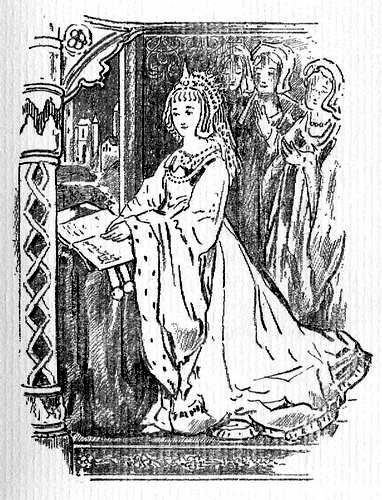 Click the book image to continue to the next chapter