<![if !supportEmptyParas]> <![endif]>
I
ABOUT COPLEY SQUARE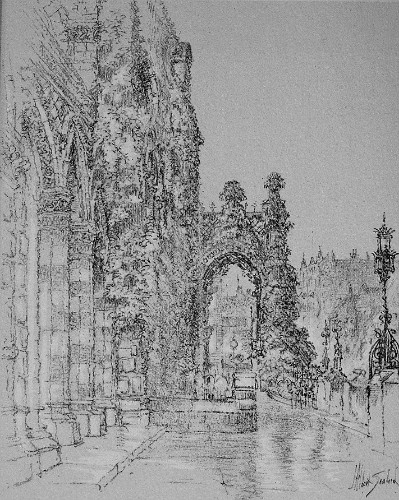 THE OLD NORTH CHURCH, 1875, BOYLSTON STREET, AT COPLEY SQUARE.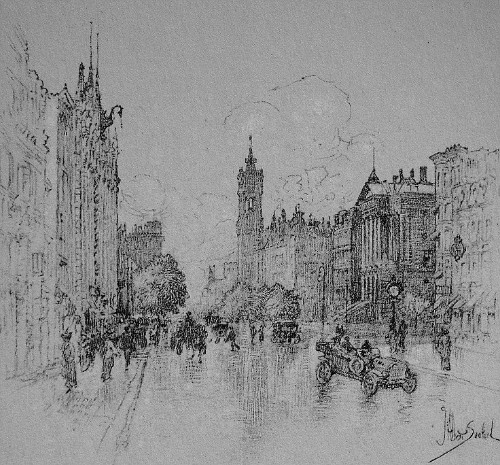 BOYLSTON STREET, LOOKING WEST TOWARD COPLEY SQUARE. ON THE RIGHT, THE
MASSACHUSETTS INSTITUTE OF TECHNOLOGY; THE OLD SOUTH CHURCH.
FOR the purposes of this book, the center of Boston may logically be located at Copley square, which is no part of Old Boston, since it is "made land," where in early times the tide-flooded flats of the Back Bay lay drear and forbidding.
The early settlers picked out for their town a spot of earth so nearly an island that, with the growth in population, its dwellers must either make land or take to the boats; and it is upon made ground that practically all of Boston lying west of the Common as far as Roxbury and Brookline was built. The old Boston landmarks, the sturdy buildings of Colonial, Provincial, and Revolutionary times, are clustered upon the eastern and northern slope of Shawmut promontory.
Until the death of Bishop Brooks in 1893, people called Trinity "Phillips Brooks's Church." A bronze memorial stands in his honor on the Boylston street side, shadowed by that far greater monument to his genius, the church which he built and loved. The Great Fire of 1872 destroyed old Trinity, on Sum­mer street, shortly after the parish called Phillips Brooks to be its minister. To him fell the task of replacing it with a new edifice, and under his leader­ship the work began in 1873.
Every great institution expresses an individuality, whether it be a railroad, a bank, a college or a church. Trinity Church, in its great size, its artistic character, its richness, expresses Phillips Brooks. If it is a wonderful church to you, it becomes more wonderful when you realize this. According to that illuminat­ing chapter on its building, in the biography of Bishop Brooks, written by Professor A. V. G. Allen, Trinity is not a mere house of worship, built to shelter a large and wealthy congregation, but an organic symbol of spiritual thought, bigger and broader than any sect or creed, typifying the spirit and mysticism of Christianity and the Christian Church, as inter­preted by a great soul. Says Professor Allen:
"He would take from the old order the ideas of solidity and grandeur of beauty, of adornment in form and color, which should surpass, if possible, all other beauty, as when the church seemed greater than the world, the spiritual stronger and richer than the temporal, and in its costly decoration symbolizing that wealth was most worthily employed when it ministered to spiritual ends."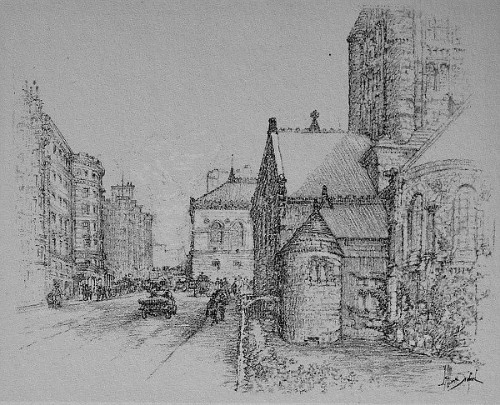 COPLEY SQUARE, FROM ST. JAMES AVENUE; ON THE RIGHT, TRINITY CHURCH; ON THE LEFT,
COPLEY-PLAZA HOTEL; BEYOND, THE PUBLIC LIBRARY.
Trinity Church interprets Phillips Brooks's hu­manity -- his recognition, not only of the demands of religion, but "of the sacredness of earth and the secular life" -- his warm, understanding sympathy. Trinity was consecrated on February 9, 1877. On the next day, Mr. Brooks wrote to Robert Treat Paine, of the building committee, his friend and classmate, this expression:
"I am almost appalled when I think what the work in this great new Church may be. I know that I shall have your help and prayers in the part of it which shall fall to me to do. Many, many happy years are before us, if the Lord will, and when we leave the great dear thing to those who come after us we shall be near one another, I am sure, in the better life."
Upon an intellectual foundation somewhat akin to the spiritual bed-rock of Trinity, rests the Boston Public Library, an embodiment of Puritanism deluxe. Here is a noteworthy sentiment from the report of the committee, which, in 1847, was ap­pointed to determine the expediency of establishing a municipal library in Boston:
"It will provide for those who are desirous of reading a better class of books than the ephemeral literature of the day."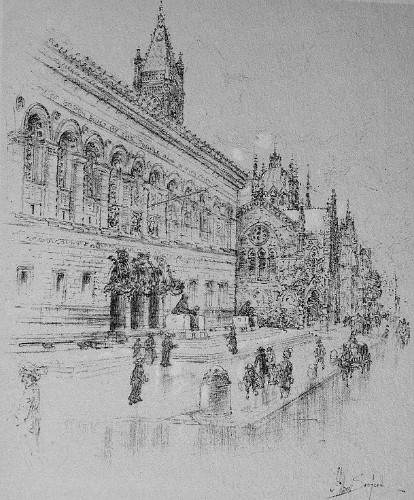 THE BOSTON PUBLIC LIBRARY, COPLEY SQUARE; BEYOND, THE OLD SOUTH CHURCH.
The nucleus of the collection was a gift of fifty volumes sent in 1841 by the city of Paris, and presented by the hand of Nicholas Marie Alexandre Vattemare, a Frenchman, who devoted many years to exploiting the idea of an international literary exchange. Vattemare possessed three splendid qualities -- breadth of vision, cleverness and persist­ence. If he was not the father of the Boston Public Library he was, let us say, the "attending phy­sician," and a very skilful one.
The first cash endowment for the Library was one thousand dollars from Mayor Bigelow, in 1850, who segregated it from a "testimonial" raised for his benefit by a grateful citizenry, in appreciation of heroic work during the cholera epidemic.
Edward Everett, in offering his collection of one thousand volumes of public documents, said in a letter to Mayor Bigelow, urging a building to shelter the library:
"Such an establishment would be an object of public favor from the outset. The people would regard it as their own creation and take a pride in its increase. Authors and publishers would feel it an honor to place their works on its shelves ........ A building .... aiming at nothing but convenience and neatness ........ ought not to be a show place for strangers nor a lounge for idlers; but a quiet retreat for persons who desire earnestly to improve their minds."
Do you think it occurred to Mr. Everett that anyone would ever smile at that?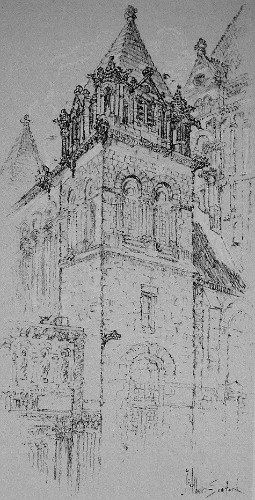 ONE OF THE FLANKING TOWERS OF TRINITY, COPLEY SQUARE; THE GARGOYLES.
Joshua Bates of London, an American by birth, gave fifty thousand dollars in 1853 to buy books. Other gifts followed, and the trustees opened the first. public reading room in Mason street, in Octo­ber, 1853. In five and a half months, of 35,389 volumes borrowed for home use, only one was damaged and one lost, in each of which cases the borrower cheerfully made reparation.
In 1855 the City started the Boylston street library building, which was completed by January 1, 1858, and which, at the end of twenty years, proved inadequate for its purpose.
The determination of a location and the acquisi­tion of the land for a new building covered a period of years, but in 1887 the preparation of plans was begun by McKim, Mead & White, and the building was ready for occupancy in 1895.
Looking at the library one might fail to see the hallmarks of Puritanism. Its exterior outlines are softened by much gracious and appropriate ornamentation. The great windows above relieve the facade of bleakness, if those in the lower row are a little uncompromising. Much may be said in praise of the sculptural decorations above the triple-arched entrance, in spite of early criticism by certain good people of Boston -- and that was indeed Puritanism. Yet, you will admit that a little stone boy may be a good Puritan, even wanting his pinafore.
Nor shall a lithe brown Bacchante flaunt her bronze allurements in that sacred inner court; we may thank the shade of John Winthrop for that!

Click the book image to continue to the next chapter