copyright, Kellscraft Studio
1999-2004

(Return to Web Text-ures)

Click Here to return to
Random Notes of Boston
Content Page


(HOME)
<![if !supportEmptyParas]> <![endif]>

RANDOM NOTES OF BOSTON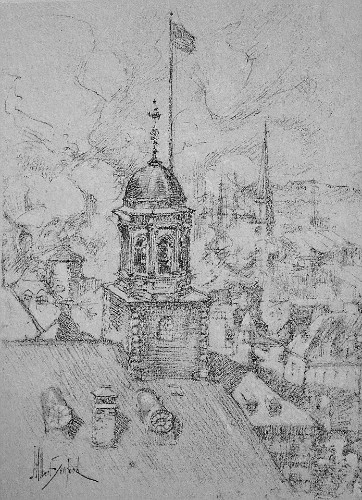 FANEUIL HALL, "THE CRADLE OF LIBERTY," BUILT BY PETER FANEUIL, 1742.
BEHIND, THE NORTH END; SPIRE OF CHRIST CHURCH.
PREFACE
A famous illustrator of cities, obsessed perhaps by the splendors of an older world, not long ago denied Boston any title to the picturesque.
The illustrator of this book comes pleasantly to the rescue with tangible evidence, here laid before all who care to consider it, in the form of drawings made with a keen appreciation, not alone of form and line, but of the atmosphere of his subject. These pictures are true because they delineate things in groups and relations, not with the mechan­ical precision of photography, but in their aspect as impressed upon the human retina. Our brains are happily schooled to make allowances for and to modify mathematical distortions of perspective, and to minimize the intrusion of awkward or inconsistent details. The artist has aptly caught this subtle and charitable psychology of viewpoint, and so has given us pictures of Boston as it looks. He has sensed the charm of the city, and has been able so to do because he loves Boston as it is, not grieving too much for what it might have been or ought to be.
It was never intended to make this random com­ment in any degree complete or comprehensive. Many subjects are left out because they seem not to lend themselves happily to artistic portrayal, and still others are omitted which, while highly available for pictorial purposes, have been repeatedly illustrated or for which no adequate space could be provided here.
The desire is to suggest something of the Boston spirit by a limited amount of text and a group of random sketches in keeping with it. As a guide to Boston the book would be quite useless; as an intro­duction to Boston in its more intimate aspects, it will perhaps serve its purpose agreeably and accept­ably.

Click the book image to continue to the next chapter