COLLECTOR'S PAGES: 4
NEKRASSOFF

Hammered Pewter
Copper/Pewter
Enamelled Copper
Internet Auction Information:
As Nekrassoff items come up for sale on various internet auction sites, I will attempt to describe them here, and perhaps add images of each. Of course, I plan to attach the final sale price for each item as well as the date.
eBay Listings:
1. Large Enamel on Copper Stylized Bird Plate.
- Apparently a piece done more recently, it uses a stylized image of a goose. The size of the piece (@11 1/4", as well as the move away from realistic painting seems to date it toward the end of Nekrassoff's work.
Condition: Small chip in the enamel on upper rim of plate.
Auction End Date:
Sold for: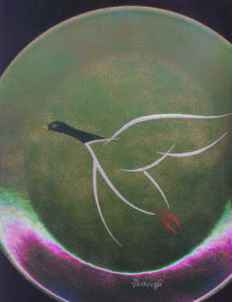 ---
2. Tea and Coffee Service:
- This is a beautiful example of Nekrassoff work at its finest. Hammered pewter, coffee and tea set (pre-WWII?) includes coffee and tea pots, sugar bowl with lid, creamer, serving tray and a bowl, serving tray and ladle set. Coffee and tea pots have carved wooden handles, and stylized flowers on each piece.
Condition: From the description at the auction site, there appears to be no damage, however, the sugar spoon is not the original one that went with the piece.
Auction End Date: 11/24/98.
Sold for: $770.00 (!)
Seller: Gary J. Blum, Yesterday Once More, 629 Main St., Red Bluff, CA 96080.
---

3. Red Enamel Footed Bowl
- 2 1/2" tall by 6" in diameter. Enamel color red, black and white.
Condition: listed as perfect
Date Auction Ended: 11/30/98
Sold For: $56.10
Seller: Gregory Karl, eBay name: gktreasures.



---

4. Small Bird Plate (Chickadee?)
- Enamel on copper. 4 3/4" in diameter. Nicely executed. Post -WWII.
Condition: From description, appears to be in good to excellent condition.
Auction End Date: 12/03/98
Sold For: Did not meet reserve price
Seller: Carlotta Hunt, eBay contact name - chunt@lcc.net
---
Items from Antiques Dealers in the US:
1. Round, Enamel on Copper Dish:
Description: Beaded copper rim and body with red and white enameling. 4" in diameter.
Condition: From owner description, Good to Excellent.
Dealer: Fifty - Sixty. Contact them at: www.50-60.com.
---
Privately Owned Items:
1. Punch Bowl Set:
Pewter punch bowl set with tray, bowl and ladle.
Condition: From owner description, Good to Excellent.
Dimensions: Bowl - @12" in diameter at the top, not including handles. 8" at base of bowl. Tray is 15" in diameter, not including handles, and the ladle is approximately 16" long.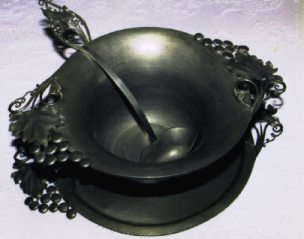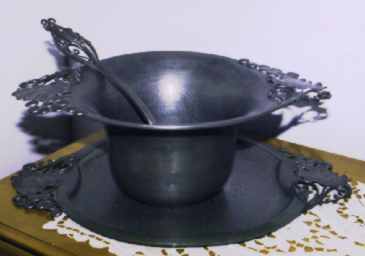 Nekrassoff Collectors' Corner:
Do you collect Nekrassoff? Are you interested in sharing information and images for other collectors? Please email me to arrange to have your collection's images added to this Nekrassoff web page. Email me at: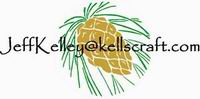 Click below for New Nekrassoff information:
* Nekras Pieces: The Earliest Nekrassoff
* Biography of Serge and Boris Nekrassoff
Click here to return to
Kellscraft Studio
Home Page
Click here to return to
The Web Text-ures
Content Page