A TALK ABOUT CORK.

Harry and Grace were the sitting-room.

Their aunt Mary came in. She had a bit of cork in her hand.

"Do you know what this is, Harry? " she said.

"Yes, it is a piece of cork," said Harry.

"It grows. I saw a cork-tree in your book of pictures, the other day."

"Oh!" said little Grace, "then the corks grow on trees just like apples.

"Some of them are small like the corks in mamma's bottles of medicine.

"Some of them grow big like the cork in the vinegar jug."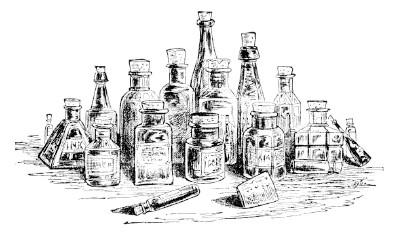 See the Corks!

Harry laughed.

He called Grace a little "goosie." Aunt Mary laughed too.

But she said Grace was not a "goosie."

Grace was a bright little girl.

"But corks do not grow on trees, Grace," she said. "They are made out of the bark of the cork-tree.

"The cork-tree grows in Europe and Africa.

"It grows in our own country too.

"Some cork-trees have been planted in the State of Georgia.

"Now I will tell you how the corks are made.

"First the bark is stripped off the tree.

"Then it is soaked. Then it is dried and pressed.

"Then the bark is ready to use. The little corks and the big corks are all cut from this bark.

"Can you tell me any thing else cork is used for, Harry?" said aunt Mary.

"Yes," said Harry. "Last summer I was on the Lakes with papa.

"I saw some life preservers on the steamboat made of cork.

"Cork is very light. It will float in water.

"If a person has a life preserver on he will not sink in the water."

"I know something about cork too," said Grace. "Grandma has cork soles in her slippers to keep her feet warm."

Mamma was in the sitting-room.

"And I know something about cork," said mamma. "I have a mattress that is made out of pre­pared cork."

"People in Spain line many of their houses with cork," said aunt Mary. "It keeps out the cold and damp.

"A great many cork-trees grow in Spain."