CHAPTER III
ROYAL VISIT TO THE NIMROD
In the Solent: The Nimrod visited by Royal Party: Her Majesty Queen Alexandra presents a Union Jack to the Commander of the Expedition Torquay, August 6: Nimrod arrives: August 7, The Nimrod sails for Lyttelton, via St. Vincent and Cape Town: Arrival at Lyttelton, November 23, 1907 COWES, Aug. 4
THEIR Majesties King Edward and Queen Alexandra, their Royal Highnesses the Prince of Wales, the Princess Victoria, Prince Edward and the Duke of Connaught, came on board and inspected the Nimrod, an honour which was greatly appreciated by the members of the expedition.
The royal party showed much interest in some of the equipment for the southern journey. The picture shows His Majesty the King examining the sledges, &c.
Her Majesty Queen Alexandra graciously entrusted me with a Union Jack to be carried on the southern journey; His Majesty King Edward graciously conferred on me the Victorian Order.
The Nimrod sailed for Torquay early on the following morning, and arrived there on August 6. We drank success to the expedition at a farewell dinner that evening, and on the morning of Wednesday, August 7, the ship sailed for New Zealand, and after calling at St. Vincent and Capetown, arrived at Lyttelton on November 23, the voyage having occupied three months and a half. Mr. Reid reached Australian waters a month ahead of the Nimrod, in order to make the necessary arrangements and meet the Manchurian ponies, and I arrived early in December to arrange for leaving Lyttelton on January 1, 1908.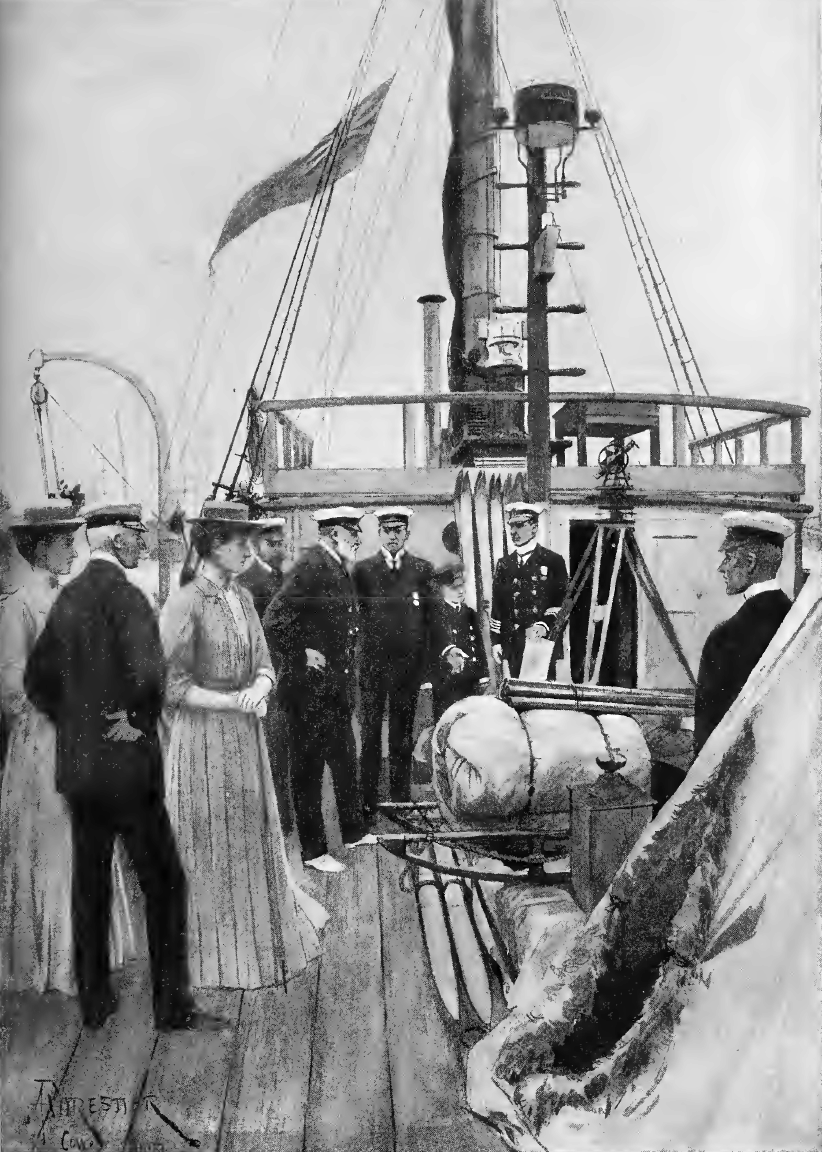 THEIR MAJESTIES KING EDWARD AND QUEEN ALEXANDRA INSPECTING THE EQUIPMENT ON THE "NIMROD" AT COWES