GRACIOSA AND PERCINET

HERE was a king and a queen, who had only one daughter. Her beauty, her sweetness of temper, and her wit, which were incomparable, caused them to give her the name of Graciosa. She was her mother's sole delight, who ordered new garments for every morning throughout the year, either of cloth of gold, velvet, or satin. There was in the same court a very rich old maid, called the Duchess Grognon; a most frightful creature to look upon. She lived in a castle of her own, not distant; and when any person who came to visit her, spoke in praise of the princess, whom she hated, she would cry out in a violent passion, ''Tis false, 'tis false; she's not at all handsome; I have more charms in my finger than she has in her whole body.' In a short time the queen fell sick and died; and the princess Graciosa was very near following her, through grief for the loss of so good a mother. The king no less bemoaned his fatal separation from so dear and loving a wife. One day, to divert himself, he went hunting, and perceiving a fair castle not far off, thither he made with all his train, and went to repose himself.
The duchess Grognon, having notice of the king's arrival, (for it was to her that the castle belonged) made haste to receive him, and showed him into a room where were placed above two hundred pipes in rows, one above another; he asked her whether it was only for her own use that she made such large pro‑vision. 'Yes, sir,' said she, 'I provide for none but myself and family; here are all kinds of wines, which will your majesty make choice of?' — 'Frankly,' said the king, I prefer Champagne to any other wine.' Grognon took a little hammer, and having given a rap or two at the head of the pipe, it opened, and out came a million of pistoles: 'Ha! what is the meaning of this?' said she, with a smile; and knocking at the head of another pipe, out flew as many guineas as would have filled a bushel. 'Dear me, how is this?' said she, in feigned astonishment! From thence passing to a third, she knocked in the same manner, and there issued as many pearls and diamonds as covered the floor. 'Well, sir,' said she to the king, 'this is past my understanding; somebody must certainly have robbed me of my fine wines, and filled up the vessels with these trifles.' — 'Trifles!' cried the king, in amazement: 'my lady Grognon, do you call these trifles? Why, madam, these trifles are enough to buy ten cities.' — 'Well then, sir,' said she, 'to be plain with you, all these pipes are full of gold and precious stones, and I will make you master of them, upon condition that you will marry me.' — 'A match,' cried the king, (who loved money better than any thing) 'this very day, if you please, before we stir out of the castle.' — 'But stay,' said she, 'there is one condition more: I will be mistress of your daughter as her mother was.' — 'Agreed,' cried the king, 'you shall be mistress of my father too: Here's my hand upon it.' Grognon gave him her hand; after which, having given him the key of the wealthy cellar, they took their leave.
When the king returned to the palace and informed Graciosa of his marriage, the poor girl was almost heart-broken. A faithful servant, who had nursed her infancy, advised her to behave discreetly to her step-mother, and Graciosa wisely resolved to do so; she arrayed herself in the most beautiful dress imaginable, after which she went down into the garden, and walking forward into a gloomy grove, seated herself on a bank of turfs; 'Here,' said she, at length, 'I am at liberty: here I may weep as long as I will without molestation:' and with that she fell a sighing and weeping to that degree, that her eyes looked like two fountains of water. While in this condition, she spied coming towards her a page, clad in green satin, with white plumes in his cap, and the most beautiful countenance in the world; who, when he drew near her, bent one knee upon the ground: 'Princess,' said he, 'the King stays for you.' She was surprised by the attractive features which she observed in the young page; and as she knew him not, thought he might be one of Grognon's train. 'How long,' said she, 'have you been admitted by the king into the number of his pages?' — 'I belong not, madam, to the king,' said he; 'I belong to you, and never will belong to any other.' — 'You belong to me,' replied the princess full of astonishment, 'how is that possible, since I know not who you are?' — 'Oh! princess,' said he, 'I never durst as yet attempt to make myself known. But the misfortunes with which you are threatened by the king's marriage, oblige me to speak to you sooner than otherwise I would have done. I had resolved to leave to time, and my own assiduous services, the care of manifesting my love and respect for your highness and —.' — 'How! a page,' cried the princess, 'has a page the presumption to tell me he loves me? This completes the measure of my misfortunes.' — 'Fright not yourself, fair Graciosa,' said the page with a tender and respectful air; 'I am Percinet, a prince too well known, both by birth, riches, and learning, for you to find so great an inequality between us, though your merit and beauty do indeed make a distinction. I am often in those places which you frequent, though you see me not. The gift of fairyism, which I received from my birth, has greatly assisted to procure me the pleasure of your company.' All the while he was speaking, the princess looked at him with astonishment. At last, she said, Are you the prince Percinet whom I had so great a desire to see, and of whom such wonders are reported? How glad I am that you will be in the number of my friends! Now I no longer fear the mischievous Grognon, since you are so kind as to take me under your protection.' Some few words more they had together, and then Graciosa returned to the palace, where she found a horse ready harnessed and caparisoned, which Percinet had put into the stable, and which the grooms believed to be appointed for her. She mounted immediately, for she was very nimble and active, and the page took the horse by the bridle and led him, turning continually towards his mistress, that he might have the pleasure of beholding her.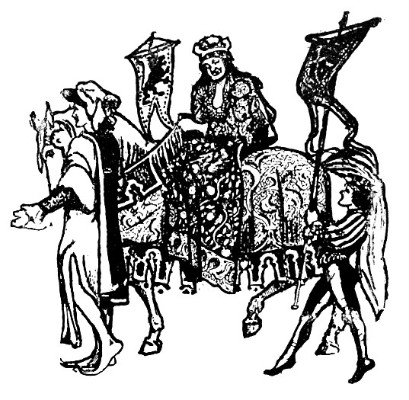 In the meantime, Grognon had covered her ugly person with fine clothes and jewels; but when riding in an open calash, she met the king and the princess so well mounted, instead of returning their embraces, she refused the palfrey they presented to her, saying, 'shall that Miss Graciosa have a finer horse than I? I had rather never be queen, but return to my wealthy castle, than be thus used.' The king commanded the princess immediately to alight, and make it her request to Grognon, that she would be pleased to accept of her horse. The princess obeyed without any reply; but Grognon took no notice of her, nor even thanked her for her civility; but insisted upon having the green page to hold her horse as he had held it when Graciosa rode. She was, however, so deformed and unwieldy, that she soon fell from the back of the ambling palfrey, whereby she was very much hurt, and I believe no one there heeded the misfortune of so ill natured a person. Notwithstanding her bruises and the loss of an artificial eye, a row of teeth, and other borrowed beauties, she contrived to rave and scold all the time they were carrying her to bed. 'This is one of Graciosa's tricks,' cried she, 'without doubt she picked out that unruly headstrong jade, to do me a mischief, and to have killed me if she could. If the king does not do me justice, I'll return to my wealthy castle, and never see him more.' Grognon's wrathful speech was presently reported to the king; whose prevailing passion being interest, the thoughts of losing so many pipes of gold and diamonds made him tremble; so that he was ready to submit to anything. He ran to his odious mistress, fell at her feet, and declared that if she would think of a punishment proportionable to Graciosa's offence, he would give her up to chastisement: to which she answered she was satisfied, and would send for the wretch immediately.
Accordingly, a messenger was sent to tell the princess, that Grognon would speak with her. The poor princess immediately turned pale, and shook every joint of her, but went with trembling feet and a sad heart to Grognon's apartment. No sooner was she entered, but the doors were locked upon her, and four women, resembling four furies, fell upon her, and tore her costly garments from her back; each of them had a terrible rod in their hands, and huge brooms stood by them to make more, as they wore out the first: they laid on without mercy; and at every stroke, Grognon cried out, 'harder, harder yet, you are too merciful!' Nobody would have thought, but that after all this, the princess must have been flayed alive from head to foot: but it fell out otherwise; for the courtly Percinet had bewitched the women's eyes, so that they thought they had rods in their hands, when they had only light plumes of various-coloured feathers: which Graciosa immediately perceived, and ceased to be afraid. 'Oh, Percinet,' said she to herself, 'thou art come generously to my relief! what should I have done without thee?' The furies having at last so tired themselves that they could no longer stir their arms, they huddled the princess's clothes about her, and put her out of the room, with a great deal of injurious language.
The princess returned to her chamber, and feigning to be very ill, went to bed. Grognon's joy to hear that Graciosa was in such a weak condition, made her mend sooner than could have been expected; after which the nuptials were solemnized with more than ordinary magnificence. Tournaments were held in honour of Grognon, who deceived herself by the idea that all the combatants must admire her ugly form, when in fact all eyes were fixed upon the amiable Graciosa, who was placed behind her, thinking only of her beloved Percinet. At last, there arrived a young knight, holding in his hand a box that was set with diamonds: immediately he caused proclamation to be made, that he would maintain Grognon to be the foulest and most deformed of all the sex, and that she, whose picture he had in his box, was the most beautiful virgin in the world. Having said this, he ran against all the knights, and threw them to the ground, one after another, till they numbered four and twenty; the young knight served them all alike; and then opening the box, he told the vanquished champions, that to convince them of their error, he would show them his beautiful picture. Every body immediately knew it to be the princess Graciosa's, but who the young knight was, nobody could tell; who, after he had made a profound bow to his mistress, retired without telling his name; but Graciosa did not doubt he was her dear Percinet.
The enraged Grognon, being almost choked with anger and unable to speak, made signs that it was Graciosa she would be at; and when she could explain herself, she fell a raving like a bedlamite. 'How!' said she, 'dispute with me the prize of beauty! What! bring her champion to affront my knights! No, it is not to be borne. I will be revenged, or die.' — 'Madam,' replied the princess, 'I protest to your majesty I have no hand in this unlucky accident; and, if you please, will sign it with my blood, that you are the most charming beauty in the world, and that I am a monster of deformity.' — 'Oh! you are merry, Mrs. Cock-a-Hoop,' replied Grognon, 'but I shall have my turn in a little time.'
The wicked queen waited with impatience for night: and when it was dark, ordered her coach to be got ready; forced Graciosa into it, and directed her to be carried, under a strong guard, a hundred leagues off, into a wide forest, through which nobody durst travel, because it was full of lions, bears, tigers, and wolves, where they left her to perish. Forsaken thus, and in the dark, she wandered for some time, not knowing whither she went. 'Percinet,' she cried sometimes to herself, 'Oh Percinet! where art thou? is it possible thou shouldst forsake me?' no sooner had she uttered these words, but she saw one of the most agreeable and surprising sights in the world: it was an illumination so splendid, that there was hardly a tree in the forest on which there did not hang several branches stuck with tapers; and at the bottom of a walk she perceived a palace, which seemed to be all of crystal, and shone as bright as the sun. At this instant a noise, which she heard behind her, increased her fears, and made her apprehend that some wild beast was coming to devour her; but looking, trembling, behind her, she perceived Percinet, who seemed more beautiful than love himself is painted. 'What,' said he, 'my adorable princess, do you fly from me! are you afraid of him who adores you? can it be, that you should have so little knowledge of my respect, as to believe me capable of failing in the duty I owe you? Ah, no, cease your fears, and go with me to the palace of Fairy-land, where you will be received by the queen my mother, and my sisters, who already have a most tender affection for you, from the report I have made of your rare endowments.' Graciosa, charmed with the submissive and obliging manner of her young lover's address, could not refuse to seat herself with him in a little calash, curiously painted and gilded, which two harts drew with prodigious swiftness: Percinet commanded the harts to hasten to the palace of Fairy-land, whither, when the princess came, her ears were entertained with the sweetest music; and the queen and her two daughters, who were all exquisitely beautiful, came forth to meet her, embraced her, and led her into a great room, the walls of which were of the finest crystal. There, with great astonishment, she observed the story of her life engraved to that very day. 'Your historians are very quick,' said Graciosa to Percinet, 'for I perceive all the variety of my actions, or even gestures, are immediately recorded here.' — 'The reason, my dear princess,' replied Percinet, 'is because I would not lose the most minute idea of your perfections, but imprint them deeply on my heart: yet, alas! I am neither happy nor contented any where.' She answered him not a word, but thanked the queen for her kind reception. Soon after, a noble banquet was served up, and Graciosa ate with a good appetite, being overjoyed she had met with Percinet in the forest, where she had been afraid she should have found nothing but bears and lions.
And now the queen ordered the two princesses to conduct Graciosa to her apartment. Nothing was ever more magnificent than the chamber and furniture, nor so rich as the bed where she was to lie. She was attended by four and twenty virgins, dressed like nymphs, the eldest of whom was not above eighteen, and every one seemed to be a miracle of beauty. When she was in bed, a most heavenly symphony of music filled the room, to lull her to sleep; but her spirits were so agitated and disordered by these surprising things, that it was not in her power to close her eyes. 'All that I have seen,' said she, 'must certainly be enchantment; I cannot make too much haste from these enchanting places.' Yet, when she considered the agreeable difference between living in so magnificent a palace, and exposing herself to the cruelty of the barbarous Grognon, she could not think of the separation without regret. In the morning, as soon as she was up, she was presented with garments of all sorts and colours, and the richest jewels, laces, gloves, and silk stockings; all extremely fine, and admirable for the curiosity of their workmanship. Graciosa's dress was never before so splendid, nor did she ever more gracefully become it, nor appear more charming. When she was dressed, Percinet entered her chamber, habited in green and gold, for green was his colour, because Graciosa loved it. However, nothing Percinet could say or do, made her forget that she ought to return to her father, and though she consented to remain eight days, she would not be persuaded to marry Percinet.
While she stayed, she several times expressed an earnest desire to know what passed in Grognon's court; 'Come,' said he, 'with me to the great tower, and you shall there distinctly see with your own eyes what you desire to know.' With that he led her to a tower that was prodigiously high; and all of crystal, like the rest of the castle. He bid her set her foot in a particular place, and put her little finger in his mouth, and then look towards the city; which she had no sooner done, but she perceived the wicked Grognon sitting with the king, and heard her tell him that Graciosa had hanged herself in the cellar; the poor king wept, tore his hair, and would not be comforted. However, he relieved his mind by giving orders for a splendid funeral. Graciosa, seeing her father so extremely afflicted, 'Ah, Percinet,' said she, 'it is impossible for me longer to bear that my father should think me dead; therefore, if you love me, carry me back again, that I may show myself at court.' Notwithstanding all his arguments, he could not prevail upon her to relinquish this request; therefore, after taking leave of the prince's mother and sisters, they set out again in the calash. When they arrived at the court, Percinet so ordered it that himself, the princess; and the calash, became invisible; so that she went unseen till she came into the king's chamber, and threw herself at his feet. When the king saw her, he started up in fear, and was running away, taking her for a ghost; but she held him by his garments, and convinced him she was not dead; but that Grognon had caused her to be carried into a wild forest, where she had got into a tree and lived upon the fruit. She added, that the queen had caused a billet to be buried instead of her; and besought him to send her to one of his remote castles, where she might not be exposed to the rage of her mother-in-law.
The king, doubting whether she spoke truth, sent to have the billet taken up, and being convinced of the imposture, was amazed at Grognon's wickedness, not imagining such malice could have been in a woman's breast. But when Grognon's creatures acquainted her with the princess's return, and that she had supped with the king, her rage became perfect frenzy. She flew to the king's chamber, and told him, he must either deliver up his daughter to her that moment, or she would instantly be gone and never see him more; that he was a fool to believe she was Graciosa, though indeed she somewhat resembled her, for that Graciosa had certainly hanged herself. The king delivered up the unfortunate princess into her hands, feigning to believe she was not his daughter. Grognon transported with joy, dragged the princess, by the help of her women, into a dark dungeon, where she caused her to be stripped, covered her with coarse dirty rags, and a nasty cap upon her head, hardly allowing her straw to lie upon, or bread to eat.
In this distress she wept bitterly, and wished herself again in the castle of Fairy-land; but she durst not call upon Percinet, conscious that she had not been so kind to him as she ought to have been, in having so ungratefully left the protection of his mother and sisters. In the meantime, the wicked Grognon had sent for a fairy more malicious than herself, who being come: 'I have got,' said she, 'a little saucy minx that vexes me to death; I would willingly punish her, by setting her some difficult tasks, which she not being able to accomplish, I may have a pretence to break her bones, and she no excuse: assist me, therefore, to find out some new punishment for her every day.' The fairy answered, she would consider of it, and return the next day. She was as good as her word, and brought with her a skein of thread, as wide about as the waists of three people; so fine, that it would hardly bear breathing upon, and so tangled, that neither beginning nor end was to be found. Grognon, overjoyed at the impossibility of this task, sent immediately for the lovely captive, and, with a smile of derision, 'Here,' said she, 'prepare your clumsy paws to unravel this skein; and be assured, if thou breakest the least bit, thou shalt dearly pay for it, for I will flay thee alive myself. I must have it unravelled before sunset;' and saying this, she shut her up in a chamber under three locks.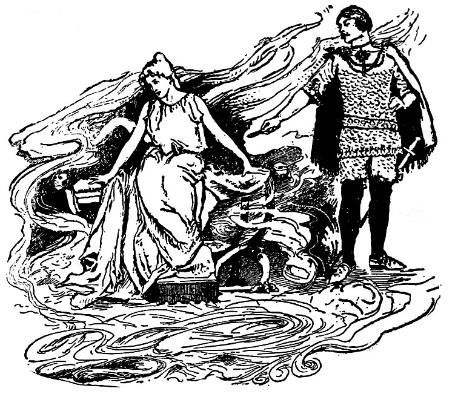 When the princess was alone, she attempted the task, turned the skein a thousand ways, and broke it a thousand times, which so distracted her, that she gave over the attempt; and throwing it in the middle of the room, 'Go, fatal skein,' said she, 'lie there, since thou it is that art to be the occasion of my death. Oh, Percinet, Percinet! if my severity has not given too great a repulse to your friendship, though I cannot hope your assistance, yet come, however, and receive my last farewell.' Saying this, she fell a weeping so bitterly, that any thing less sensible than such a friend, would have been moved to compassion. Percinet immediately opened the door with the same ease as if he had the keys in his pocket. 'Here I am, dear princess,' said he, 'always ready for your service;' having said this, he struck three times with his wand upon the skein, and immediately the threads untwisted, and closed one to the other; and with two more strokes the whole was unravelled with surprising ease; which done, he asked her, whether she had any other service to command him, and whether she intended never to bear his company but in her distresses? 'Upbraid me not, sweet Percinet,' cried she, 'I am already too unfortunate.' — 'Oh, princess,' replied Percinet, 'it is your own fault that you are not absolutely delivered from this insulting tyranny, to which you are a victim. Go with me, make your felicity mine, and mine yours: what are you afraid of? 'That you love me not with a sincere and lasting affection,' replied the princess; 'I am desirous that time should confirm the truth of the sentiments you express for me.' Percinet, being offended, took his leave and left her. Grognon returned at sunset, and beat the poor girl unmercifully, for having performed the task. Grognon sent for the fairy again: 'Find me out something else,' said she, 'so difficult, as may amount to an impossibility.' The fairy went away, and the next day returned with a great tub full of feathers of all sorts of birds, which I am not able to name; and these feathers were so intermixed, that the birds themselves would never have been able to have known their own apparel. 'Here,' said the fairy to Grognon, 'command her to separate these feathers, and lay the plumage of every one of these birds by itself.' Grognon was in an ecstasy of joy, only at the bare thoughts of the princess's perplexity. She sent for her, and, after having terrified her with a thousand menaces, she shut her up with the feathers in a chamber under three locks, as before; giving her to understand, that she expected her work should be done before sunset. Graciosa, finding it impossible to know the difference of one bird's feathers from those of another, threw them back into the tub. Yet, she made several essays; but the oftener she tried, the more impossible she found her task. So that at length, overwhelmed with grief and despair, 'I must die,' cried she with a lamentable voice. Injured Percinet has left me too, no doubt; and to call on him for succour would be in vain. 'Dear Graciosa, I am here,' cried Percinet, starting up from under the feathers, where he lay hid: 'I am ready to deliver you from all your troubles; and now, after so many proofs of my fidelity, can you any longer suspect the sincerity of my affection, or think I do not love you better than my life?' Saying this, he struck three times with his wand upon the tub, and immediately the feathers flew out, and sorted themselves in little heaps about the room. 'I am infinitely obliged to you, sir,' said Graciosa; 'but for you, I must have been lost; and be assured, I will not be ungrateful.'
Grognon came exactly at her hour, but was amazed and confounded to see her designs again defeated; she, however, bestowed some blows upon Graciosa, pretending the feathers were not laid even. She sent for the fairy directly, and fell into such a rage against her, that she knew not what to say, being herself quite confounded. At length the fairy promised to use her utmost art in making a box, which, if her curiosity ever tempted her to open, should puzzle her to shut again, beyond all the arts in Fairyland to help her. Accordingly, some days after, she brought this box, which was somewhat large. 'Here,' said she to Grognon, 'send your captive somewhere with this box, but forbid her to open it, and then she certainly will, and you will have your desire.' Grognon, observing the fairy's directions, 'Here,' said she, to her fair captive, 'carry this box to my rich castle, and set it upon a table in my cabinet; but, upon pain of death, I command you not to look what is in it.' Graciosa having put on her wooden clogs, her canvas gown, and her woollen cap, set out on her journey, and coming into a little wood, surrounded with delightful meadows, she sat down to rest herself: having set the box upon her knees, her curiosity on a sudden prompted her to open it. 'What can be the danger?' said she to herself; 'I shall take nothing out of it, and would only see what is in it;' so, reflecting no farther upon the consequences, she opened the box, when immediately out came a great many little men and women, violins, instruments, little pictures, little cooks, and little dishes; in short, the giant of the whole company was not higher than your little finger. They danced in the meadows, divided themselves in companies, and began the pleasantest ball that was ever seen; some skipped and capered about, others acted as cooks; some ate and drank; and the little violins played to a miracle. Graciosa for some time was delighted with the sight, thinking to recall the merry wantons into the box; but not one of them would return; the little gentlemen and ladies betook themselves to their heels; the violins ran away; the cooks, with their pots upon their heads, and their spits upon their shoulders, flew from her like so many birds; and when she followed them into the wood, they got into the meadows, when she ran after them into the meadows, they flew into the wood. 'O indiscreet curiosity!' cried Graciosa, weeping, 'Now my enemies will prevail; the only misfortune I could have prevented, has befallen me through my own folly: no, I cannot sufficiently blame myself. Oh! Percinet! Percinet! if it be possible for thee still to love a princess so imprudent, assist me once more, in this most perilous accident that ever threatened my life!'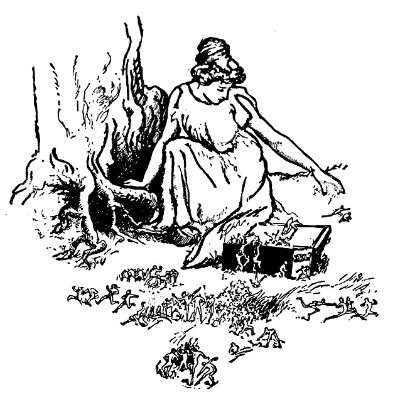 Percinet did not stay to be called thrice, but appeared immediately in his green habit, saying, 'Were it not for the wicked Grognon, he supposed Graciosa would never think of him.' — 'Have a better opinion of my sentiments,' replied the princess; 'I am neither insensible of merit, nor ungrateful for kindnesses received. It is true, I have put your constancy to trials: but it is to crown it, when I am convinced of it.' Percinet, being now better pleased than ever, gave three strokes with his wand upon the box, and immediately the little gentlemen and ladies, the violins, the cooks with their roast meat; in short, the whole of this diminutive company placed themselves again in the box, as if they had never been out of it; which done, Percinet, who had left his chariot in the wood, desired the princess to use it in the remaining part of her journey to the castle; and, indeed, she had no small need of such a convenience, considering the condition she was in. So, having rendered her invisible, he conducted her himself, and by that means had the pleasure of her company. Thus she arrived at the rich castle; but when she demanded the key of the cabinet, in Grognon's name, the governor burst out a laughing. 'How!' said he, 'hast thou the confidence to think shepherds' girls are ever admitted into queens' cabinets! Go, go, get thee gone, wooden clogs and hobnails never yet defiled these glittering floors.' Graciosa desired him to write a line why he had refused her entrance, which he readily did. So, leaving the castle, she was received by the amiable Percinet, who waited for her, and conducted her back to the king's palace. It would be difficult to relate all the tender and respectful arguments he used by the way to persuade her to put an end to her misfortunes; to which she replied, that if Grognon imposed upon her any more of these impossible commands, she would yield him her consent.
When the enraged step-dame saw the princess had returned, she flew upon the fairy, whom she had detained with her all the while, fastened her claws in her wrinkled cheeks, and would have throttled her too, had it been possible to strangle a fairy. She caused a great hole to be made in the garden, as deep as a well, and a great stone to be laid over the mouth of it: then taking occasion to walk in the garden she said to Graciosa, and the rest that attended her, 'Under that stone, as I am informed, there lies concealed immense treasure; let us go and remove it.' Upon this they all set their hands to it, and Graciosa among the rest, which was what Grognon desired; for as the princess stood by the side of the hole, Grognon pushed her in, and then rolled the stone over it again. This stroke appeared to be past remedy; for how could Percinet find her, buried thus in the earth? She herself despaired, and repented she had so long delayed to marry him. 'How terrible is my destiny,' cried she: 'this kind of death is more dreadful than any other. Oh, Percinet! you are sufficiently revenged for my scrupulous reluctancy.' She was lamenting in this manner, to ease her sorrows, when she perceived a little door open, which she had not seen before, by reason of the obscurity. At the same time she also saw daylight, and a garden full of flowers, fruits, fountains, grottos, statues, groves, and arbors; she went in, and walked forward into a spacious valley, wondering what would be the event of this extraordinary beginning. Soon after, she discovered the castle of Fairy-land, which she easily knew again; for a castle made all of crystal, with the history of one's life engraved therein, is no very common sight. Percinet appeared too, together with the queen his mother, and his sisters. 'Fair princess,' said the queen to Graciosa, 'it is time now you would consent; make my son most happy, and free yourself from that deplorable condition wherein you live under the tyranny of Grognon.'
The grateful princess fell upon her knees, and told the queen she might dispose of her destiny, and that she would obey her in all things. The prince threw himself at her feet; the whole palace resounded with music and acclamations of joy, and the nuptials were solemnized with the greatest magnificence. All the fairies, for a thousand miles round, came thither in the most sumptuous equipages. Among the latter appeared the fairy who assisted Grognon to torment Graciosa. When she knew who it was, she was in the greatest surprise; besought her to forget what had passed, and said she would endeavour to make her amends for the evil she had caused her to suffer; and it is certain that she did not stay out the festival, but, remounting her chariot, drawn by two terrible serpents, she flew to the king's palace; and finding Grognon out, wrung off her neck, notwithstanding all the guards and women could do to prevent it.