DIAMONDS AND TOADS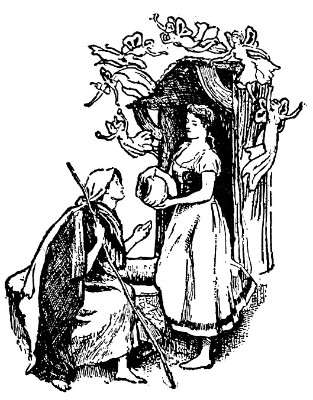 HERE was once upon a time a widow who had two daughters. The eldest was so extremely like her, both in temper and person, that whoever saw the one saw the other also; they were both so very proud and disagreeable that nobody could live with them. The youngest, who was the exact picture of her father, in good‑nature and sweetness of manner, was also the most beautiful creature ever seen. As it is natural to love those who resemble us, the mother doted upon the eldest, and no less hated the youngest. She made her eat in the kitchen, and work all the day with the servants. Among other things, the poor child was obliged to go twice a day to draw water at a fountain more than a mile and a half distant from the house, and bring home a large pitcher filled with it, as well as she could. One day, when she was at the fountain, a poor woman came up to her, and asked her to let her drink. 'That I will, Goody, most readily,' said the sweet-tempered creature; and washing out the pitcher, she filled it at the clearest part of the fountain, and held it to the old woman's mouth that she might drink the more easily. The old woman having drunk, said to her: 'Since you are so pretty, so kind, and so obliging, my dear, I will bestow on you a gift, (for it was a fairy in disguise who had asked her to drink, just to see how far the little girl's good-nature would go.) I give you,' continued she, 'that whenever you speak there shall come out of your mouth either a rose or a diamond.' When the sweet girl got home, her mother began to scold her for staying so long at the fountain. 'I ask your pardon, mama,' said she, 'for not being at home sooner; 'and as she pronounced these words, there fell from her lips two roses, two pearls, and two large diamonds.
'What do I see!' cried the mother, quite astonished: 'as sure as any thing she drops diamonds and pearls from her mouth in speaking! My child, how happens this?' (This was the first time she had ever called her 'My child.') The poor girl told her mother all that had befallen her at the fountain, dropping pearls and diamonds from her mouth all the time she was speaking. 'Upon my word,' said her mother, 'this is very lucky, truly: I will send my darling thither directly. Fanny! Fanny! look! do you see what falls from the mouth of your sister, when she speaks? Should you not like to have the same gift bestowed on you? Well, you have only to go to the fountain, and when a poor woman asks you to let her drink, to grant her request in the most civil manner.' — 'Vastly pretty, truly, it would be to see me go and draw water at the fountain! Not I, indeed,' replied the proud creature. But I insist on your going, and this very moment too,' answered her mother. The pert hussy accordingly set out, taking with her the best silver tankard in the house, and grumbling all the way as she went. She had no sooner reached the fountain, than a lady, most magnificently dressed came out of a wood just by, and asked her to let her drink. (This was the very fairy who had bestowed the rich gift on the younger sister, and had now taken the dress and manners of a princess, to see how far the insolent airs of the haughty creature would go.) 'Am I come here,' said the ill bred minx, 'to draw water for you? O yes, the best silver tankard in the house was brought here on purpose for your ladyship, I suppose! However, you may drink out of it if you have a fancy.' 'You are not very obliging,' replied the fairy, without putting herself in a passion: 'but since you have behaved with so little civility, I give you for a gift, that at every word you speak there shall come out of your mouth either a toad or a viper.'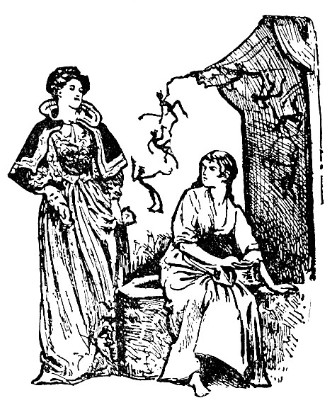 As soon as her mother perceived her coming home, she called out, 'Well, daughter!' — 'Well, mother,' answered the pert hussy. And as she spoke, two toads and two vipers dropped from her mouth upon the ground. 'Oh, mercy!' cried the mother, 'what do I see? It is the jade thy sister who is the cause of all this! But she shall pay for it, I warrant her,' and instantly went to look for her that she might beat her. The poor innocent ran away as fast as she could, and reached a neighbouring forest. The king's son who had been hunting, happened to meet her, and observing how very beautiful she was, asked her what she was doing all alone in the forest, and why she cried?' 'Alas!' said she, sobbing as if her heart would break, 'my mother, sir, has turned me out of doors.' The king's son, seeing pearls and diamonds fall from her mouth at every word she spoke, desired her to tell him the reason of such a wonder. The good girl accordingly related to him all that had befallen her at the fountain. The prince was so charmed with her beauty and innocence, that he asked her to become his wife; and as the gift she possessed was worth more than the largest marriage portion, he conducted her to the palace of the king his father, and married her immediately. As for her sister, she grew even perter than before, and behaved in all respects so very ill, that her own mother was obliged to turn her out of doors; and the miserable creature, after wandering a great way, and vainly trying to prevail upon some one to give her food and shelter, went into a wood and there died of grief and anger, unlamented by any one.