CHAPTER XI

NOW FOR THE GROUNDS AND SHRUBBERY

IN my opinion, Joyce Kilmer's poem about ''only God can make a tree," doesn't owe its wide-spread popularity so much to its excellence as a poem as to the fact that everyone loves trees. Tree surgery has turned this love for trees to a commercial end. It isn't necessary to sell a love for trees to anyone who reads this book.

Trees are almost necessary to provide a setting for an early American home. But people shouldn't let a love for trees make them do silly things. Any device like running a tree through a porch roof is silly. Better not have the porch. It was also silly for old Peter Stuyvesant, one of the Dutch Governors of New Amsterdam, to make the city planners turn Broadway at an angle near 8th Street in order to save his favorite pear tree. This crook in Broadway not only has inconvenienced countless millions of people but it has balled up the entire scheme of New York planning. Now every avenue crosses Broadway at an angle causing ''V" shaped lots and "flat iron buildings" at the most important crossroads of the world. No pear tree, now dead two hundred years, could possibly be worth this. One good thing about trees is that after they are gone you don't usually miss them.

If your house is located in a grove of trees, cut out at least two-thirds of them to give the others a chance. Trees should frame a house, not eclipse it. The charm of New England houses depends quite as much upon an expanse of lawn as upon trees. Beside, for the antiquarian, grass is older in literature than trees anyway. Wasn't it Nebuchadnezzar who ate it? They didn't begin to eat trees until Socrates' day. Modern tree movers can move trees of almost any size, if you are willing to pay for it. Permanent trees are the only kind worth while anyway. Don't plant poplars; they aren't trees at all. They are weeds.

It is true that poplars are quick growers and provide shade, but just when you start to enjoy them, along comes a wind and rips out the head or some of the principal branches. Furthermore, poplars are messy trees. They litter up a place with twigs and leaves and altogether are not so good.

Colonists had the right idea about trees. Sugar maples, elms and oaks are the grandest trees in the world. Hickory and walnut are good, too, but all of these trees are slow growers. Modern landscape gardening goes in for fancy trees like blue spruce, Japanese cut-leaf maples, magnolias and Catalpa Bungeii. They are really not in keeping with the spirit of an old house. Fruit trees are good, but with the possible exception of apple trees, they are not appropriate for the front dooryard. The ideal thing is to get a place with two or three noble old oaks or elms already grown. Try to find it.

One of my former neighbors was a tree hound. He bought a place that contained a half dozen old apple trees. They never had been planted in the right place anyway, and in seventy-five years San Jose scale and neglect had converted them into hollow shells covered with water sprouts and occasionally bearing some wormy apples of no value whatever.

But how my neighbor loved those old trees! A tree surgeon was given carte-blanche with the trees, and what he did to my neighbor's bank-roll would read almost like a supper check at a New York night club. Every last speck of decay was removed until the hollow trunks of some of them looked like a barrel with most of the staves removed. All the dead branches were cut out. Water sprouts were pruned. The singed cat made famous by Bill Nye had nothing on the appearance of some of the trees when the tree surgeon was ready to fill the hollows with concrete, brace up the branches with iron rods and — present his bill. It is true that after three years the trees are still alive but they are anything but a picture. The surgery work on one tree alone cost $200. For that sum my neighbor could have transplanted, at least, four twelve-year-old apple trees from a nearby nursery, and to-day he would be enjoying those trees in the beginning of their bearing life and "rarin' to go." Instead of that, his house is guarded by a scraggly old relic that in the moonlight reminds me of a witch, her scrawny arms reaching out to Heaven pleading to be taken to her reward.

Tree surgery is wonderful in its place. So are modern methods which enable a skilled tree planter to transplant mature trees and guarantee them to live. Take a practical view of your trees with sentiment left out. If a tree is in the wrong place, or if it is ready for the woodpile, cut it down. With the money that tree surgery would cost, plant the kind of a tree you want in the place that you want it.

In front of our house are three beautiful oaks. They are forest trees that had never been pruned or cared for in any way. Fortunately they have had enough room to form beautiful heads. Tree surgeons removed the dead wood and misshapen branches. These trees are the pride of my heart. But that is the difference between giving expert care to trees that are worth saving, and trying to save some old veteran that would be better off if put out of its misery. To locate my house where I wanted it, I cut down a white oak and blasted out the stump. Now that it is gone I never miss it. We planted a seven-foot spruce tree near the house. At Christmas, it will be decorated with colored lamps. The rest of the year it will be living and growing when the Christmas tree you may have is but a memory of a wasteful practice that sacrifices countless thousands of forest trees every year. "Woodman spare that tree" is good advice, but if it spoils your home site, better advice is, "Cut it down, but don't let me be around while you're doing it."

As soon as your house is staked out, even before your cellar is started, begin to think about the ultimate location of your entrance driveway, assuming that your lot is large enough for several possibilities. A curving drive path is more artistic than a straight one. There is usually some logical place for an entrance drive. That is the place to put it. One man I know determined the course of his driveway to the top of a high hill by the simple expedient of slowly driving a cow up the hillside. The cow selected the easiest grade. That is where he built his drive.

You will find it better to have the services of a contented surveyor than a contented cow. Simple grade stakes marked, "cut 1 foot" or "fill 2 feet," can be followed even by the most ignorant laborers. Don't build your finished drive until your house is built. Heavy trucking incidental to house-building will ruin it.

Our Staircase is a copy of one in a House in Salem, Massachusetts, built around 1700.
The Spindles are tapered something like those in the back of a Windsor Chair. The Stair Rail is cherry.
Mahogany wasn't known, even in England, until after 1720.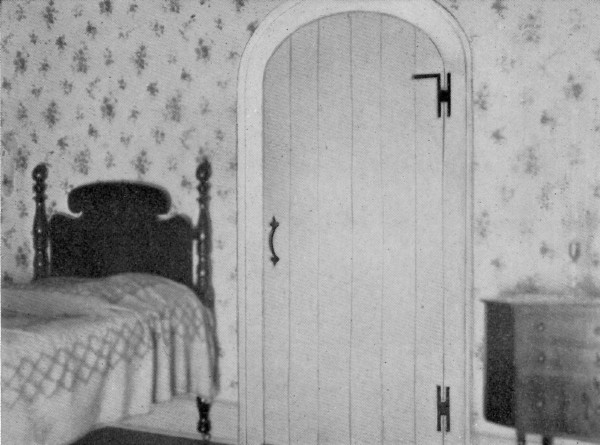 Battened Closet Doors with Arched Tops like this are seen in many Old Houses.
The Hinges and Latch are exact Reproductions of Hand Forged Hardware common in Early Houses.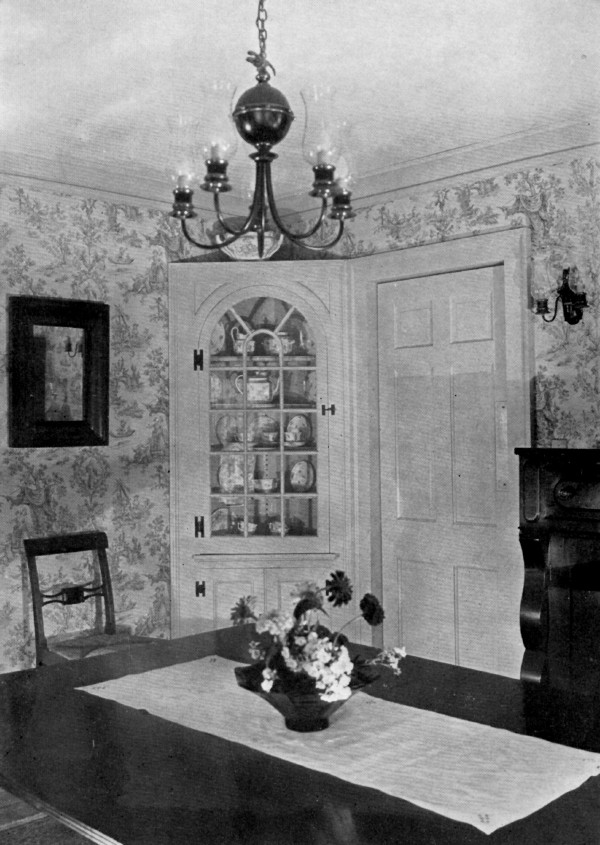 Corner Cupboards like this are a necessary touch to reproductions of Early Houses.
They are sometimes built-in but more frequently are a separate piece of furniture.
Many of them are unpainted pine.




For walks and paths, for a Colonial house, you have the choice of flat stones, brick or slate laid irregularly. All over New England you find brick sidewalks, but colored slate is plentiful in Vermont and is occasionally seen with New England houses. We compromised on brick for the covered colonnade, and irregular slate pieces for our terrace and entrance walk.

An old-fashioned house needs an old-fashioned garden. Rock gardens aren't old-fashioned. They just look old-fashioned. You can easily find more books and magazine articles on old-fashioned gardens than you can read. Old-fashioned flowers are usually perennials, because, 200 years ago, there were no seedsmen's catalogs sent to us every year filled with a description of annuals. One of the oldest shrubs you find in early gardens is box. It is scarce to-day, and it takes many weary years to grow. If you know any place where you can buy some boxwood out of a dooryard, go and get it before the present owner sees this book. A specimen box from a nursery will cost you from fifty dollars up. To bank your house with evergreens or to have hedges of privet or barberry is good — but it isn't early American.

As a matter of fact, early houses had very little planting anyway. Modern shrubs like forsythia, hydrangea, or spirea, are comparatively new. One old-fashioned shrub (called "shrub" by my great-grandmother) bore a brown flower that looked like an acorn and smelled like a muskrat. I have a tree on my place called a Balm of Gilead. It is a balsam poplar which in the spring has odorous, sticky buds, but it should not be confused with the producer of the famous Balm of Gilead mentioned in the Bible, and still esteemed in the East. That Oriental tree or shrub is now found only in Arabia.

Before Revolutionary days flowers were spread by neighbor exchanging with neighbor. Such old-fashioned perennials as phlox, larkspur, lilies of the valley, Canterbury bells, hollyhocks — are all called old-fashioned whether they date back to 1750 or not. English ivy where the original slip was taken from some historical shrine in England is found all over New England. The original Concord grape vine is still growing in Concord, Massachusetts, not a half mile from the spot where "the embattled farmers stood and fired the shot heard 'round the world."

One adjunct of early houses was the herb or "yarb" garden. Here they grew the boneset (ugh!) tansy, pennroyal, rhubarb, mint — all good for something or other when we got sick. There is no question as to what mint is good for.

Spring lamb with mint sauce and mint-flavored chewing gum and toothpaste are modern atrocities performed on a delicious herb made famous for but one thing — the mint julep.