CHAPTER VIII

THE MOST IMPORTANT ROOM IN THE HOUSE

BEFORE you build any house make up your mind to one thing. Your guests will be bound to go into your kitchen, and you will not be able to keep them out. I don't know whether this is custom followed by ''reading from left to right" people in the Sunday Rotogravure. Possibly in the duplex apartments of Park Avenue after-theatre guests don't troop out in the kitchen and raid the ice box for food or ice cubes.

But it is true of any family who would live in a house like ours. If we had a whole flock of butlers they probably would be out attending the movies when someone suggested a little ginger ale. That always happens when you are trying to make game on a questionable no-trump bid, and the dummy fairly leaps to the emergency and says, "let me get it."

Your kitchen must be a sort of show room. Mops and pails and garbage cans, ironing boards, dish pans, milk bottles — they must all be out of sight. That means closets, closets and more closets.

The modern kitchen has a breakfast nook, a folding ironing board, automatic refrigeration, kitchen cabinet, linoleum floor, color, light and air. And above all, it must be small. How small? Well, take a look at the kitchen of a dining car where they serve 100 people in an hour and wash dishes, to say nothing of cooking and storing away all the alleged food the menu provides.

Then consider that the average housewife or cook is obliged to take 18,908 steps a day; many of them avoidable if you have a small kitchen. A kitchen can easily be a nightmare, especially when it fails to provide sufficient closet space. Modern kitchen cabinets make pretty pictures in the magazine advertisements. Those nifty little bottles labeled salt, spice, ginger, mustard, baking powder are fine. But where are the bulky things going, the huge boxes of fifty-seven varieties of breakfast foods, washing powder, crackers, the covered roaster and pancake griddle and the noble, iron dinner-pot, or its effeminate sister of aluminum?

We are mighty proud of our kitchen. It has an outside screened closet to store smelly things like melons, onions, potatoes, apples. It has a separate broom and vacuum cleaner closet, a place over the cellar stairs for the things we use once a year or never, punch bowl, preserving kettle, camp-cooking outfit, mason jars, bottles, chafing dishes, crocks.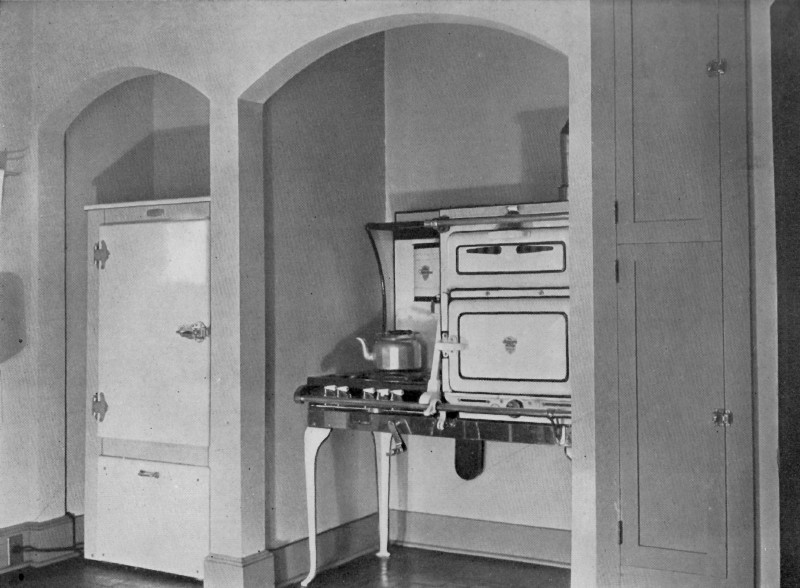 The most Important Room in the House. This shows an Electric Icebox, A Thermostatic Gas Range
and a Built-in Ironing Board.
Show china is kept in the two dining room closets. The common or garden variety is in the kitchen. The kitchen sink is the new acid resisting enamel. The fixtures are chromium plated to resist tarnish. On the floor is laid a heavy linoleum that everyone thinks is tile. There are three colonial arches, one for the breakfast nook, one for the range, and the third for the theatre ice box. Everywhere you turn is a baseboard or wall outlet so that electricity is available for electric iron, toaster, percolator, orange squeezer, egg beater, pancake griddle, waffle iron, electric fan — the dozen and one electric appliances that have made housekeeping easier. The only things lacking to make a cook absolutely happy would be a radio, a policeman, and a family who took all of their meals out.
It seems to be the fashion to regard all the early settlers as stern and inflexible as the stern and rockbound coast upon which they landed. Some of them were undoubtedly, but they made their houses as comfortable as the times permitted, and the contents of these houses frequently reveal that some of them probably had quite as lively a time as their descendants. Many a house from Gloucester to the tip of Cape Cod was the residence of some ship owner and merchant. These ships sailed round the world. Many a New England fortune was built up on trade with the West Indies. These ships took salt codfish, lumber and grain and returned with a cargo of molasses which was converted into rum. This meant another trip, this time to Africa where the rum was traded for slaves. When the slaves arrived they were either sold for home consumption in the Colonies or were taken back to the West Indies to help grow more sugar cane, to make more molasses, to make more rum to buy more slaves — and to make the owner of the ship richer and richer.
In less than fifty years after Cap't Myles Standish waded ashore at Plymouth with the historic remark, ''So this is America," more than 700 ships owned by colonists were plying the high seas. The whaling industry was well established by 1652.
Sometimes a ship owner found it easier to wait outside Boston harbor and relieve a sister ship of her cargo of rum or slaves, rather than to go after these commodities himself. Thus was the modern profession of hijacking born nearly 300 years ago. Isn't it a pity that the descendants of some of New England's best families have allowed this profession to get into the hands of foreigners and gunmen!
I don't believe the old timers had such stupid times under the inspiring conditions which marked the early days of building the nation. Neither did they suffer very much for food. Their kitchens and gardens produced a diet that would make a delicatessen store eater green with envy (and biliousness). There was an abundance of venison, wild turkey and fish of all kinds, preserves and pickles and nuts and fruit and jam and real home-made bread and fresh eggs and milk — not a can in a carload. True they did have a little difficulty about tea at times, but there were even tea bootleggers for those who insisted. It was considered unpatriotic to drink tea shortly before the War of Independence. But revenue officers weren't needed to shoot down people who refused to make the curbing of their appetites a patriotic duty.
Even the emancipation of women started 300 years ago. Consider the case of Ann Hutchinson. She was born in England and came to Boston in 1636 when she was thirty-six years old. She had a husband and fifteen children. But in spite of home duties that would keep the average woman busy to-day, she also had time to act as a nurse for others. She built up so great a reputation for nursing that she became one of the most popular women in Boston. While her services were constantly sought after, she was able in her odd moments to conduct religious services as a protest against the smug complacency of the Massachusetts Pilgrims.
This movement became so popular that she finally had the Governor of Massachusetts and many prominent citizens attending her meetings. Then she got in bad with the authorities and was finally tried as a heretic. She was banished from Massachusetts, but nothing daunted she took her husband and fifteen children and 240 feet of Indian wampum and bought an island near Newport, Rhode Island, from the Narragansett Indians, so that she might have a place where she could do as she pleased. Finally when she was forty-two she again moved, this time to New Rochelle, New York, where she was killed by the Indians.
Take off your hat to Ann, a woman, who in addition to being the mother of fifteen all alive at one time, and sewing and weaving and cooking, and putting up preserves and pickles and teaching these children to read and write and pray, had time not only to be the best visiting nurse in Boston but to found a new religion, get the Governor and leading men to follow her, to be tried as a heretic, to found a new town, and finally died fighting Indians. I wonder what kind of a bridge hand she played?
In spite of two hundred years of civilization, your kitchen is still the most important room in your house, just as it was then when the parlor was used only for funerals and weddings. Today probably ninety per cent of all Americans eat in the kitchen so give it prayerful consideration when you plan your house.