NIGHT IN A CANOE




A dreary world! The constant rain

Beats back to earth blithe fancy's wings;

And life — a sodden garment — clings

About a body numb with pain.

Imagination ceased with light;

Of Nature's psalm no echo lingers.

The death-cold mist, with ghostly fingers,

Shrouds world and soul in rayless night.

An inky sea, a sullen crew,

A frail canoe's uncertain motion;

A whispered talk of wind and ocean,

As plotting secret crimes to do!

The vampire-night sucks all my blood;

Warm home and love seem lost for aye;

From cloud to cloud I steal away,

Like guilty soul o'er Stygian flood.

Peace, morbid heart! From paddle blade

See the black water flash in light;

And bars of moonbeams streaming white,

Have pearls of ebon raindrops made.

From darkest sea of deep despair

Gleams Hope, awaked by Action's blow;

And Faith's clear ray, though clouds hang low,

Slants up to heights serene and fair.




V




THE LOST GLACIER

JOHN MUIR was married in the spring of 1880 to Miss Strentzel, the daughter of a Polish physician who had come out in the great stampede of 1849 to California, but had found his gold in oranges, lemons and apricots on a great fruit ranch at Martinez, California. A brief letter from Muir told of his marriage, with just one note in it, the depth of joy and peace of which I could fathom, knowing him so well. Then no word of him until the monthly mailboat came in September. As I stood on the wharf with the rest of the Wrangell population, as was the custom of our isolation, watching the boat come in, I was overjoyed to see John Muir on deck, in that same old, long, gray ulster and Scotch cap. He waved and shouted at me before the boat touched the wharf.

Springing ashore he said, "When can you be ready?"

"Aren't you a little fast?" I replied. "What does this mean? Where's your wife?"

"Man," he exclaimed, "have you forgotten? Don't you know we lost a glacier last fall? Do you think I could sleep soundly in my bed this winter with that hanging on my conscience? My wife could not come, so I have come alone and you've got to go with me to find the lost. Get your canoe and crew and let us be off."

The ten months since Muir had left me had not been spent in idleness at Wrangell. I had made two long voyages of discovery and missionary work on my own account, — one in the spring, of four hundred fifty miles around Prince of Wales Island, visiting the five towns of Hydah Indians and the three villages of the Hanega tribe of Thlingets. Another in the summer down the coast to the Cape Fox and Tongass tribes of Thlingets, and across Dixon entrance to Ft. Simpson, where there was a mission among the Tsimpheans, and on fifteen miles further to the famous mission of Father Duncan at Metlakahtla. I had written accounts of these trips to Muir; but for him the greatest interest was in the glaciers and mountains of the mainland.

Our preparations were soon made. Alas! we could not have our noble old captain, Tow-a-att, this time. On the tenth of January, 1880, — the darkest day of my life, — this "noblest Roman of them all" fell dead at my feet with a bullet through his forehead, shot by a member of that same Hootz-noo tribe where he had preached the gospel of peace so simply and eloquently a few months before. The Hootz-noos, maddened by the fiery liquor that bore their name, came to Wrangell, and a preliminary skirmish led to an attack at daylight of that winter day upon the Stickeen village. Old Tow-a-att had stood for peace, and rather than have any bloodshed had offered all his blankets as a peace offering, although in no physical fear himself; but when the Hootz-noos, encouraged by the seeming cowardice of the Stickeens, broke into their houses, and the Christianized tribe, provoked beyond endurance, came out with their guns, Tow-a-att came forth armed only with his old carved spear, the emblem of his position as chief, to see if he could not call his tribe back again. At my instance, as I stood with my hand on his shoulder, he lifted up his voice to recall his people to their houses, when, in an instant, the volley commenced on both sides, and this Christian man, one of the simplest and grandest souls I ever knew, fell dead at my feet, and the tribe was tumbled back into barbarism; and the white man, who had taught the Indians the art of making rum, and the white man's government, which had afforded no safeguard against such scenes, were responsible.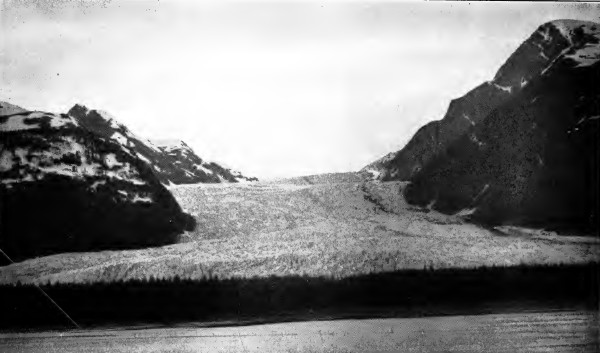 DAVIDSON GLACIER
The beautiful Davidson Glacier, with its great snow-white fan, drew our gaze and excited our admiration for two days.
Muir mourned with me the fate of this old chief; but another of my men, Lot Tyeen, was ready with a swift canoe. Joe, his son-in-law, and Billy Dickinson, a half-breed boy of seven­teen who acted as interpreter, formed the crew. When we were about to embark I suddenly thought of my little dog Stickeen and made the resolve to take him along. My wife and Muir both protested and I al­most yielded to their persuasion. I shudder now to think what the world would have lost had their arguments prevailed ! That little, long-haired, brisk, beautiful, but very independ­ent dog, in co-ordination with Muir's genius, was to give to the world one of its greatest dog-classics. Muir's story of "Stickeen" ranks with "Rab and His Friends," "Bob, Son of Battle," and far above "The Call of the Wild." Indeed, in subtle analysis of dog character, as well as beauty of description, I think it outranks all of them. All over the world men, women and children are reading with laughter, thrills and tears this exquisite little story.
I have told Muir that in his book he did not do justice to my puppy's beauty. I think that he was the handsomest dog I have ever known. His markings were very much like those of an American Shepherd dog — black, white and tan; although he was not half the size of one; but his hair was so silky and so long, his tail so heavily fringed and beauti­fully curved, his eyes so deep and expressive and his shape so perfect in its graceful contours, that I have never seen another dog quite like him; otherwise Muir's description of him is perfect.
When Stickeen was only a round ball of silky fur as big as one's fist, he was given as a wedding present to my bride, two years before this voy­age. I carried him in my overcoat pocket to and from the steamer as we sailed from Sitka to Wrangell. Soon after we arrived a solemn dele­gation of Stickeen Indians came to call on the bride; but as soon as they saw the puppy they were solemn no longer. His gravely humorous antics were irresistible. It was Moses who named him Stickeen after their tribe — an exceptional honor. There­after the whole tribe adopted and protected him, and woe to the In­dian dog which molested him. Once when I was passing the house of this same Lot Tyeen, one of his large hunting dogs dashed out at Stickeen and began to worry him. Lot rescued the little fellow, deliv­ered him to me and walked into his house. Soon he came out with his gun, and before I knew what he was about he had shot the offend­ing Indian dog — a valuable hunting animal.
Stickeen lacked the obtrusively af­fectionate manner of many of his species, did not like to be fussed over, would even growl when our babies enmeshed their hands in his long hair; and yet, to a degree I have never known in another dog, he attracted the attention of every­body and won all hearts.
As instances: Dr. Kendall, "The Grand Old Man" of our Church, dur­ing his visit of 1879 used to break away from solemn counsels with the other D.D.s and the carpenters to run after and shout at Stickeen. And Mrs. McFarland, the Mother of Protestant missions in Alaska, often begged us to give her the dog; and, when later he was stolen from her care by an unscrupulous tourist and so forever lost to us, she could hardly afterwards speak of him without tears.
Stickeen was a born aristocrat, dainty and scrupulously clean. From puppyhood he never cared to play with the Indian dogs, and I was often amused to see the dignified but decided way in which he repulsed all attempts at familiarity on the part of the Indian children. He admitted to his friendship only a few of the natives, choosing those who had adopted the white man's dress and mode of living, and were devoid of the rank native odors. His likes and dislikes were very strong and always evident from the moment of his meeting with a stranger. There was something almost uncanny about the accuracy of his judgment when "sizing up" a man.
It was Stickeen himself who really decided the question whether we should take him with us on this trip. He listened to the discussion, pro and con, as he stood with me on the wharf, turning his sharp, expressive eyes and sensitive ears up to me or down to Muir in the canoe. When the argument seemed to be going against the dog he suddenly turned, deliberately walked down the gang­plank to the canoe, picked his steps carefully to the bow, where my seat with Muir was arranged, and curled himself down on my coat. The dis­cussion ended abruptly in a general laugh, and Stickeen went along.
Then the acute little fellow set about, in the wisest possible way, to conquer Muir. He was not obtru­sive, never "butted in"; never of­fended by a too affectionate tongue. He listened silently to discussions on his merits, those first days; but when Muir's comparisons of the brilliant dogs of his acquaintance with Stick­een grew too " odious " Stickeen would rise, yawn openly and retire to a distance, not slinkingly, but with tail up, and lie down again out of earshot of such calumnies. When we landed after a day's journey Stickeen was always the first ashore, exploring for field mice and squir­rels; but when we would start to the woods, the mountains or the glaciers the dog would join us, coming mysteriously from the forest. When our paths separated, Stickeen, looking to me for permission, would follow Muir, trotting at first behind him, but gradually ranging alongside.
After a few days Muir changed his tone, saying, "There's more in that wee beastie than I thought"; and before a week passed Stickeen's vic­tory was complete; he slept at Muir's feet, went with him on all his ram­bles; and even among dangerous crevasses or far up the steep slopes of granite mountains the little dog's splendid tail would be seen ahead of Muir, waving cheery signals to his new-found human companion.
Our canoe was light and easily propelled. Our outfit was very sim­ple, for this was to be a quick voyage and there were not to be so many missionary visits this time. It was principally a voyage of discovery; we were in search of the glacier that we had lost. Perched in the high stern sat our captain, Lot Tyeen, massive and capable, handling his broad steering paddle with power and skill. In front of him Joe and Billy pulled oars, Joe, a strong young man, our cook, hunter and best oars­man; Billy, a lad of seventeen, our interpreter and Joe's assistant. To­wards the bow, just behind the mast, sat Muir and I, each with a paddle in his hands. Stickeen slumbered at our feet or gazed into our faces when our conversation interested him. When we began to discuss a landing place he would climb the high bow and brace himself on the top of the beak, an animated figure-head, ready to jump into the water when we were about to camp.
Our route was different from that of '79. Now we struck through Wrangell Narrows, that tortuous and narrow passage between Mitkof and Kupreanof Islands, past Norris Glacier with its far-flung shaft of ice appearing above the forests as if suspended in air; past the bold Pt. Windham with its bluff of three thousand feet frowning upon the wa­ters of Prince Frederick Sound; across Port Houghton, whose deep fiord had no ice in it and, therefore, was not worthy of an extended visit. We made all haste, for Muir was, as the Indians said, " always hungry for ice," and this was more espe­cially his expedition. He was the commander now, as I had been the year before. He had set for him­self the limit of a month and must return by the October boat. Often we ran until late at night against the protests of our Indians, whose life of infinite leisure was not ac­customed to such rude interruption. They could not understand Muir at all, nor in the least comprehend his object in visiting icy bays where there was no chance of finding gold and nothing to hunt.
The vision rises before me, as my mind harks back to this second trip of seven hundred miles, of cold, rainy nights, when, urged by Muir to make one more point, the natives passed the last favorable camping place and we blindly groped for hours in pitchy darkness, trying to find a friendly beach. The intensely phosphores­cent water flashed about us, the only relief to the inky blackness of the night. Occasionally a salmon or a big halibut, disturbed by our canoe, went streaming like a meteor through the water, throwing off coruscations of light. As we neared the shore, the waves breaking upon the rocks furnished us the only illu­mination. Sometimes their black tops with waving seaweed, sur­rounded by phosphorescent breakers, would have the appearance of mouths set with gleaming teeth rushing at us out of the dark as if to devour us. Then would come the landing on a sandy beach, the march through the seaweed up to the wet woods, a fusillade of exploding fucus pods ac­companying us as if the outraged fairies were bombarding us with tiny guns. Then would ensue a tedious groping with the lantern for a camp­ing place and for some dry, fat spruce wood from which to coax a fire; then the big camp-fire, the bean-pot and coffee-pot, the cheerful song and story, and the deep, dreamless sleep that only the weary voyageur or hunter can know.
Four or five days sufficed to bring us to our first objective — Sumdum or Holkham Bay, with its three won­derful arms. Here we were to find the lost glacier. This deep fiord has two great prongs. Neither of them figured in Vancouver's chart, and so far as records go we were the first to enter and follow to its end the longest of these, Endicott Arm. We entered the bay at night, caught again by the darkness, and groped our way uncertainly. We probably would have spent most of the night trying to find a landing place had not the gleam of a fire greeted us, flash­ing through the trees, disappearing as an island intervened, and again opening up with its fair ray as we pushed on. An hour's steady pad­dling brought us to the camp of some Cassiar miners — my friends. They were here at the foot of a glacier stream, from the bed of which they had been sluicing gold. Just now they were in hard luck, as the con­stant rains had swelled the glacial stream, burst through their wing-dams, swept away their sluice-boxes and destroyed the work of the summer. Strong men of the wilderness as they were, they were not discour­aged, but were discussing plans for prospecting new places and trying it again here next summer. Hot cof­fee and fried venison emphasized their welcome, and we in return could give them a little news from the outside world, from which they had been shut off completely for months.
Muir called us before daylight the next morning. He had been up since two or three o'clock, "studying the night effects," he said, listening to the roaring and crunching of the charging ice as it came out of Endi­cott Arm, spreading out like the skir­mish line of an army and grinding against the rocky point just below us. He had even attempted a moonlight climb up the sloping face of a high promontory with Stickeen as his companion, but was unable to get to the top, owing to the smoothness of the granite rock. It was newly gla­ciated — this whole region — and the hard rubbing ice-tools had polished the granite like a monument. A hasty meal and we were off.
"We'll find it this time," said Muir.
A miner crawled out of his blan­kets and came to see us start. "If it's scenery you're after," he said, ten miles up the bay there's the nicest canyon you ever saw. It has no name that I know of, but it is sure some scenery."
The long, straight fiord stretched southeast into the heart of the gran­ite range, its funnel shape producing tremendous tides. When the tide was ebbing that charging phalanx of ice was irresistible, storming down the canyon with race-horse speed; no canoe could stem that current. We waited until the turn, then getting inside the outer fleet of ice­bergs we paddled up with the flood tide. Mile after mile we raced past those smooth mountain shoulders; higher and higher they towered, and the ice, closing in upon us, threat­ened a trap. The only way to navi­gate safely that dangerous fiord was to keep ahead of the charging ice. As we came up towards the end of the bay the narrowing walls of the fiord compressed the ice until it crowded dangerously around us. Our captain, Lot, had taken the pre­caution to put a false bow and stern on his canoe, cunningly fashioned out of curved branches of trees and hol­lowed with his hand-adz to fit the ends of the canoe. These were lashed to the bow and stern by thongs of deer sinew. They were needed. It was like penetrating an arctic ice-floe. Sometimes we would have to skirt the granite rock and with our poles shove out the ice-cakes to secure a passage. It was fully thirty miles to the head of the bay, but we made it in half a day, so strong was the current of the ris­ing tide.
I shall never forget the view that burst upon us as we rounded the last point. The face of the glacier where it discharged its icebergs was very narrow in comparison with the gi­ants of Glacier Bay, but the ice cliff was higher than even the face of Muir Glacier. The narrow canyon of hard granite had compressed the ice of the great glacier until it had the appearance of a frozen torrent broken into innumerable crevasses, the great masses of ice tumbling over one another and bulging out for a few moments before they came crashing and splashing down into the deep water of the bay. The fiord was simply a cleft in high mountains, and the depth of the wa­ter could only be conjectured. It must have been hundreds of feet, perhaps thousands, from the sur­face of the water to the bottom of that fissure. Smooth, polished, shin­ing breasts of bright gray granite crowded above the glacier on every side, seeming to overhang the ice and the bay. Struggling clumps of ever­greens clung to the mountain sides below the glacier, and up, away up, dizzily to the sky towered the walls of the canyon. Hundreds of other Alaskan glaciers excel this in masses of ice and in grandeur of front, but none that I have seen condense beauty and grandeur to finer results.
"What a plucky little giant!" was Muir's exclamation as we stood on a rock-mound in front of this gla­cier. "To think of his shouldering his way through the mountain range like this! Samson, pushing down the pillars of the temple at Gaza, was nothing to this fellow. Hear him roar and laugh!"
Without consulting me Muir named this "Young Glacier," and right proud was I to see that name on the charts for the next ten years or more, for we mapped Endicott Arm and the other arm of Sumdum Bay as we had Glacier Bay; but later maps have a different name. Some ambitious young ensign on a survey­ing vessel, perhaps, stole my glacier, and later charts give it the name of Dawes. I have not found in the Alaskan statute books any penalty, attached to the crime of stealing a glacier, but certainly it ought to be ranked as a felony of the first magnitude, the grandest of grand larcenies.
A couple of days and nights spent in the vicinity of Young Glacier were a period of unmixed pleasure. Muir spent all of these days and part of the nights climbing the pinnacled mountains to this and that view­point, crossing the deep, narrow and dangerous glacier five thousand feet above the level of the sea, exploring its tributaries and their side canyons, making sketches in his note-book for future elaboration. Stickeen by this time constantly fol­lowed Muir, exciting my jealousy by his plainly expressed preference. Be­cause of my bad shoulder the higher and steeper ascents of this very rugged region were impossible to me, and I must content myself with two thousand feet and even lesser climbs. My favorite perch was on the summit of a sugar-loaf rock which formed the point of a promon­tory jutting into the bay directly in front of my glacier, and distant from its face less than a quarter of a mile. It was a granite fragment which had evidently been broken off from the mountain; indeed, there was a niche five thousand feet above into which it would exactly fit.. The sturdy evergreens struggled half­way up its sides, but the top was bare.
On this splendid pillar I spent many hours. Generally I could see Muir, fortunate in having sound arms and legs, scaling the high rock-faces, now coming out on a jutting spur, now spread like a spider against the mountain wall. Here he would be botanizing in a patch of green that relieved the gray of the granite, there he was dodging in and out of the blue crevasses of the upper gla­cial falls. Darting before him or creeping behind was a little black speck which I made out to be Stick­een, climbing steeps up which a fox would hardly venture. Occasionally I would see him dancing about at the base of a cliff too steep for him, up which Muir was climbing, and his piercing howls of protest at be­ing left behind would come echoing down to me.
But chiefly I was engrossed in the great drama which was being acted before me by the glacier itself. It was the battle of gravity with flinty hardness and strong cohesion. The stage setting was perfect; the great hall formed by encircling mountains; the side curtains of dark-green for­est, fold on fold; the gray and brown top-curtains of the mountain heights stretching clear across the glacier, relieved by vivid moss and flower patches of yellow, magenta, violet and crimson. But the face of the glacier was so high and rugged and the ice so pure that it showed a va­riety of blue and purple tints I have never seen surpassed — baby-blue, sky-blue, sapphire, turquoise, cobalt, indigo, peacock, ultra-marine, shading at the top into lilac and amethyst. The base of the glacier-face, next to the dark-green water of the bay, resembled a great mass of vitriol, while the top, where it swept out of the canyon, had the curves and tints and delicate lines of the iris.
But the glacier front was not still; in form and color it was changing every minute. The descent was so steep that the glacial rapids above the bay must have flowed forward eighty or a hundred feet a day. The ice cliff, towering a thousand feet over the water, would present a slight incline from the perpendicular inwards toward the canyon, the face being white from powdered ice, the result of the grinding descent of the ice masses. Here and there would be little cascades of this fine ice spraying out as they fell, with glints of prismatic colors when the sun­light struck them. As I gazed I could see the whole upper part of the cliff slowly moving forward un­til the ice-face was vertical. Then, foot by foot it would be pushed out until the upper edge overhung the water. Now the outer part, denuded of the ice powder, would present a face of delicate blue with darker shades where the mountain peaks cast their shadows. Suddenly from top to bottom of the ice cliff two deep lines of prussian blue appeared. They were crevasses made by the ice current flowing more rapidly in the center of the stream. Fasci­nated, I watched this great pyramid of blue-veined onyx lean forward until it became a tower of Pisa, with fragments falling thick and fast from its upper apex and from the cliffs out of which it had been split. Breathless and anxious, I awaited the final catastrophe, and its long delay became almost a greater strain than I could bear. I jumped up and down and waved my arms and shouted at the glacier to "hurry up."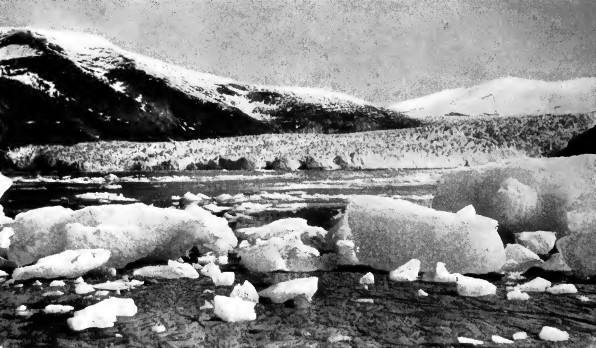 TAKU GLACIER




There followed an excursion into Taku Bay, that miniature of Glacier Bay,

with its three living glaciers

Suddenly the climax came in a sur­prising way. The great tower of crystal shot up into the air two hun­dred feet or more, impelled by the pressure of a hundred fathoms of water, and then, toppling over, came crashing into the water with a roar as of rending mountains. Its weight of thousands of tons, falling from such a height, splashed great sheets of water high into the air, and a rainbow of wondrous brilliance flashed and vanished. A mighty wave swept majestically down the bay, rocking the massive bergs like corks, and, breaking against my granite pillar, tossed its spray half­way up to my lofty perch. Muir's shout of applause and Stickeen's sharp bark came faintly to my ears when the deep rumbling of the newly formed icebergs had subsided.

That night I waited supper long for Muir. It was a good supper — a mulligan stew of mallard duck, with biscuits and coffee. Stickeen romped into camp about ten o'clock and his new master soon followed.

"Ah!" sighed Muir between sips of coffee, "what a Lord's mercy it is that we lost this glacier last fall, when we were pressed for time, to find it again in these glorious days that have flashed out of the mists for our special delectation. This has been a day of days. I have found four new varieties of moss, and have learned many new and wonderful facts about World-shaping. And then, the wonder and glory! Why, all the values of beauty and sublimity — form, color, motion and sound — have been present to-day at their very best. My friend, we are the richest men in all the world to-night."

Charging down the canyon with the charging ice on our return, we kept to the right-hand shore, on the watch for the mouth of the canyon of " some scenery." We had not been able to discover it from the other side as we ascended the fiord. We were almost swept past the mouth of it by the force of the cur­rent. Paddling into an eddy, we were suddenly halted as if by a strong hand pushed against the bow, for the current was flowing like a cataract out of the narrow mouth of this side canyon. A rocky shelf af­forded us a landing place. We hastily unloaded the canoe and pulled it up upon the beach out of reach of the floating ice, and there we had to wait until the next morning before we could penetrate the depths of this great canyon.

We shot through the mouth of the canyon at dangerous speed. In­deed, we could not do otherwise; we were helpless in the grasp of the torrent. At certain stages the surg­ing tide forms an actual fall, for the entrance is so narrow that the wa­ter heaps up and pours over. We took the beginning of the flood tide, and so escaped that danger; but our speed must have been, at the nar­rows, twenty miles an hour. Then, suddenly, the bay widened out, the water ceased to swirl and boil and the current became gentle.

When we could lay aside our pad­dles and look up, one of the most glorious views of the whole world "smote us in the face," and Muir's chant arose, "Praise God from whom all blessings flow."

Before entering this bay I had expressed a wish to see Yosemite Valley. Now Muir said: "There is your Yosemite; only this one is on much the grander scale. Yonder towers El Capitan, grown to twice his natural size; there are the Senti­nel, and the majestic Dome; and see all the falls. Those three have some resemblance to Yosemite Falls, Nevada and Bridal Veil; but the mountain breasts from which they leap are much higher than in Yo­semite, and the sheer drop much greater. And there are so many more of these and they fall into the sea. We'll call this Yosemite Bay — a bigger Yosemite, as Alaska is big­ger than California."

Two very beautiful glaciers lay at the head of this canyon. They did not descend to the water, but the narrow strip of moraine matter with­out vegetation upon it between the glaciers and the bay showed that it had not been long since they were glaciers of the first class, sending out a stream of icebergs to join those from the Young Glacier. These gla­ciers stretched away miles and miles, like two great antennae, from the head of the bay to the top of the mountain range. But the most strik­ing features of this scene were the wonderfully rounded and polished granite breasts of these great heights. In one stretch of about a mile on either side of the narrow bay par­allel mouldings, like massive cor­nices of gray granite, five or six thousand feet high, overhung the water. These had been fluted and rounded and polished by the glacier stream, until they seemed like the upper walls and Corinthian capitals of a great temple. The power of the ice stream could be seen in the striated shoulders of these cliffs. What awful force that tool of steel‑ like ice must have possessed, driven by millions of tons of weight, to mould and shape and scoop out these flinty rock faces, as the carpenter's forming plane flutes a board!

When we were half-way up this wonderful bay the sun burst through a rift of cloud. "Look, look!" ex­claimed Muir. "Nature is turning on the colored lights in her great show house."

Instantly this severe, bare hall of polished rock was transformed into a fairy palace. A score of cascades, the most of them invisible before, leapt into view, falling from the dizzy mountain heights and spraying into misty veils as they descended; and from all of them flashed rain­bows of marvelous distinctness and brilliance, waving and dancing — a very riot of color. The tinkling wa­ter falling into the bay waked a thousand echoes, weird, musical and sweet, a riot of sound. It was an enchanted palace, and we left it with reluctance, remaining only six hours and going out at the turn of the flood tide to escape the dangerous rapids. Had there not been so many things to see beyond, and so little time in which to see them, I doubt if Muir would have quit Yosemite Bay for days.