Kellscraft Studio
Home Page
Wallpaper Images
for your Computer
Nekrassoff
Informational
Pages
Web Text-ures©
Free Books on-line
Guide to
Illustrators Page
Our Cats'
Very Own
Web Pages!
WILDWOOD WAYS
BY
WINTHROP PACKARD
AUTHOR OF "WILD PASTURE!"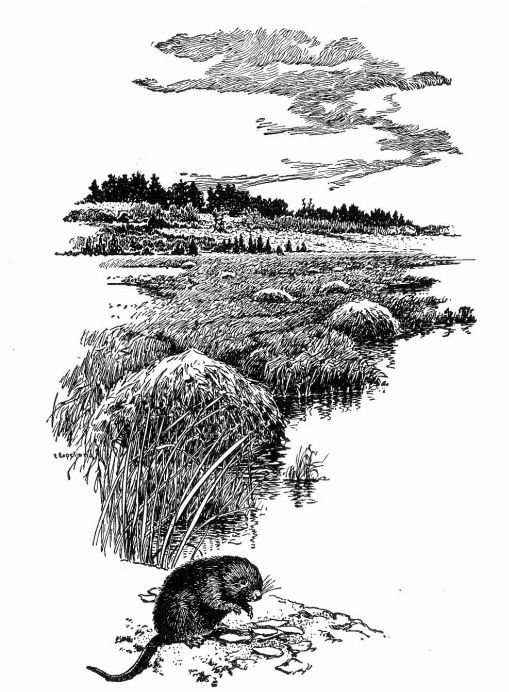 The muscrats have built higher than common this year
BOSTON
SMALL, MAYNARD AND COMPANY PUBLISHERS
COPYRIGHT, 1909
BY SMALL, MAYNARD AND COMPANY
(INCORPORATED)
Entered at Stationers' Hall
THE UNIVERSITY PRESS, CAMBRIDGE, U.S.A.
THE author wishes to express his thanks to the "Boston Transcript" for permission to re­print in this volume matter which was originally contributed to its columns.
CONTENTS
ILLUSTRATIONS
The muskrats have built higher than common this year
Their paper fort . . . had by September grown to the dimensions of a water-bucket and contained a prodigious swarm of valiant fighters
There are other feathered folk who seem to delight in the cold
Here in a little tangle of tiny undergrowth and brown leaves, with a fallen trunk for overhead shelter, you might find him any forenoon
You may . . . get a glimpse of the weasel-like head of one lifted above the bank as he sniffs the breeze for game and enemies
He lifted his head high, fluffed out those glossy black neck feathers and strutted