copyright, Kellscraft Studio
1999-2004

(Return to Web Text-ures)

Click Here to return to
Our Little
English Cousin
Content Page


(HOME)
CHAPTER IX.
SUMMER HOLIDAYS
IT was the midsummer holidays. "No more lessons," said Edith, as she danced around the schoolroom. Soon, however, she rushed up to Miss Green. "But I will miss you, dear Miss Green. I wish you were going with us," and the warm-hearted little girl threw her arms around her governess.
Miss Green was also to take a holiday, and visit her old home in the fine old town of Canterbury, which is one of the most historic places in England, best known for its splendid cathedral, one of the grandest of the many cathedrals of England.
Edith herself was going to spend a part of the summer holidays in Warwickshire, one of the prettiest parts of England, -- a lovely rolling country of fields, farms, thatch-roofed cottages, and great country houses.
While there they were to visit Stratford-on-Avon, the home of the great poet Shakespeare.
Edith caught the first glimpse of the old church with a tall steeple, where the great poet is buried, as she walked down the path by the river Avon. There were visitors in the church, as there always are, for there is no spot in the world more visited than this.
People come to this church from all over the world, and the American cousins think as much of it as the English themselves. Edith stood looking at the worn stone in the floor before the altar. It was difficult to realize that under this lay the ashes of the great Shakespeare.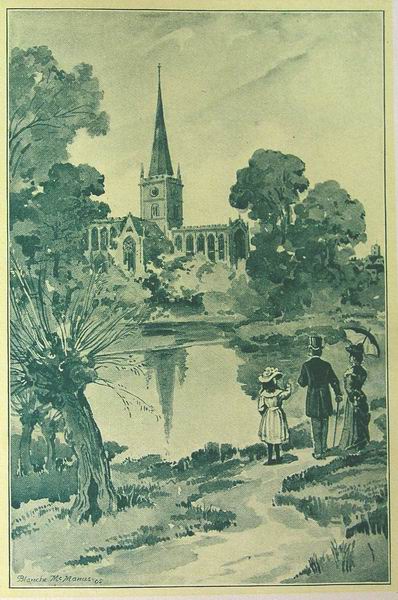 "She walked down the path by the river Avon"
They were alone in the church now; the other visitors had gone, and Colonel and Mrs. Howard were resting in a pew, when Edith's childish voice broke the silence of the old church, as she slowly spelled out the strange inscription on the stone.
"Good frend for Jesus sake forbeare,
To digg the dust encloased heare:
Blese be yt man yt spares thes stones,
And curst be he yt moves my bones."
"How funny some of the words are, papa," she said.
"Yes, that is the old way of spelling, as it was in Shakespeare's time," answered Colonel Howard.
They then walked through the neat little market-town to Shakespeare's house. It had been repaired many times, but always to look as nearly like the original as possible.
Then they went to the famous old inn, the Red Lion, for their dinner, where the American author, Washington Irving, stayed, while he wrote some of his charming stories about English country life.
From Stratford, our friends went to Warwick, which is most interesting, not only on account of the picturesque old town with its ancient houses, but because of its great castle as well.
Edith's papa and mamma wanted her to see this castle, which is one of the finest places in England, and one of the few examples of an old feudal castle which is still occupied and kept as it was hundreds of years ago.
"Is not this a lovely old room, mamma?" said Edith, as they sat at breakfast in the coffee-room, or dining-room, of the quaint inn at Warwick at which they were staying. It was a pretty room, with walls of dark oak panels. Around the room were hung many plates and dishes of fine and rare old English china. A big, high sideboard stood at one end, on which were many pieces of antique silverware, also some good pewter mugs and pitchers, which are now very valuable, and some quaint old "Toby" jugs, which are in the shape of a fat old gentleman.
Mrs. Howard poured out tea; and the sun sparkled on the dainty silver and pretty china of the well-set table.
Edith enjoyed the eggs with crisp slices of bacon, and buttered toast, while the neat maid cut for Colonel Howard slices of cold ham from one of the huge joints of cold meat which stood on the sideboard.
Edith admired very much a glass case of stuffed birds just opposite her, such as one will find in almost every country inn in England. Over the door was another favourite decoration, a model of an enormous trout.
"I think I will let papa take you over the castle, while I rest here and write some letters," said Mrs. Howard.
So Edith and her papa walked through the great gateway into Warwick Castle, and were taken, with some other visitors, through many of the fine old rooms, filled with magnificent furniture, and pictures, and armour, and all kinds of valuable and ancient things. They saw the great cedars of Lebanon, which were brought from the Holy Land, and planted in the garden about 800 or 900 years ago. That's a long time, isn't it?
The beautiful, rare, white peacocks were also to be seen strutting about the courtyard, spreading their great white tails to be admired.
Edith had much to tell her mamma while they were eating lunch. Colonel Howard also told his little daughter of other beautiful houses he had visited, among them Haddon Hall and Welbeck Abbey, which has a number of the rooms built under ground. The owners of most of these great houses in England allow visitors to go through the principal apartments on certain days in the week.
Edith's papa and mamma had spent the preceding summer on the "Norfolk Broads." The "Broads" are really lakes or rivers, nearly all connected, so they had taken a sailboat and sailed from one to another, living meanwhile on their boat. This is a most enjoyable way of spending some weeks, and they had promised to go again some time and take Edith.
Near the "Broads" is a spot of interest to little American cousins, -- the town of Boston which gave its name to the American city. There is a great contrast between the great bustling city of Boston and this little old English town. There is a tower there that is called the "Boston Stump," why, one cannot imagine, for it is a very nice church tower, and does not look at all like a stump, though it stands high up above the surrounding flat country like a mariner's beacon.
Our party visited Oxford as well, stopping just long enough for Edith to see the gray, time-stained walls of the many colleges which go to make up the great university of Oxford.
"This is where Tom is coming when he finishes at Eton," said Colonel Howard, as he pointed out to Edith his old college building set about with a beautiful green lawn.
From here they returned to Oldham Manor, but in August Edith went with her parents to Cowes, on the Isle of Wight, where the yacht races take place. Here are to be seen hundreds of sailboats, and big steam yachts as well.
Little girls do not often go to Cowes, for yachting there is an amusement for "grown ups." But Edith's parents wanted her to enjoy her holidays with them as much as possible, so she usually went, too. Her papa told her so much about the yachts, that she grew very wise and nautical, and they used to nickname her the "Little Sailor."

Click the book image to continue to the next chapter