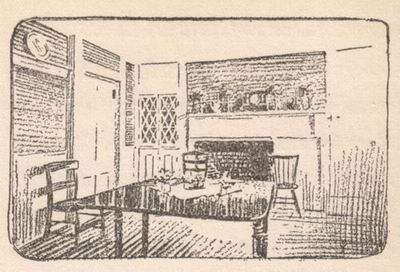 XII

MY CAPE FARM
IF I have thought of it at all, I have thought of myself as a sociable cuss. Not that I like sociables ; I hate them, and that is probably why they have gone out of fashion. What to my mind defines sociability is the quality of enjoying and giving enjoyment to others, singly, in pairs, or in groups; and in present days sociability is generally put to the test either at dinners or at week-end parties, for these are the principal points of contact between friends.
Latterly, however, my social bent has been somewhat warped by the growing desire on the part of my friends to boast of their success as producers of food. Whether it be premature senility, the result of conservation, or merely the acquisition of wealth, which is being rapidly returned to its own through the purchase of land and the ingenuity of gardeners, it is a fact that at dinners of the cut-and-dried variety or a family gathering, or, more especially, over a weekend, my host invariably calls attention
to the asparagus with a modest cough as prelude, or my hostess mentions the number of eggs the farmer brought in yesterday to be put down in water-glass. Sometimes it is not asparagus, but peas, or corn, or perhaps a chicken, or even a ham. This the host. His wife more generally dilates upon the milk products and the preserving end of the bill of fare; but, for whatever cause, the thing got a bit on my nerves, so that I found myself thinking of reasons for not visiting So-and-So or for not dining with the Thing-um-Bobs on Friday week, when I knew we hadn't a thing on earth to do.
This frame of mind was, of course, all wrong. In the first place, these friends were as good and as loyal as they were ten years ago, when, if they had any garden at all, it consisted of a half-dozen radishes that no one could eat without summoning a physician within four hours. Furthermore, the aforesaid asparagus, with its accompaniments, was better than the ordinary variety which has decorated the entrance to the greengrocer's establishment for the better part of a week. And lastly, as I had no garden myself, why not enjoy the best and be thankful?
Probably the reason was envy and the season spring, when, contrary to budding nature, one's own physical being is not as blooming as it should be.
Be this as it may, the final result has probably made me more of a bore to my friends than they ever were to me, for to get even with them I conceived the happy idea of catering to their epicurean tastes from my own farm, which consisted of a scant two acres of shore line in that section of Cape Cod which is renowned for its scarcity of soil.
The idea came to me soon after we had moved down for the summer months, and my wife became so enthusiastic that it really became our hobby for the season. We had planned for a succession of week-ends, and many of these agricultural intimates were coming to us for return visits. We would feed them upon the fat of our land or in this case largely the fat of the sea.
It is interesting and instructive to learn just what varieties of food can be secured from the immediate vicinity of any place, and to me especially so of our Cape Cod.
During the entire summer I felt so personal an interest in our section of the country that my small son exclaimed one day that I talked as if I owned the entire Cape. I know I felt a proprietary interest in certain fishing grounds, the whereabouts of which I would not confess even on the rack.
And it amuses me now to think of the circuitous routes I used in getting to certain berry patches and stretches where mushrooms grew overnight. In variety our dinners, or high teas (as we always called them), were infinite as compared with those of our asparagus associates.
I remember one little repast which pleased me mightily, because it came at the end of one of those hot days -- they are rare on the Cape -- when the wind refused to blow from the south-west. We had had our swim, but even golf was a bit too strenuous and food does not have its usual appeal on such occasions even on the Cape. It also happened that our friends of this particular week-end were literally congested with land and its more generous offerings, and so when I practiced the usual humiliatory cough and remarked that our simple repast came from my Cape farm and they must excuse its simplicity, I was just a trifle nervous.
The melons were a gift from my plumber, a curious combination. If only the plumber could plumb as well as he grows melons upon his barren sand-pile, our summer comfort would be increased by fifty per cent. No better melons can be found than these little fellows. The clam-broth, from my own clam-bed, was an appetizer. I seriously believe that there is real energizing value in such clam-broth as this, boiled down almost to a liqueur from newly dug clams. Then came scallops plucked that day from the seaweed, where they lie at low tide blowing like miniature whales. We all know how delicious they are in the autumn served with tartare sauce, but have you ever tasted them creamed with a dash of brown sherry and served with fresh mushrooms?
Just as the plumber supplies us with melons, so the fish man is the local authority on lettuce. Our salad, therefore, came from Captain Barwick, crisp and white with slices of early pears from a near-by tree, and with it my favorite muffins of coarse, white cornmeal toasted, thin, and eaten with beach-plum jam made from our own bushes in the bramble patch close by the lane, and cottage cheese which our cook positively enjoys making. My wife had felt this to be a rather scant repast for those used to dinners of six or eight courses, and so the dessert was a substantial huckleberry pudding served cold from the ice-chest with whipped cream, and to take the chill off we had a small glass of my home-made wild-cherry brandy with our coffee; and while there are other beverages which are preferable I confess it gave us a delightfully comforting sensation.
The hearty, genuine praise from my guests gave me a fleeting feeling of shame at the way I had criticized their asparagus and numberless eggs, but the pride of success carried me with it.
"Oh, this is not anything; wait until to-morrow and let me show you the varieties which my farm offers. In the catboat, I have a well in which we keep fish alive. What say you to a butterfish for breakfast? For dinner we can either go out to the fishing grounds for something with a real pull to it, or we can motor over to Turtle Pond for a try at a bass, or we can golf and take a couple of lobsters out of my pots bobbing up and down out there by the point."
"Hold on," my friend interjected.
"What I want to know is whether every one on the Cape lives in this way, for if they do I think I shall be moving down here by another season."
"No," I replied, "very few. In the first place, most people continue to do just what their neighbors do - tennis, golf, swimming, sailing. The fishing is poor unless you know where to go. The natives are not helpful unless you know how to take them, and that is why I call it all my farm, because I have taken it all unto myself and I reap a reward much richer than I deserve.
"I pass much of my time hunting up new fishing grounds or the lair of the soft-shell crab, or even the quiet, muddy recesses of the "little necks." I wander about the country exploring new berry patches, for there is a great variety of these. And if you must know, I fraternize with certain delightfully conversational individuals who sell me delicious fruit and vegetables as well as ducks and chickens and a variety of odds and ends, as, for instance, that little model over there. But you could not buy them. No, sir, not until you learned the art of negotiation to perfection. You may manage your estates to the Queen's taste, but when it comes to managing a Cape-Codder, ah, that's not done so easily."
I see my friends leading the conventional summer life and wonder at times how they can come to the Cape year after year and yet be strangers to its real fascination, because it has many other hidden allurements besides this quest for food.