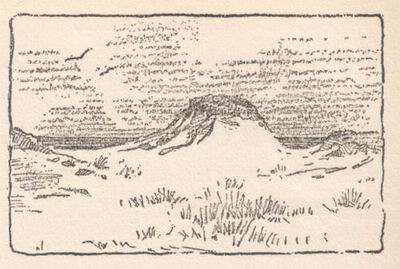 IX
AL FRESCO
BEFOREyou pass judgment upon any man or woman of your acquaintance, ask him or her to a picnic. Then if you are not ready to form a decision, they will probably have made up their minds about you. A picnic, so the Dictionary has it, is an entertainment in a grove, an ominous and hazardous place at best for a good time, and one to be avoided except by sentimental couples, and therefore the Dictionary may be considered narrow-minded in naming the locality. Furthermore, its advice is rarely followed in these days, and the picnics which I prefer, and they are countless, are held upon the seashore and, for the most part, in the sea itself.
There is a white, sandy beach of a mile or more, banked by great sand-dunes and bordering a section of Buzzard's Bay which is comparatively unknown, where there are no houses, not even bath-houses, and where the delighted squeal of the noisy girl or the guffaw of the blatant youth is rarely heard. It is here that we frequently gather with a few good friends upon pleasant warm days, for an impromptu meal alfresco, preceded by a joyous bath in water as clear as crystal, warm and yet with a spiciness that clears the head from all drowsiness and whets the appetite to a keen edge.
There are problems to every picnic. The conventions of life grip hard, and yet it is curious and sometimes amusing to see how thin the veneer really is when the primitive necessities of a picnic are faced.
The sand-dunes are conveniently rolling, every now and then dipping into bowl-like formations, and in these sequestered or semi-sequestered nooks we don our bathing-suits and sally forth to the sea. One of our friends, a man somewhat particular as to his appearance and the soul of modesty, was directed to the appointed place, but his love for the view led him up the slope, so that, innocently turning our gaze shoreward, the feminine portion of our gathering was considerably disconcerted to see the apostle of Beau Brummel in nature's garb innocently viewing the horizon and giving little heed to his natty bathing suit, a black and orange affair with immaculate white belt which lay at his feet.
The women, too, those who but a few moments before would have tried in every way to conceal a hole in their stockings, were glad to borrow bathing-dresses of any reasonable style if by chance they had forgotten to pack their own, and stockings seemed of no importance.
To line up twenty or more on the beach and rush for a plunge, to breast the billows or to grope amid the sands for sea clams, to race along the beach for the sheer joy of life, is the glad part of what I call a picnic. And then the food! No meal which must be coaxed along by a cocktail or other appetizer, to prepare the way for course after course of indigestible concoctions planned by fertile-minded chefs, but honest beef and chicken and ham sandwiches, delicately prepared and tastefully arranged. Sandwiches of lettuce and cheese and paprika ; sandwiches with sardines, with olives; graham sandwiches with a thin layer of marmalade or guava intended for the children, but partaken of by all. And stuffed eggs, the variety only to be found at a picnic and eaten in two gulps, the one place where such table manners are tolerated.
And it is on picnics that the thermos bottle is most thoroughly appreciated. The miracle of hot bouillon, hot coffee, iced tea, and a variety of beverages, suitably chilled or heated, seems ever to be a source of fresh surprise and pleasure.
Toward autumn, the picnics offer a new variety, for the children thrill at the expectation of cooking their own dinner. The joys of a bonfire, the excitement of burying potatoes, corn, and clams in seaweed, the frying of ham and eggs, and the occasional treat of flapjacks when one of our nautical friends happens to be of our number. These are but a few of the pleasures of a picnic such as one encounters on the shores of Buzzard's Bay in August and September.
It must be admitted that there are certain drawbacks which seem serious to the individual of fixed habits, tender feet, and uncertain digestion. There is, for example, the beautiful white sand, glistening in the sun, smooth as a billiard table and fine as powder. It must be admitted that after the bath one is conscious of the pervading quality of its particles. It is in one's hair, one's shoes, and often elsewhere about the person. It is discovered invading the aforesaid sandwiches, which seem well named at such times. A brisk wind slaps it into your eye or your mouth in disconcerting fashion, and you become aware of its grating presence. Then, again, there are clouds upon the horizon. To those who are seriously affected by the sand, these clouds look ominous. They may forebode a storm and a wetting. A certain clamminess of hands and feet, occasioned by the bath, remind one that a change in the weather precedes a cold in the head. These feelings mark the man of creature comforts and he fails to join in the part-singing which comes after the hearty meal, when pipes are lighted and the entire gathering stretch themselves upon the sands for a lazy half-hour before the inevitable cleaning-up process begins. This same individual declines to tell his best story, and should a ball game be suggested, he will be found callous to all coaxing. He has enough sand in his shoes as it is, or he has eaten too much for exercising, or possibly the clouds on the horizon lower more formidably. Yes, a picnic discloses the strength and weakness of character which mark our friends, and yet, after all, it does more, for it brings out the best in most of us, and few, even of our habitually conventional friends, fail to respond to the delights of a seashore picnic or lack in the essential philosophy of an outdoor, care-free existence.