FAR away in the country was an old mansion in which dwelt a squire well along in years and his two sons. These sons thought themselves exceedingly clever. Indeed, they were convinced that had they known only half of what they did know, it would have been quite enough.
Both wanted to marry the king's daughter. She had proclaimed that she would have for her husband the man who knew best how to choose his words, and they were confident that one or the other of them was certain to win her.
Only a week was allowed to prepare for the wooing, but that was plenty long enough for the two brothers. One knew the whole Latin dictionary by heart. He also knew three years' issue of the daily paper of the town so he could repeat backward or forward as you pleased all that had appeared in it.
The other had studied the laws of corporation and thought he could speak with wisdom and authority on matters of state. Besides, he was very expert with his fingers and could embroider roses and other flowers or figures in a manner that gave his friends great pleasure.
The old father gave each of the sons a fine horse. He presented a black horse to the one who knew the dictionary and the daily paper by heart, and the other, who was so clever at corporation law, received a milk-white steed. Just before they started, the young men oiled the corners of their mouths that they might be able to speak more fluently.
The squire had a third son, but nobody thought him worth counting. He was not learned as his brothers were and was generally called "Blockhead Hans." While the servants stood in the courtyard watching the two clever youths mount their horses Hans chanced to appear.
"Well, well!" he said, "where are you off to? You are in your Sunday-best clothes."
"We are going to the royal court to woo the princess," they replied. "Haven't you heard what has been proclaimed throughout all the countryside?"
They told him about it, and Hans shouted, "Hurrah! I'll go too." The brothers laughed at him and rode off.
"Dear father," Blockhead Hans said, "I must have a horse. Perhaps I can win the princess. If she will have me, she will. If she won't have me, she won't."
"Stop that nonsense!" the old man ordered. "I will not give you a horse. You can't speak wisely. You don't know how to choose your words. But your brothers — ah! they are very different lads."
"All right," Hans said, "I have a goat. If you won't give me a horse, the goat will have to serve instead. He can carry me."
So he put a bridle on his goat, got on its back, dug his heels into its sides and went clattering down the road like a hurricane. Hoppitty hop! What a ride!
"Here I come!" Blockhead Hans shouted, and he sang so that the echoes were roused near and far.
Once he stopped and picked up a dead crow. Presently he overtook his brothers as they rode slowly along on their fine horses. They were not speaking, but were turning over in their minds all the clever things they intended to say, for everything had to be thought out.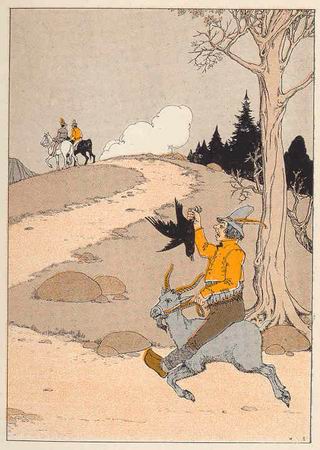 BLOCKHEAD HANS AND THE DEAD CROW
"Hello!" Blockhead Hans bawled, "here I am. Just see what I found on the road." And he proudly held up the dead crow for them to look at.
"You foolish lad," his brothers "what are you going to do with it?"
"I shall give it to the princess," he answered.
"Do so, certainly!" they said, laughing loudly and riding on.
Blockhead Hans thought he would continue the journey in their company, but he saw an old wooden shoe by the roadside. Such a prize was not to be neglected, and he got off his goat and picked it up. Then he cantered along the highway till he came up behind his brothers.
"Slap, bang! here I am!" he shouted. "See what I have just found? Such things are not to be picked up every day on the road!"
The brothers turned round to learn what the world he could have found. "Simpleton!" they said, "that cracked shoe is absolutely worthless. Are you to take that to the princess?"
Of course I shall," Blockhead Hans replied and the brothers laughed and rode along.
But the lad on the goat soon brought them a standstill by hopping off his goat and shouting: "Hurrah! Here's the best treasure of all!"
"What have you found now?" the brothers asked.
"Oh! something more for the princess," said. "How pleased she will be!"
"Why, that is pure mud, straight from ditch!" the brothers exclaimed.
"Of course it is!" Blockhead Hans responded. "There never was any better mud. See how it runs through my fingers."
So saying, he filled his coat pocket with it. The brothers did not enjoy these interruptions or his company, and they rode off with such speed that they were hidden in a cloud of dust raised by their horses' hoofs. They reached the gate of the royal city a good hour before Blockhead Hans did.