HIGHWAYS AND BYWAYS
FROM THE ST. LAWRENCE TO VIRGINIA
WRITTEN AND ILLUSTRATED BY
CLIFTON JOHNSON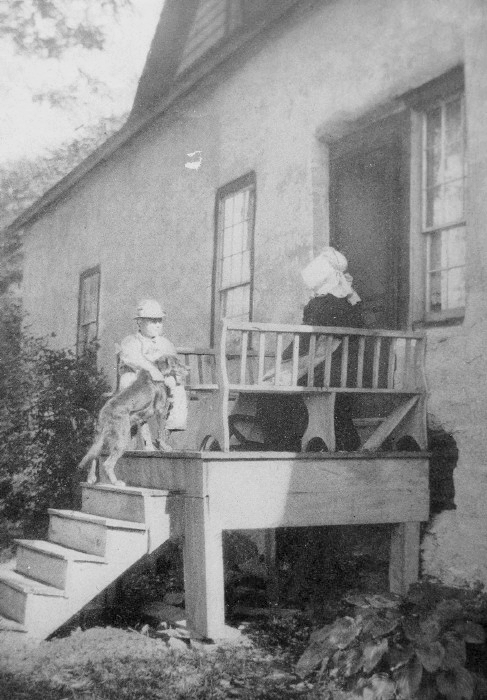 An old Dutch porch in New Jersey
Published by
THE MACMILLAN COMPANY
New York
MCMXIII
LONDON: MACMILLAN AND CO., LIMITED
Copyright, 1913,
by the Macmillan Company.
Published September, 1913.
Electrotyped and Printed
by the
F. A. Bassette Company
Springfield, Mass.



HIGHWAYS AND BYWAYS
FROM THE ST. LAWRENCE TO VIRGINIA
INCLUDING THE STATES OF
WEST VIRGINIA
PENNSYLVANIA
NEW JERSEY
DELAWARE
MARYLAND
NEW YORK
VIRGINIA
AND THE
DISTRICT OF COLUMBIA
CONTENTS
ILLUSTRATIONS
An Old Dutch Porch in New Jersey
Among the Mountains
Getting a Pail of Water
A Load of Logs on Lake Placid
A Summer Afternoon
Coming from the Hayfield
Ploughing one of the Stony Fields
Going A-Milking
Skinning the Coon
Ready to Start after Partridges
An Old-time Well That is Still Pumped
Oil Creek at Petroleum Center
Going to Town
Braddock's Battlefield Viewed from Across the Monongahela
A Toll Bridge
The Old Church at Economy
A Coal Village with a Mountainous Culm Heap in the Background
A Breaker
A Miner and an Above-ground Friend
An Old Smokehouse
The Devil's Den
The Haymaker
A Boatman at the Gap
The Old Wellsweep
Housework
A Back Porch
Reflections
The Scarecrow
The Wreck
Setting the Net
The Pump at the Back Door
The Capitol
At the Alexandria Waterside
At the Fishing-place
In the Garden
Coming from the Spring
The Wash-house
Old Homes in Fredericksburg
A Farm Gate
Making a Hoe Handle
The Wilderness Church
The Shenandoah River
A Ferry
The Great Chimney
A Log House on the Mountain
Worm Fences
Returning from the Post Office




Introductory Note
All the volumes in this series are chiefly concerned with country life, especially that which is typical and picturesque. To the traveller, no life is more interest­ing, and yet there is none with which it is so difficult to get into close and unconventional contact. Ordinarily, we catch only casual glimpses. For this reason I have wandered much on rural byways, and lodged most of the time at village hotels or in rustic homes. My trips have taken me to many characteristic and famous regions; but always, both in text and pictures, I have tried to show actual life and nature and to convey some of the pleasure I experienced in my intimate acquain­tance with the people.
These "Highways and Byways" volumes are often consulted by persons who are planning pleasure tours. To make the books more helpful for this purpose each chapter has a note appended containing suggestions for intending travellers. With the aid of these notes, I think the reader can readily decide what regions are likely to prove particularly worth visiting, and will know how to see such regions with the most comfort and facility.
CLIFTON JOHNSON.
Hadley, Mass.

This volume includes chapters on characteristic, picturesque, and historically attractive regions in the states of New York, Pennsylvania, New Jersey, Delaware, Maryland and Virginia, and a chapter on Washington and its vicinity. The notes appended to each chapter give valuable infor­mation concerning automobile routes, and many facts and suggestions of interest to tourists in general.