A VICTIM OF TWO REVOLUTIONS
<![if !supportEmptyParas]> <![endif]>
IN the life of Colonel James Swan, as in that of Doctor Benjamin Church, money was the root of all evil. Swan was almost a fool because of his pig-headedness in financial adversity, and Church was ever a knave, plausible even when proved guilty. Yet both fell from the same cause, utter inability to keep money and avoid debt.
Colonel Swan's history reads very like a romance. He was born in Fifeshire, Scotland, in 1754, and carne to America in 1765. He found employment in Boston, and devoted all his spare time to books. While a clerk of eighteen, in a counting-house near Faneuil Hall, he published a work on the African slave trade, entitled, "A Discussion of Great Britain and Her Colonies from the Slave Trade," a copy of which, preserved in the Boston Public Library, is well worth reading for its flavour and wit.
While serving an apprenticeship with Thaxter & Son, he formed an intimate friendship with several other clerks who, in after years, became widely known, among them, Benjamin Thompson, afterward made Count Rumford, and Henry Knox, who later became the bookseller on Cornhill, and finally a general in the Continental army.
Swan was a member of the Sons of Liberty, and took part in the famous Boston tea-party. He was engaged in the battle of Bunker Hill as a volunteer aid of warren, and was twice wounded. He also witnessed the evacuation of Boston by the British, March 17, 1776. He later became secretary of the Massachusetts board of war, and was elected a member of the '' legislature. Throughout the whole war he occupied positions of trust, often requiring great courage and cool judgment, and the, fidelity with which every duty was performed was shown by the honours conferred upon him after retiring to civil life. By means of a large fortune which fell to him, he entered mercantile business on a large scale, and became very wealthy. He owned large tracts of land in different parts of the country, and bought much of the confiscated. property of the Tories, among other lands the estate belonging to Governor Hutchinson, lying on Tremont Street, between west and Boylston Streets. His large speculations, however, caused him to become deeply involved in debt. In 1787, accordingly, he started out anew to make a fortune, and through the influence of Lafayette and other men of prominence in Paris, he secured many government contracts which entailed immense profit. Through all the dark days of the French Revolution, he tried to serve the cause of the. proscribed French nobility by perfecting plans for them to colonise on his lands in America. A large number he induced to immigrate, and a vast quantity of the furniture and belongings of these unfortunates was received on board his ships. But before the owners could follow their furniture, the axe had fallen upon their heads.
When the Reign of Terror was at its height, the Sally, owned by Colonel Swan, and commanded by Captain Stephen Clough, of Wiscasset, Maine, came home with a strange cargo and a stranger story. The cargo consisted of French tapestries, marquetry, silver with foreign crests, rare vases, clocks, costly furniture, and no end of apparelling fit for a queen. The story was that, only for the failure at the last moment of a plot for her deliverance, Marie Antoinette would also have been on the sloop, the plan being that she should be the guest at Wiscasset of the captain's wife until she could be transferred to a safer retreat.
However true may be the rumour of a plot to bring Marie Antoinette to America, it is certain that the furniture brought on the Sally, was of exceptional value and beauty. It found its resting-place in the old Swan house of our picture, to which it gave for many years the name of the Marie Antoinette house. One room was even called the Marie Antoinette room, and the bedstead of this apartment, which is to-day in the possession of the descendants of Colonel Swan, is still known as the Marie Antoinette bedstead. Whether the unhappy queen ever really rested on this bed cannot, of course, be said, but tradition has it that it was designed for her use in America because she had found it comfortable in France.
Colonel Swan, having paid all his debts, returned in 1795 to the United States, accompanied by the beautiful and eccentric gentlewoman who was his wife, and who had been with her husband in Paris during the Terror. They brought with them on this occasion a very large collection of fine French furniture, decorations, and paintings. The colonel had became very wealthy indeed through his commercial enterprises, and was now able to spend a great deal of money upon his fine Dorchester mansion, which he finished about the year 1796. A prominent figure of the house was the circular dining-hall, thirtytwo feet in diameter, crowned at the height of perhaps twenty-five feet by a dome, and having three mirror windows. As originally built, it contained no fireplaces or heating conveniences of any kind.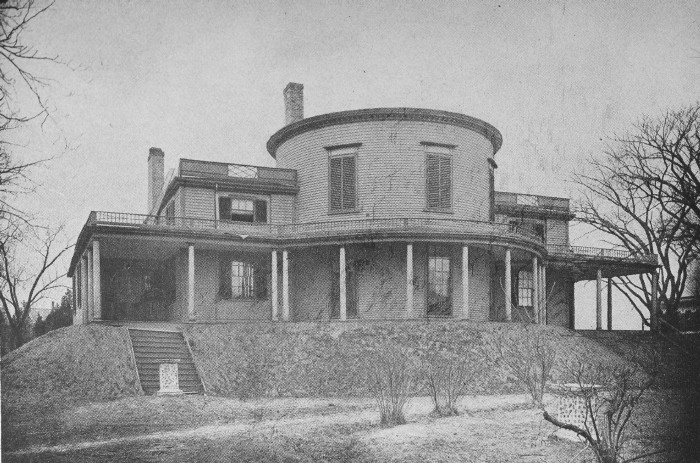 SWAN HOUSE, DORCHESTER, MASS.
<![if !supportEmptyParas]> <![endif]>Mrs. Swan accompanied her husband on several subsequent trips to Paris, and it was on one of these occasions that the colonel came to great grief. He had contracted, it is said, a debt claimed in France to be two million francs. This indebtedness he denied, and in spite of the persuasion of his friends he would make no concession in the matter. As a matter of principle he would not pay a debt which, he insisted, he did not owe. He seems to have believed the claim of his creditor to be a plot, and he at once resolved to be a martyr. He was thereupon arrested, and confined in St. Pélagie, a debtor's prison, from 1808 to 1830, a period of twenty-two years!
He steadfastly denied the charge against him, and, although able to settle the debt, preferred to remain a prisoner to securing his liberty on an unjust plea. . . . He gave up his wife, children, friends, and the comforts of his Parisian and New England homes for a principle, and made preparations for a long stay in prison. Lafayette, Swan's sincere friend, tried in vain to prevail upon him to take his liberty.1
Doctor Small, his biographer, tells us that he lived in a little cell in the prison, and was treated with great respect by the other prisoners, they putting aside their little furnaces with which they cooked, that he might have more room for exercise. Not a day passed without some kind act on his part, and he was known to have been the cause of the liberation of many poor debtors. When the jailor introduced his pretended creditor, he would politely salute him, and say to the former: "My friend, return me to my chamber."
With funds sent by his wife, Swan hired apartments in the Rue de la Clif, opposite St. Pélagie, which he caused to be fitted up at great expense. Here were dining and drawing rooms, coaches, and stables, and outhouses, and here he invited his guests and lodged his servants, putting at the disposal of the former his carriages, in which they drove to the promenade, the ball, the theatre – everywhere in his name. At this Parisian home he gave great dinners to his constant but bewildered friends. He seemed happy in thus braving his creditors and judges, we are told, allowed his beard to grow, dressed à la mode, and was cheerful to the last day of his confinement.
His wife died in 1825, and five years later the Revolution of July threw open his doors in the very last hour of his twenty-second year of captivity. His one desire upon being released was to embrace his friend Lafayette, and this he did on the steps of the Hôtel de Ville. Then he returned, July 31, to reinstate himself in prison – for St. Pélagie had after twenty-two years come to stand to him for home. He was seized almost immediately upon his second entrance into confinement with a hemorrhage, and died suddenly in the Rue d'Êchiquier, aged seventy-six. In his will, he donated large sums of money to his four children, and to the city of Boston to found an institution to be called the Swan Orphan Academy. But the estate was found to be hopelessly insolvent, and the public legacy was never paid. The colonel's name lives, however, in the Maine island he purchased in 1786, for the purpose of improving and settling, – a project which, but for one of his periodic failures, he would probably have successfully accomplished.
1 "History of Swan's Island."

Click the book image to continue to the next chapter