Web and Book design,
Copyright, Kellscraft Studio
1999-2005

(Return to Web Text-ures)


Click Here to return to
Old Park Street
Content Page


(HOME)
NUMBER ONE PARK STREET
ON the lower portion of this land (adjoining the Granary lot, where the Church now stands) Mr. Isaac P. Davis built a four-storied, brick house, which was the residence of General Welles from 1805 until 1826. In June of the following year his heirs sold the premises to Dr. J. C. Warren, and they remained in the possession of members of the Warren family for about seven years, when Edmund Dwight became their owner. He was a native of Springfield, Massachusetts, and a Yale graduate of 1799. Later he became a merchant, and was active in business enterprises, especially in the establishment of extensive cotton mills in Hampden County, where there are superior water-power facilities. Mr. Dwight was also a patron of learning, and with others was instrumental in founding Normal Schools in the Bay State. In the spring of 1858 the ownership of this house passed to Jane, Mary, and Anne Wigglesworth, who made it their home for many years. Their brother, Thomas Wigglesworth, a prominent business man of Boston, also lived there for nearly half a century, until his death in March, 1907. This was the last house on Park Street to be occupied as a residence.
The emigrant ancestor of the Wigglesworths, of Boston, was Edward, who came over with his wife and son, Michael, in the year 1638. He was described as one of those resolute Puritans, who with their families found a refuge from religious persecution in what was then the New England wilderness. Here they had to brave the rigors of a severe winter climate with scanty protection; and were moreover exposed to danger from hostile Indians. Their son, the Reverend Michael Wigglesworth (1631-1705) Harvard, 1651, clergyman and poet, stated in his "Reminiscences" that he was the son of "Godly parents, who feared the Lord greatly even from their youth." But they had lived in an ungodly place, where the children had learned wickedness betimes. "These Godly parents of mine," he wrote, "meeting with opposition and persecution for religion, took up resolution to pluck up their stakes, and remove themselves to New England. And the Lord brought them hither, and landed them at Charlstown; and me along with them, being then a child not full seven years old. After about seven weeks' stay at Charlstown, my parents removed again by sea to New Haven. We dwelt in a cellar, partly under ground, covered with earth, the first winter." After graduation Michael Wigglesworth served as a Tutor, and also as a Fellow of the College for ten years. In the meantime he was preparing himself for the ministry, and was ordained pastor of a church in Malden in 1653. Among his poetical effusions are some verses relating to certain epidemic affections then prevalent. A specimen here follows: "New England, where for many years you hardly heard a cough; and where Physicians had no work, now finds them work enough. Now colds and coughs, rheums and sore throats do more and more abound; now agues sore and feavers strong in every place are found." The Reverend Mr. Wigglesworth was the author of various theological treatises, whereof the most noted was a poem entitled "The Day of Doom."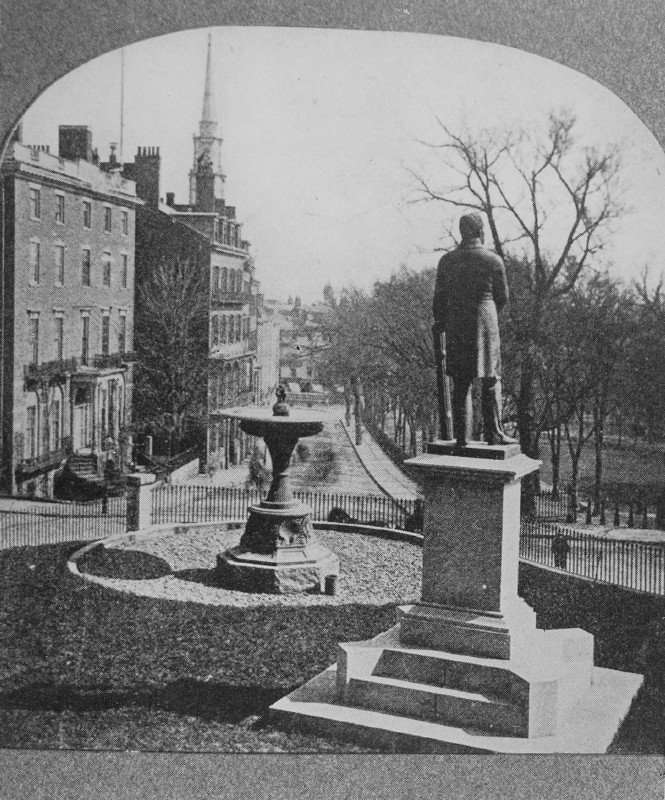 VIEW OF PARK STREET FROM THE STATE HOUSE
Showing Ticknor House at left and Sidewalk with Trees along the Common Side
Edward Wigglesworth, a son of Michael (1692-1765) Harvard, 1710; S.T.D., 1730, was the first Hollis Professor of Divinity of the College, serving forty-four years. His son, Edward (1732-94), Harvard, 1749; A.M., Yale, 1752, succeeded his father as Hollis Professor, and held the position twenty-nine years. He was of a scientific turn of mind, and in 1775 ventured the prediction that this country would have a population of ninety million at the close of the nineteenth century.
Thomas Wigglesworth, the Park Street resident, was a merchant, engaged in the Calcutta trade. He was short in stature, and an enthusiastic pedestrian, who took long walks in the early morning, regardless of weather conditions. He usually wore at such times an old-fashioned spencer, or short outer garment, over a swallow-tailed coat.
Mr. Wigglesworth was an energetic man, and "a model of mercantile integrity." He was wont to declare that he would maintain his residence adjoining Park Street Church to the last, even if the whole City of Boston were offered him in exchange therefor! Although his life was quiet and uneventful, and he never held any public office, his good judgment and ability in the management of important business transactions were well known and appreciated. "Park Street," wrote a correspondent in July, 1895, "once the site of princely residences of aristocratic Bostonians, has been so far given up to business purposes and club-houses, that now only one dwelling remains, a modest, brick structure, bearing upon the old-fashioned door-plate the inscription 'T. Wigglesworth.'"
Click the book image to turn to the next Chapter.