CHAPTER X
TURTLE-HEAD AND JEWEL-WEED
In my town, summer, whom the almanack calmly orders out on August 31st, refuses to be evicted in person and lingers serenely while the furniture is being removed, often until late September. In these September days I think we love her best, perhaps because we know that soon we shall lose her, and already the parting has begun. It is not that certain flowers that came joyously in June are now but dry bracts and seed pods. She has given us other beauties and fragrance to take their places. It is rather that summer herself is gently breaking with us, giving us the full joy of her warmth through the day, but discreetly withdrawing at nightfall and lingering late in her own apartments of crisp mornings when there is a tonic as of frost in the air, whereby October woos us.
The garnishings of her house are hardly fewer while the moving van people are so busy, and I am apt to delight in them all up to the very moment when the sweepers, the autumn winds, come and brusquely brush them out. Old man Barberry is very happy at this time too. Since he hung out his queer smelling pale gold pendants in late May he has shown no touch of color, but has wrapped himself stoically in sober green and waited, as old men know how to do. Now his day has come again and he is very brave in rubies that fringe his dull attire and make him flash fire in the sun from head to foot. Slender goldenrod girls and blue-eyed aster children, trooping along the fields and over the hills, holding up the train of summer as she walks so sedately, think him adorable. If summer stops but for a moment I see them slipping slyly into his arms, laying golden heads on his drab waistcoat and gazing with wonder-blue eyes at his coruscating gems. I think well of old man Barberry, too; better I fancy than he does of me. I admire his stocky growth which has a sturdy grace of its own, and I love him for the birds that he shelters, the yellow warblers that love to build their cottony nests in his arms. But he was born in the pasture long before I was and he usually resents my advances. His trident spines have a sarcastic touch that tingles, and with them he bids me keep my distance. But he is a wise old man in his love for gentle beauty and he makes a fine picture of gold and green, ruby fire and tender blue as he folds all these youngsters in his embrace. Those spines he must fold very close, even to the withdrawing of them into his orange colored cambium layers, for there is never an ouch from the group.
These are summer's flowers for remembrance, the goldenrod and asters. She gives them to us and goes, making all early autumn glow with her memory thereby. But old man Barberry may have these if he will. I like best to remember her by others less common and less permanent, flowers of shy dignity that begin to think of departure when summer does, and vanish with the flash of her trailing garments. Two of these, the turtle-head and the jewel-weed, are little known to careless passers, and elderly pasture shrubs have no chance to lure them with Attleboro jewelry. They have their abode in cool springs in seclusion behind the pine-clad hillside, and would, I fancy, be ashamed to be seen wandering wantonly about the open fields. I have to make pilgrimage to their home in the middle of the fountain head marsh to meet them, nor are their real beauties revealed to one who carelessly splashes in. Instead, he is liable to be mired in black mud and see nothing so good as his way out again, nor will he even notice the elfin laughter of black crickets and green grasshoppers who rub their preposterously long hind legs together in glee at the joke, so eager will he be for dry land.
The right of way leads over a level, firm trunk of a fallen tree, one that has been so long down that only a mossy ridge indicates its existence, to a sphagnum mound which tops a stump as old as the causeway. A swamp maple grows at this stump as a back for my seat in this reception room of the jewel-weeds. I think it is the sway of the slender maple that puts me in rhythm with the mood of the place and gives me eyes to see things as they are, for after a little the rough swamp snarl of straggling growth unravels itself, and things stand revealed.
There is the rough bedstraw. Somebody who saw it first shall burn for calling such a sweet little plant such a mischancy name. I protest that the bedstraw is worthy a better. To be sure it is rough. The prickles that line the edges of its stems all point back, and while they do not wound they hold you tenaciously when you touch them. Thus the plant clings to other woodier stems and climbs vicariously. But why bedstraw? I trust that none of the people who came out of the ark and set about naming things as they followed had to make bedding of these rough stems. With the whorls of slim green leaves that climb with the slender stalks the plants make lace and a green mist all about, underfoot in the marsh, lace that drapes tall plants to which it clings, a green mist out of which shine constellations of tiny star blooms. Picking these constellations to pieces one might place a hundred of the tiny, four-pointed stars on a copper cent and never overlap the petals, yet they shine above the green as Orion and Cassiopaea do over the frost fog of a winter night, they are so vividly white.
I never see this at first. It is only after the tranquillity of the place has shrunk my unwieldy bulk to the patient potency of the tiny herbs themselves that I have the sight. It is admirable, this potent patience of these wee things that are born in bogs yet in their own world grow stars the memory of which lasts as long in the consciousness of man as does that of the Pleiades. If you pluck them you will see by turning them over that these constellations are as whitely bright to small eyes that look from below, from the ooze of the bog or the roots of marsh grass, as they are to our great eyes that look from above. Of an early September morning in the clear stillness I feel that they loom like varnished planets of the sky in their own lowly heaven of coruscating dew that coats all things with a milky way of white fire drops, a dew that has risen all night from the warmth below and, chilled by the cold blue void of space, has hesitated on every leaf and twig, frightened into immobility; infinitesimal drops as shining white and as close together as the stars in a winter night sky. At dawn all the bog world is crusted with this dew.
A great gravelly hill rises abruptly from the southern edge of this boggy home of shy plants, clothed with century old pines. These are so high and so dense that the sun's rays cannot come through with any directness, instead they are so filtered and reflected from gloss of leaf and gray of trunk that they have no power to dry up this dew, they simply light it up, nor can the little morning winds that play at surf bathing in the pine tops, dancing hand in hand, ducking with little shouts of laughter and singing songs learned from the roar of breakers on gray rocks, come down to drink them up; so the stars of this under-forest heaven remain to keep the bedstraw constellations company until nearly noon. By way of the lower heaven of bedstraw blooms the eye rises easily to the forest of jewel-weeds. These at least are rightly, if unconsciously, named. It is not only the bloom but the whole weed that is a jewel when the morning sun is low and the reflected light slides level into the forest among purple stems that shoal into transparent green as they slender toward the leaves. These, too, seem transluscent and glow, and then some sprite seems to have suddenly turned on the jewels. Strange that they did not flash to my eyes even before I came to the place, on my way down the hill. Perhaps it is some trick of light and shade that makes them flash on at a certain time and glow like transparent gold shot through with light. No jeweller could make these: they are such as a fairy prince might, hang on the pale green breast of a dryad, a nuptial gift of surpassing value out of fairy coffers.
At the thought I see more clearly still and each plant becomes a slender personality of the forest, a nymph whose purple life-blood runs clear in delicate veins under a skin of transluscent green. Out of what trees they stepped seems not difficult to tell. Surely this one came down out of a pasture elm to bathe slim feet in the cool spring water. Here are smaller, more slender creatures that came from white birches, and that group of stately ones stepped out of the tall white pines that stand on the slope nearby. No wonder the other creatures of the glade adore these slim green dryads of the swamp. The misty green bedstraw fawns about their feet and makes lace for their gowns. The polygonum blushes pink and stretches long arms toward them. The white alders, to whose tips beauty and fragrance still cling bend over them and toss white petals and perfume their way, while even the homely bur-marigold seems to glow a little better yellow in fondness, though it very properly keeps its distance. Rough rushes nod three-cornered approval and I am sure the spinulose wood ferns crowd down into wetter spots than anywhere else, just to get sight of them. In fact they stand in such wet ground that you might think them Nephrodium cristatum instead of Nephrodium spinulosum were it not for the delicate fringing of their fronds which no other fern can equal. While these things happen I think I can see the dryads quiver with delight and their jewels dance and flash, living creatures rather than gems. Surely if anyone may wear living jewels it should be dryads. They have a trick of facing you, these jewels, and looking like golden butterflies just spreading petal wings for a flight. At such times I am minded not to move suddenly lest they go off over the treetops like a flock of goldfinches. If they should I should not be surprised. With a change of light or position they change appearance again and become tiny gold dragons, winged dragons with gaping mouths and little keen brown eyes that size you up. Again each is but an ear-pendant, beaten of thin gold hanging beneath the shell-green ear of the dryad.
All these are early morning fancies, born, I dare say, of the fine flavor of the place, drunk in dew. At noon, when the sun shines direct into the marshy glade, the dryads have gone back into their trees for a noonday nap and the jewelweeds are but weeds after all, though beautiful ones. Bees come sailing along and plunge at the open cornucopia of the lower petal, which was the very dragon's mouth, after the honey in its tip. Honey bees would find ready entrance, but the burly bumblebees are far too fat. These light on the lip, through inherited habit, no doubt, but immediately turn to the recurved honey-holding tip and plunge the proboscis through its slender texture, stealing the honey from flower after flower. In a day's watching I have seen only bumblebees gathering honey from these flowers, and I wonder about the fertilization which certainly requires that insects should go in and out at that open dragon mouth, not little chaps, but buzzy, fuzzy creatures that will brush off the pollen and carry it.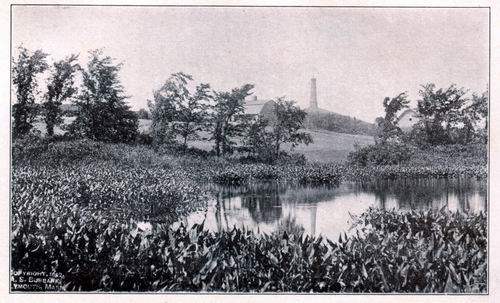 Captain's Hill from Marsh Margin
I have no doubt about the bumblebees and the turtle-heads. Each vivid white corolla of the groups that stand so stiffly on the ends of the long stalks seems especially made for a bumblebee. He goes into it as a hand into a glove, flattening himself amazingly for the entrance, but finding room to work in the interior, though not enough to turn about in. On his way in, what pollen he already may have collected on his furry back slips easily off on the very lip of the stigma which waits at the strategic point with the ant­lers crowding well forward, but firmly held a hair's breadth behind it. Thus each bloom is fer­tilized with the pollen from some other, insuring cross-fertilization. The bumblebee takes his toll in honey, but when he comes to back out he has trouble. If you will listen close by you will hear him buzzing and burbling like an overheated tea­kettle as he struggles. The arching filaments of those fuzzy stamens have tangled his short legs and he is shaking the pollen out of the antlers all into the fur of his yellow overcoat. Before he gets out he is right mad and loaded with pollen for the fertilization of the next bloom. He comes squeezing out, as flat as a pancake, sharp end first, and though I watch close by I am very respectfully motionless. But he gets all over it by the time he has flown to the next bloom and his hum as he prods his way in has the tone of a cheerful "Good morning."
The turtle-heads have none of the frail loveli­ness of the jewel-weeds that suggest half-visible dryads, but they have a stanch beauty of their own which I think makes them seem very comely. Each corolla is a smooth, opaque white through which no light may pass. It is easy to know how it looks inside a jewel of the jewel-weed. From without the imagination can appreciate that glow of pale gold which must there suffuse all things. To such tiny midges and beetles, spiders and moths as may enter it must be like walking about in the heart of the Tiffany yellow diamond. The bumblebee might tell how it seems in the turtlehead petal, if he knows. I fancy, however, he is so everlastingly busy and so mad with the filaments when he is inside that he has no time to think of atmosphere. Often the pure white of this flower is tinged with a soft shading of delicate rose near the tip of the petal. It is an unobtrusive shading, as shy as the bloom itself. Ashes of roses might describe the tint better, for it is as gentle as the fading pink of a sunset sky, a shade that has dropped thence to the lips of these blossoms hiding in the dusk of the swamp. You see it best by looking close into the very face of the flower as the bumblebee does when about to alight on it, and I think it is set there to show him the way. By the time he has seen that, he is near enough to be drawn by the faint but ravishing perfume which is breathed out by the flower. It is so faint that you must come like the bee to the very lip of the corolla be­fore you will find it. It is so tender and of such refinement that when once you get it you will think no blossom has its equal. The white alder at this time of year is prodigal of rich and delect­able odors. The jewel-weed with all its beauty has none that my sense can perceive. But that of Chelone glabra, as modest and withdrawn as the flower itself, seems hardly to belong in the swamp for all the beauty of the place. It should rather be that of some delicately nurtured plant, some rare orchid of sheltered conservatories, it is so delicate and delightful.
The jewel-weed is as frail as a dream for all its vigorous growth which reaches sometimes six feet. If you pluck it it withers before you can get it home to put in water and its jewels shrivel to nothing on the way. Turtle-head is far different and I like it for its sturdiness, but most of all I like it because it is the hast of a small friend of mine, the Baltimore butterfly. In summer you may see this little fellow, a plaid of yellow and orange on black, the Baltimore colors, whence his name, flitting about, never far from the place where the turtle-head grows. If you see one you may be almost sure that the other is nearby. I have not seen the butterfly for many weeks, but among the stalks of Chelone I find the webs which shelter its children. These tiny caterpillars will feed on the leaves till winter, then by some witchery of nature survive the frost and snow and zero weather, sheltered only by this filmy, flimsy home, finish their growth in the spring, waxing fat on the young leaves and by late May be floating about, more Baltimore butterflies.
There can be no better evidence of the witchery and romance of the place than this, that these frail pulpy creatures should with no covering worth the name withstand cold that under similar conditions would kill me before Christmas time. When I think of this dreams of dryads that troop down from the hillsides and stand, slender and adorable jewel-weeds, where the cool springs ooze from beneath the gravelly hill, do not seem in the least absurd or improbable.

Click the book image to continue to the next chapter