GIVING NOTICE IN A "PUBLICS PLACE" — WHY SALLY WAS SAD-SHE DID NOT KEEP HER PROMISE — A BABY "OF THE WORST SEX" — AN ELOPEMENT AND ITS PAINFUL SEQUEL — A PEEP AT A BRIDE'S TROUSSEAU — SHE MARRIED A WIDOWER-SOME HUMORS OF COLONIAL COURTSHIP — THE AWFUL PENALTY OF ATTRACTING MEN
ON November 28, 1917, one who was privileged to be a spectator at a marriage service in a Quaker Meeting House in Philadelphia was telling in detail what had been done and said. One of the listeners, who, during the hour of the wedding, had been at the library of the Historical Society of Pennsylvania, copying some old documents, thereupon read from one of the copies he had made, as it happened the account of a Meeting House wedding which took place November 28, 1686, two hundred and thirty one years to a day earlier.
The hearers were amazed. "But for the archaic language and spelling, and the difference in names, this might be the account of the marriage we have just witnessed," was the comment of one of them.
The document of 1686 read as follows:
"Whereas Thomas Duckett of Skulkill in the County of Philadelphia Bricklayer hath according to law Published his Intention of Mariage with Ruth Wood Wid of Rich Wood Deceased and likewise both of them having declared their said Intentions before severall Mens and Womens Meetings of ye People of God called Quakers according to the good order used amongst them, whose proseedings therein after due consideration was approved by ye said meetings. Now these are to certifye all whom it may concerne that for the full determination of their intentions aforesaid this 28th day of ye 11 Month 1686 they the said Thomas Duckett and Ruth Wood in a publick solemn assembly of ye aforesaid People Met together for that purpose at their Publike Meeting house at Philadelphia according to ye Example of ye Holy Men of God recorded in the scriptures of truth did then and there take each ye other as husband and Wife in Manner and forme as followeth viz Tho Duckett taking Ruth Wood by ye hand, said, ffriends in the fear of the Lord and presence of you his People I take this my ffriend Ruth Wood to be my Wife promising to be to her a faithfull and loveing husband till death separate and then immediately after did Ruth Wood declare and say I Ruth Wood doo in the Presence of ye Lord and you his People take Tho Duckett to be my husband promising to be to him a faithfull and obedient Wife so long as it please ye Lord we shall live together and the sd Tho Duckett & Ruth Wood as father confirmation thereof did then and there to these presents sett their hands, and we whose names are hereunto subscribed are witnesses of the same the Day and year above written."
Another form of certificate, which was filed early the same year by John Moon and Martha Wilkins, read:
"These are to satisfie whom it may concern that Whereas John Moon of Philadelphia in the Province of Pennsilvania Merchant and Martha Wilkins of the same Spinster for the fullfulling a Law of the Province in that case made & Provided did Post or set a Paper upon a Certain noted publick Place in the County where they lived showing their intentions of taking each other as husband and Wife and nothing being since objected to the Contrary which said time being since expired and sufficient proof thereof made of it to the Register of the County in which they lived they the said John Moon and Martha Wilkins did since solemnly take each other as husband & Wife at the House of John Moon in ye town & County of Philadelphia aforesaid before us whose names are hereunto subscribed the three & twentieth Day of the 3d Month being ye first Day of the Week 1686 by taking each other by ye hand, and promising to be loving and faithfull each to other as husband & Wife till Death should part them the Parties themselves having also subscribed their Names."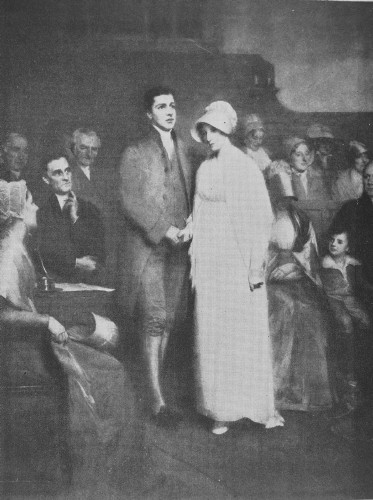 THE QUAKER WEDDING
(From the painting by Perry Bigland, in possession of Isaac H. Clothier, Wynnewood, Pennsylvania)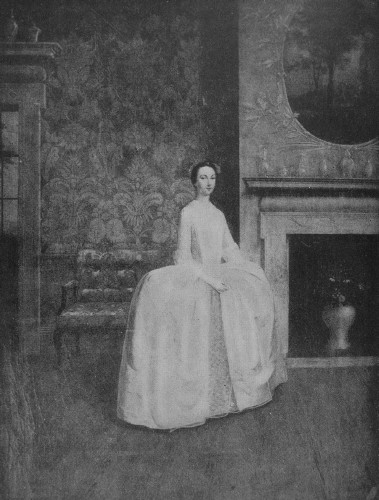 JULIANA PENN
(The wife of Thomas Penn)
Later it was not sufficient to "Post or set a Paper upon a Certian noted Publick Place," but a license was required of all those who wished to be married. The license used in 1777 was a formidable document:
"Know all Men by these Presents, That we .................................. are held and firmly bound unto ........................Esquire, President of the Supreme Executive Council of the Commonwealth of Pennsylvania, Captain General and Commander in Chief in and over the Same, in the Sum of .... Pounds, to be paid to the said ...............................Esquire, his certain Attorney, Executors, Administrators or Assigns, or his Successors in the said Office: to the which Payment well and truly to be made, we bind ourselves jointly and severally for and in the Whole, our Heirs, Executors, and Administrators, firmly by these Presents — Sealed with our Seals Dated the ........... Day of in the ............... Year of our Lord One Thousand Seven Hundred and...................
"The Condition of this Obligation is such, That if there shall not hereafter appear any lawful Let or Impediment, by reason of any Pre-contract, Consanguinity, Affinity, or any other cause whatsoever, but that the above-mentioned........................................ may lawfully marry; and there is not any Suit depending before any Judge, for or concerning any such Pre-contract; and also if the said Parties, and each of them are of the full Age of Twenty-one Years, and are not under the Tuition of his or her Parents, or have the full Consent of his or her Parents or Guardians respectively to the said Marriage; and if they, or either of them, are not indented Servants, and do and shall save harmless and keep indemnified the above-mentioned ....................................... Esquire, his Heirs, Executors and Administrators, or his Successors in the said Office, for and concerning the Premises; and shall likewise save harmless and keep indemnified the Clergyman, Minister, or Person who shall join the said Parties in Matrimony, for, or by Reason of, his doing so; then this Obligation to be Void, and of none Effect, or else to stand in full Force and Virtue.
Sealed and Delivered
in the Presence of

..................................
..................................
"The Supreme Executive Council of the Commonwealth of Pennsylvania
"To any Protestant Minister
"Whereas Application has been made to Us by ....................................... to be joined together in holy Matrimony, and there appearing no lawful Let or Impediment by Reason of Pre-contract, Consanguinity, Affinity, or any just Cause whatsoever, to hinder the said Marriage: These are therefore to license and authorize you to, join the said..................................... in the holy Bonds of Matrimony, and them to pronounce Man and Wife."
But the license and the certificate were not always the only legal documents passed on these interesting occasions. Sometimes there was also an ante-nuptial agreement, and this was carefully signed and sealed. Such an agreement was made between Jacob Spicer and Deborah Learning in 1751. Only six of the twenty one particulars named are here quoted:
"To Mrs. Deborah Leaming,
"Madam:
"Seeing I Jacob Spicer have addressed myself to you upon the design of Marriage, I therefore esteem it necessary to Submit to your consideration some particulars before we enter upon the Solemn Enterprize which may either establish our happiness, or Occasion our Inquietude during life
"I conceive the following Rules and particulars ought to be steadily observed and kept, viz.
"1st. That we keep but one purse, a Severance of Interest bespeaking diffidence, mistrust, and disunity of mind.
"2d. That we avoid anger as much as possible, especially with each other, but if either should be overtaken therewith, the other to treat the angry Party with Temper and moderation
"9th. That if any misunderstanding shou'd arise the same to be calmy Canvassed and accommodated between ourselves without admitting the Interposition of any other, or seeking a Confident to either reveal our mind unto, or Sympathize withall upon the Occasion
"13th. That in Matters of Religious Concernment we be at liberty to Exercise our Sentiments freely without Controul.....
"15th. That we use the Relatives of each other with Friendly Kindness.....
"21st. That if anything be omitted in the foregoing rules and Particulars that may Conduce to our future Happiness and 'welfare, the same to be hereafter Supplied by reason and discretion as often as Occasion shall require.
"I Deborah Learning in Case I marry with Jacob Spicer do hereby Promise to Observe and Perform the before going rules and Particulars... As Witness my hand the 16th day of December 1751.
"I Jacob Spicer in Case I marry with Deborah Learning do hereby promise to observe and Conform to the before going rules and particulars, ... as Witness my hand the 16th day of December 1751.
Not all documents that passed between those who planned to marry were so formal and businesslike. Men wrote love letters to young women in early days just as they write them to-day, and as they will write them to the end of time.
Perhaps Rev. Elias Keach was not so young as some swains, and possibly his inamorata, Mrs. Mary Helm, had passed her first youth, but this was no reason for lack of ardor in their love letters. On August 24, 1696, the minister was in his "studdy at Christeena Creek." Some may say that he ought to have been studying his sermon for the next Sunday, but the thought of the fair Mary in Philadelphia was too much for him, and he could not study until he prepared for her a warm message that was far more important to him, just then, than any sermon could be. And this is what he wrote:
"Dearest Ladie;
"My boldness in Rushing these Rude and unpolished lines into your Heroick & most Excelent Presence, doth cause me to suspect your amazement & may justly cause you to suspect my unmannerliness. . . But Lady let me crave the mantle of your Virtue the which noble & generouse favour will hide my naked and deformed fault, ... ever since I saw thee sunrise of your comly & gracious presence the sun beams of your countenance & your discreet & virtuous behaviour, hath by degrees wroat such virtuouse heat & such Ammorouse Effects in my disconsolate heart; that that which I must at present disclose in words, in your graciouse presence; I am forct (altho far distant from you) to discover in Ink & paper; trusting in God that this may be a Key to open the door of your virtuous & tender heart against the time I do appear in person, Dear Mistress;. . .I must need say that this is not a common practice of mine to write letters of this nature; But Love hath made that proper which is not common; Mrs. Mary If I had foreseen when I saw you what I have since experienced I would have foreshown a more Ample and courteous behaviour than I then did.. .I know it is folly to speak in my own Praise, seeing I have learnt this Lesson Long Ago wise is that man that speaks few words in his own praise; again as for a Portion; I would have you have as favourable a construction concerning me as I have concerning you,. . . this is the earnest (yet Languishing) Desire of his Soul, who hath sent his heart with his Letter; and Remains your Cordiall friend earnest suitor faithfull Lover & most Obligeing Servant,
"Elias Keach pastor




& Minister in




Newcastle County."
The records tell of another minister the story of whose courtship and marriage would take the prize for brevity. His name was Andreas Sandel, and he was pastor of Gloria Dei Church, Philadelphia, from 1702 to 1719. On February 1, 1704, he told in his
journal the first chapter of his love story:
"In the name of the Lord, I set out to offer myself in marriage, (on the other side of the river) to Maria, a daughter of the late Per. Matson (a Swede), and arrived there after dark."
promptly, thus:
"February 2 — In the morning I told the object of my visit, and she said yes, as did her Mother."
Chapter 3:
"February 9 — Arrived here the New Governor, Jean Evans, a Churchman. The banns were published the first time of me and Maria, Matson's daughter."
Chapter 4:
"February 22 — To Maria, Per's daughter, I was married in the Lord's name at Wicacoa . . .The Governor and a great many people present."
There is a little more romance about the story of Sarah Plumly and Edward Shippen. On August 2, 1725, he set out for Boston, and a few days later his Sarah sent the following message hurrying after him:
"Dear Neddy:
"As soon as you left me I went up stairs with a sorrowful heart & laid me down endeavouring to sleep but could not for you was so deep in my thoughts that I could not do any thing all that day, but think of you and the dear parting experience, & the next day I went and sat with Cousin Baynton all day to divert myself. Wednesday night I sent billy to see if the post was come he was not come then and I sent him up next morning and the post was come but there was no letter. Saturday when your father was out of town John Kearsey brought the letters & Josey was here & I could not be easy till he had opened it, & I took mine out with abundance of joy & am glad to hear you are well & that you like your horse & the opinion I have of your sincere love makes me easy & nothing but Death shall put an end to it & dont forget her who shall ever continue to be your most sincere and affectionate friend
"Neddy" in Boston very properly got up at five in the morning to prepare a letter for Sarah, and this is a part of what he sent:
". . .My dear soul I beg you to be choice of your health. I am not (as I told you at parting) at all afraid of my Father's slighting you, for I know he always respected you, and will show it more in my absence than presence. I desire earnestly that you may provide some of the necessary things for our settling . . .
"What signifies fretting my dear pretty soul at things that can not be helped, You and I love one another dearly and I hope as it hath pleased God to conduct me safely here, so He will extend His love further by guarding me safe home again. . .
"Lett me beg of you honey to take as much care of your health as I do of mine. So conclude with dear love to my Dearest Sally,
"her sincere friend
"Edwd Shippen."
Evidently health was preserved, the home coming was without accident and "Sally" was prospered in getting things together for the wedding, for the very next month the ardent young people were married.
A few years later love letters were sent by William Franklin, son of Benjamin Franklin, to Elizabeth Graene which were not followed by marriage. The inexorable records show that the recipient of the letters
later married a man named Fergusson. Parts of two letters were as follows:
"Thou dear Tormentor!
"Your most agreable vexatious little Billet occasioned me more Pleasure and Uneasiness than I chuse to oblige you with the Pain of Hearing at present . . ."
"Is this possible! Can such dire Revenge dwell in so fair a Breast? Two Posts, and three gentlemen from Philada and not a single Iota from my Betsy!. . . But I won't complain . . . Should she know what I suffer it would only serve as an additional Motive for persevering in her late extraordinary Conduct; . . .
"Thanks to my Stars the Post is just agoing, and now stands at my Elbow impatiently waiting for this Letter. I might otherwise, perhaps, have fill'd the whole Sheet with earnest Intreaties that you would once more oblige me with the Pleasure of hearing from you. But as That in all Probability would have been a sufficient inducement for your not writing at all, remember I do not say I desire you to send one Scrape of a Pen to
"Your too fond
"Franklin."
There was a more fortunate issue to the love affair of John Smith, whose letter of "12 mo 5th, 1747-8" to Hannah Logan was followed by the marriage of the young people on December 7, 1748. But the lover was by no means sure of the daughter of the owner of Stenton, even for several months after the penning of the ardent missive in which he said:
"It is now some years since first I conceived a very great Esteem for thy person. . .Soon after I had some opportunities for Converse when thee was in Company, which much Enhanced my Esteem. I plainly saw that though the Cabinet was Exquisitely framed, the Mind lodged in it was Excellent; and this as it renewed and strengthened my former Regard so it increased the difficulty. . . . Many were the Racking thoughts occasioned by the different sensations of desire and doubt. . .
"When in any degree favoured with Access to the Throne of Grace I spread my case there, and with the Utmost Submission and Reverence, desired to be led aright in so weighty an Affair. Many and frequent were my applications of that sort, and I often found return of satisfaction and peace in these Addresses, and sometimes a Nearness and Sympathy with they Exercises, in such an Affecting Manner, that words cannot convey any Adequate Idea of. . .
"I have acted with a great deal of fear and Caution, lest I should do anything that would disoblige thee, and should propitious heaven Incline a tender Sentiment in thee in my favour, I should think no pains too great to take to Convince thee of the Sincerity of my Love, My dear Hannah; I ask not any hasty Conclusion, I only Beg that thou would weigh my proposal in the Most Serious Manner, and I trust thou wilt find a freedom to permit my frequent Visits, and that all Objections and difficulties will in time be removed — and we shall know the Encrease of our Esteem for each other by mutual Good Offices .
"I conclude with Observing that Marriage is a solemn thing, but when undertaken with upright, honest intention, and the Blessing of the Almighty Solemnly sought and had therein, it must certainly be the happiest State of Life . . . I pray God to pour down his choicest Blessings upon thy head — and with the Salutation of the Tenderest Regard, I remain
"Thy Truly Affectionate Friend
"John Smith."
Mr and Mrs. John Smith were staid and sober married people when another lover, who can be known only as "J. S.," wrote to the girl he left behind him at Lewes, Delaware, when he went off to fight under Washington. From Philadelphia he sent his greetings to one whom he addressed as "My Dearest Girl:"
. . . this is the forth Time I have Wrote to Lewes since I left it but have not received one Line from any friend in that Quarter . . . weekly Letters were mutually promised mine has not failed but no Return makes me unhappy . . . I shall leave this Place immediately and can not expect to hear from you God knows when As soon as I arrive at Camp I shall embrace the first opportunity of informing you of my Situation — God send a Speedy & honorable End to our Troubles; Believe me, my dearest Girl, I am often almost ready to leave every Engagement and fly to the Arms of her who I flatter my wishes to make me happy, which none else can do . . ."
Another soldier of the Revolution whose name, unfortunately became only too well known, on September 25, 1778, sent a letter to Margaret (Peggy) Shippen in Philadelphia which it would have been well if she had never received, for her later marriage to the writer brought her little but sorrow. However, the letter promised great things:
"Dear Madam;
"Twenty times have I taken up my pen to write to you, and as often has my trembling hand refused to obey the dictates of my heart — a heart which, though calm and serene amidst the clashing of arms . . .
trembles with diffidence and the fear of giveng offence when it attempts to address you on a subject so important to its happiness .
"My passion is not founded on personal charms only; that sweetness of disposition and goodness of heart, that sentiment and sensibility which so strongly mark the character of the lovely Miss P. Shippen, renders her amiable beyond expression, . . . On you alone my happiness depends, and will you doom me to languish in despair? . . . Do you feel no pity in your gentle bosom for the man who would die to make you happy? . . . Friendship and esteem . . . is the most certain basis to build a lasting happiness upon; and where there is a tender and ardent passion on one side, and friendship and esteem on the other, the heart (unlike yours) must be callous to every tender sentiment if the taper of love is not lighted up at the flame.
"Pardon me, Dear Madame, for disclosing a passion I could no longer confine in my tortured bosom. I have presumed to write to your Papa, and have requested his sanction to my addresses. Suffer me to hope for your approbation. . Whatever my fate may be, my most ardent wish is for your happiness, and my latest breath will be to implore the blessing of heaven on the idol and only wish of my soul.
"Adieu, dear Madame, and believe me unalterably, your sincere admirer and devoted humble servant,
"B. Arnold."


MARGARET (PEGGY) SHIPPEN

(1) COLONIAL WEDDING GOWN;

(2)

CRIMSON BROCADE OF 1752;

(3)

GREEN GOWN OVER SATIN HOOPED PETTICOAT;

(4)

BACK VIEW OF

(3)

FOUR OLD-TIME PENNSYLVANIA WORTHIES:
JOHN PEMBERTON, JAMES PEMBERTON, HENRY DRINKER,
JOHN PARRISH
One who has told the story of Peggy Shippen's life says that her father "was opposed to the match because Arnold was over twice her age, a widower with three children, and notoriously extravagant; though when he saw that her heart was fixed and that her health had failed in consequence, he reluctantly gave his consent."
But there were also happy marriages in the Shippen family. On June 8, 1750, Edward Shippen, Jr., addressed his father on the subject of his love for Peggy Francis:
"Hon'd Sir:
"My Mind has been much employed for about a Twelve-month past about an affair, which, tho' often mentioned to you by others, has never been revealed by myself, . . . Miss Peggy Francis has for a long time appeared to me the most amiable of her sex, and tho' I might have paid my Addresses, possibly with success, when it would have been non-agreeable to you, yet as Our Affections are not always in our Power to command, ever since my Acquaintance with this young Lady I have been utterly incapable of entertaining a thought of any other. . . . If I had obtained a girl with a considerable Fortune, no doubt the world would have pronounced me happier, but, as in my own Notion, Happiness does not consist in being thought happy by the World, but in the internal Satisfaction and Content of the Mind, I must beg leave to say I am a better Judge for myself of what will procure it than they: yet I am not so carried away by my Passion as to exclude the consideration of money matters altogether . . .
With a little Assistance in setting out, my Business, with Frugality, cant fail to maintain me, and a bare support with one I love is to me a much preferable state to great affluence with a Person one regards with indifference. Be pleased, Sir, to let me know your sentiments of this affair as soon as possible. For tho' I might not press a very speedy conclusion of it, yet I am anxious to know my Fate. I am Dear Sir
"Your Very affectionate and
dutiful Son
In connection with this letter it is of interest to read one written ten years later, by the same son to his father:
"Hon'd Sir:
". . . My Peggy this morning made me a Present of a fine Baby, which tho' of the worst Sex, is yet entirely welcome; You see my Family encreases apace; I am however in no fear by the Blessing of God but I shall be able to do them all tolerable Justice. . .."
Sometimes a prospective bride is in much anxiety as to the way in which the parents of the man she has promised to marry will receive her, but there was no possibility of doubt in the case of Mary Rhodes of Philadelphia when she was looking forward to becoming the wife of Thomas Franklin, Jr., His parents forever set at rest any doubts that may have existed by their assurance of welcome:
"Newyork, 12 mo, 20th, 1763.
"Samuel Rhodes & Wife
"Dear Friends as our Son Thomas has for Some time past acquainted us of his Love and Good Esteem for your Daughter Mary and we Conceiving a Good Opinion of her & Family was Well Pleased with his Choice but hearing it was a Strait with you to part with her to Come to this Place we Could but Sympathize with you in the affair. However he informs us you have left her to her Liberty and she has Turned the Scale for Comeing. . . and hope we shall allways have a Parental Care for her and Conclude you are Sensible there is that attracting Power of Love in all Parts that Can make one in the best part, if adhered to . . .
"Tho we have thus far exprest our minds we know not what may happen between the Cup and the Lip but shall contentedly Submit all to that Great Director of all Good — and subscribe with Love unfeigned to you all & to your Dear Daughter Mary in Particular —
"Thomas Franklin
"Mary Franklin."
There were strict rules in the Philadelphia of long ago as to when a young man might speak and might not speak to a young woman about marriage, and woe to the swain who dared transgress. So George Robinson found to his sorrow. In 1732 it was necessary for him to go before the Meeting and confess his dereliction, which he did in words as follows:
"Whereas I have made my mind known to Mary McKay upon ye account of Marriage before I had her parents' Consent Contrary to ye order of friends for which I am sorry."
A Philadelphia Quakeress in 1796 brought herself into still more serious difficulty because she chose to disregard her parents. Molly Drinker and Samuel Rhoads made up their minds to marry. Molly's parents, Mr. and Mrs. Henry Drinker, were astonished on the evening of August 8 by the coming of a messenger who bore a letter addressed to Henry and Eliza Drinker. In her journal Mrs. Drinker related the sad story of their heart-break:
"William handed it to me — I wondered from whom it came, directed to us both . . . but upon opening it and reading the address on ye top, 'My dear parents,' I cast my eyes down, and to my unspeakable astonishment saw it was signed, 'Mary Rhoads' . We had not the least suspicion of anything of the kind occurring. My husband was much displeased and angry, and when I wished to know where she was at present, he charged me not to stir in the affair by any means . . .
"The next day William and I stai'd upstairs, both of us very unwell. Sister went over to R. Waln to enquire if she had heard where Molly was. She informed her that Pattison Hartshorn had been told in ye morning by Sally Large that they would have trouble in the neighborhood to-day — that Molly Drinker was married last night to S. R. at the widow Pemberton's house in Chestnut St — the family were all, her son Joe excepted, out of town. Robt Wharton, being a Magistrate, had married them according to friendly order. That immediately after the ceremony, they, with several others . . . set off for Newington; James Fisher's place, about two miles from the City . . . This was some little alleviation of the matter, as we did not know before where she was, or how she had been married, whether by a Priest, or what Priest. James Pemberton came here in the afternoon, and had a talk with my husband. He said that Sammy was a lad of a very good moral character, and those whom he had heard speak of the matter, made light of it. 'So do not I,' said H. D. . .
"J. Logan said he thought it a very suitable match; Sam being a worthy young fellow; and as they thought H. D. would never consent [because Samuel Rhoads 'did not dress plain,' or as they expressed it, was a gay young man, while Henry Drinker was a staunch Quaker] was the reason they took the way they had, . . .
"Nancy Pemberton said that she and all her family, her son Joe excepted, were out and knew nothing of the matter, or she would not have suffered a runaway marriage to have taken place in her house."
Thirteen days after the elopement the young people sent a letter to the parents "expressive of their uneasiness at the pain they had caused," and saying that they hoped to be taken into favor. On October 9, nine weeks after the marriage, Mary came to see her mother. "I was pleased to see her," the mother wrote, "and heartily wish an amicable meeting would take place between her and her father." On October 15, Mrs. Drinker went to S. R.'s, "without leave." — "I feel best pleased that I went," she wrote. On November 1 Mary called at her old home after meeting, and stayed until her father came — "the first time they have seen each other since her marriage," the anxious mother confided to her diary. "He talked to her plainly, and at the same time kindly. She wiped her eyes and made a speech which I did not attend to, having feelings of my own at ye time. He promised to call and see her mother Rhoads, whom he said, he valued. I hope matters are getting in a fair train, which I think will be a great favor."
Then came the record of February 21, 1797:
"Molly . . . is going to attend our Monthly meeting with a paper of condemnation for her outgoing in marriage. The receiving of her paper was delayed, and another appointment made, M. Hart, S. Scattergood and Molly Smith are to visit her. Sammy's case also put off, and another visit appointed."
The conference with the repentant Molly took place on March 24, nearly five weeks later:
"Her outgoing in marriage ought to have been the subject in question. but M. H. took upon himself to talk of things wide of the mark, and I believe they intend to lengthen out the business as long as they can. If innocent young women are so treated, I fear it will drive them further from the Society, instead of bringing them nearer."
On April 12, the mother talked with one of the men who had been appointed to deal with Sammy Rhoads. "He is, or appears to be, an innocent, well minded man," was her opinion. "If they were all so, men and women, the affair would not be so long in hand. He said there was a good deal of outdoors talk, which he disapproved of."
The case was still undecided on April 20, for on that day Molly told her mother that she expected a visit next day from those whom the mother called "the curious impertinents."
On May 23 came the joyful news that the daughter's paper "was received without one dissenting voice." From this day husband and wife were restored to favor.
And all this trouble might have been avoided if Samuel Rhoads and Mary Drinker had been as open in their plans as was the writer of a wedding invitation that was dated October 19, 1746:
"My sweetheart as well as myself desire (if it may suit thy convenience and freedom), that thou wilt favor us with thy company at our marriage, which is intended to be at Burlington the 4th of next month.
"I am thy respectful friend,
"Aaron Ashbridge."
One of the many drawbacks to an elopement — at least in the bride's eyes — was the inability to prepare a trousseau like that of Molly Burd, who married Peter Grubb. She spent £31, 5s. 8d, and the items were as follows:
14 Yards Mantua Silk £8 8 0
1 Ps. Irish Linnen 25 yds at 5/9 7 3 9
1 silk Cloak

3 6 6
3 yds. Cambrick at 16

2 8 0
A necklace 9 0
For a laced Cap, Ruffles, Tippet & tucker 9 10 5
A much more elaborate outfit was purchased for a bride of 1768. It is not possible to name all the items. The following are selected:
"1 Bedstead with curtain, £15; 8 Chamber and 1 Arm Chair, £13.10; 1 Chest of Drawers, £10; 1 Sconce Glass, £4; 1 Damask Table Cloth and 12 Napkins, £4.15; 1 Silver Cup, £4.4.4; 1 pair Silver Castors, £4.15.7; 1 Silver Cream Jug, £2.19.6; Silver Tea Tags and Strainer, £ 11s. 4d; 1 Black Gown, £5; Damask do, £5; 1 Taffity do, £3; 1 Silverett do, £2; 1 Persian do, £2; 1 Poplin do, £2; 1 Velvet Cloak, £2; 1 Broadcloth Cloak, £4; 1 Black Petticoat, £2; 1 Serge do, £1; 1 Persian do, £1; 1 Poplin do, £1.5; 1 Blue do, £1; 1 Dimity do, 7s 6d; 1 Camblet Cloak, 10s; 4 Cambric and Linen Handkerchiefs, £1; 1 pair Stockings, 3s. 4d."
As became a staid Quaker preacher, Thomas Chalkley did everything decently and in order, when he was married, but he did not want any frills or furbelows. In 1714 he wrote:
"About this time I had an inclination to alter my condition of being a widower, for a married state, and the most suitable person that I (with some of my good friends) could think upon was Martha, the widow of Joseph Brown; and on the 15th of the second month, 1714, we were joined together in marriage, . We had a large meeting at our marriage, the solemnization thereof being attended with the grace and the goodness of God . . . We made but little provision for our guests, for great entertainments at marriages and funerals began to be a growing thing among us, which was attended with divers inconveniences."
Ann Warder was a worthy follower of Thomas Chalkley, for she was quite severe in the remarks she made on dress in connection with the marriage of two of her friends. The first reference was made in her diary on Nov. 27, 1786:
"A sweet looking young woman called to see the girls, who in a few days is to be married out of the Society to the great Dr Hutchinson, many years older than herself, and a widower with one son. Evident it is here that girls feel the scarcity of men or they would not sacrifice themselves. . . .
Five days later she wrote that three of her family, Jerry, Lydia and Sally were invited to dine with Dr. Hutchinson and wife, "which as they had been married by a priest would be hardly orthodox with us, but here much too many make no distinction, paying them just the same respect — calling the first three mornings to drink punch with the groom and the next week drinking tea with the bride. I think the evil consequences of mixed marriages are reduced in the view of some young minds who perhaps become entangled in this improper way at some of these places. They had a large company and stylish entertainment. In the evening sister M — came in when we had a long conversation on this subject, to which dress was introduced . . . . I told her if my husband's circum‑ stances would not afford me a good long gown, I had rather wear a worsted one always, than like her sit at home not fit to be seen by man sometimes . . . .
There was much state on the occasion of Edward Burd's marriage to Elizabeth Shippen. The groom told of the wedding in a letter to Jasper Yeates, dated at Philadelphia on December 22, 1778:
"On Thursday Evening last, I formed the most pleasing connexion with my most amiable Girl. We had none that lived out of the Family except Aunt Willing, Mr. Tilghman, & the Bride's Man & Maids present at the Ceremony. My dear Betsy went thro' it with tolerable Courage considering the very important Change it will make in her life: — We saw Company for three days & one Friday Evening had a little Hop for our unmarried Acquaintances . Betsy joins me in her kind Love to yourself, Mrs. Yeates & Family. I have a prospect of getting Mrs. Francis's House with the use of her Furniture. . . . I have got some Linnen at my father's both fine and coarse. It will be proper I should use my own Sheeting & Table Linnen; I wish that I could get that & my Table Linnen sent down as soon as is convenient."
Eight days after the groom wrote the letter that told of his happiness, the wife of the recipient sent a message to the bride:
"Permit me, my dear Betsy to congratulate you on your Change of Condition. Our new Connection gives me the highest Joy & Satisfaction . . .
"We flatter ourselves we shall have the Pleasure of your Company here, whenever the weather will permit your travelling. . .
"You will greatly oblige me by presenting my Duty to your Papa & Mama & Love to your Sisters & Brothers. That you & Neddy may experience every Felicity the married State is capable of, are the ardent wishes of, Dear Betsy,
"Your most affectionate "Sister."
And in the following January Elizabeth Tilghman, the bride's cousin, sent her congratulatory epistle, in which she makes mention of Margaret Shippen and Benedict Arnold:
"Well my dear young Matron how is it with your highness now, have you got over all your little palpitations, and settled yourself as a sober discreet wife. . . . and is it really possible that you are married, and have received the golden Pledge before the Cassock and Twenty Five . . . give my best love to Counsellor Burd, you have some slight knowledge of the youth I presume, but at your peril don't let him peep at this elegant scrawl of mine tell the girls they have my best wishes . . . oh! all ye powers of love I had like to have forgot the gentle Arnold, where is he. . . and when is he like to convert our little Peggy. They say she intends to surrender soon. I thought the fort would not hold out long well after all there is nothing like perseverance, and a regular attack. Adieu, my dear, supper waits. let me hear from you soon."
January 9, 1787, witnessed the marriage of Elliston Perot and Sarah Sansom, at the Bank Meeting House. On the day of the wedding, Ann Warder wrote in her diary a sprightly account of the event:
"On entering found most of the wedding company present, among whom I sat. Cousin Betsy Roberts first said a few words, then honest Robert Willis, soon after which Betsy appeared in supplication and William Savery followed with a long and fine testimony. The bride and groom performed, the latter exceedingly well, and the former very bad. Meeting closed early when the couple signed the certificate, the woman taking upon her the husband's name. We then proceeded to Elliston's house but a short distance from the Meeting, where about fifty-eight friends were assembled. We were ushered upstairs where cake and wine were served, and Joey Sansom in helping with two decanters of Bitters, and glasses on a waiter, spilt the wine over his visitor's wedding garments, much to her embarrassment. The next disaster was that some of the fresh paint ruined a number of gowns.
"At two o'clock we were summoned to dinner and all were seated at a horse-shoe shaped table except Cousin John Head, Jacob Downing and Billy Sansom, who were groomsmen and waited on us. The bridesmaids were Sally Drinker, her Cousin Polly Drinker, and a young woman named Sykes Jacob Downing has long courted Sally Drinker and it is now likely to be a match in the spring report says. — She is a cheerful, clever girl and he an agreeable young man.
"We had an abundant entertainment — almost everything that the season produced. After dinner we adjourned upstairs, and chatted away the afternoon, the young folks innocently cheerful and the old not less so.
"Tea was made in another room and sent to us. At nine o'clock we were called to supper, after which the guests prepared to return to their homes."
That sounds like a long time for the bride to be on exhibition. But that day was only the beginning. A whole week passed before the festivities connected with the wedding were at an end.
The papers of June 18, 1823, told of a marriage that is of special interest because of the description of the dress of the bride, Elizabeth M. Morris, and of the wedding supper:
"The bride was dressed in white satin covered with tulle, and had what I believe you call a skeleton bonnet . . . two sermons from O. Alsop and a woman named Leeds, both in a gloomy and foreboding style. The thermometer being at 93! and the house hemmed in on all sides . . . the bride spoke so very low at meeting that no one I have inquired of heard a syllable. Having had the honor of an invitation, found a company of about sixty-four, chiefly employed in seeking the coolest situations. The supper tables at a little after nine was elegantly furnished — tea and coffee, cakes, blanc-mange, calves-foot jellies, oranges, pineapples, raisins and sugared almonds, strawberries and cream, strawberry and lemon ice creams and large pound cakes.
The Colonial records of courtship and marriage are rich in humor. Sarah Eve was humorous, though she did not realize it, when she, who was at the time engaged to Dr. Benjamin Rush, wrote on March 30, 1773:
"In the morning I went to Mr. Rush's where I spent the day and night. In the evening I had the pleasure of seeing Capt. Bethell for the first time. About ten o'clock I went to bed and left Miss Bets up. Query, which was the happier, that lady sitting up with her — or myself lying in a fine soft bed, reading the 'Adventures of the renowned Don Quixote,' and in a most excellent humor to enjoy it?" 1
A humorist of 1729, Hugh Roberts, wrote to his "Respected Fr'd T. Fenton:"
"My sister Jenny entered likely into the matrimonial Band wth William Fishbourn who I believe will make her a loving Husband. Sister Susan is much dejected by the parting with a sister, altho, but at a small Distance so that I am apt to believe nothing short of a Nupteal tye will support her Drooping spirits at this melancholly Juncture" . . .
Humor came from one of the Revolutionary camps in a letter sent by a captain to his wife. In a postscript he gave a message for his sisters that must have made them smile and blush:
"To Miss Aby Miss Rachel & Miss Jenny my kind sisters I hoped you will take special care not to get married to any cowardly fellow till I return with some of my Brave fellows which will be before you spoil with old age there are some of them who would wish to see you very much I flatter them to behave like men and you will be the redier to receive them."
Fortunately the Act of Parliament of 1770, concerning marriage, which applied to Pennsylvania as well as the other colonies, could not be enforced at this time, for it proposed dire penalties on those who dared set their caps for men, as the captain urged his sisters to do. This awful Act declared:
"All women, of whatever age, rank, profession! degree, whether virgins, maids or widows, that shal, from and after such Act impose upon, seduce or betray into Matrimony, any of his Majesty's Male subjects by the secrets, cosmetics, washs, artificial teeth, false hair, Spanish wool, iron-stays, hoops, high-heeled shoes, etc. shall incur the penalty of the law now in force against witchcraft, and like misdemeanours, and that the marriage upon conviction shall be null and void."
1 Robert Bethell later married Betsy Rush, but Sarah Eve died on December 4, 1774, two weeks before the day appointed for her marriage to Dr. Rush.