NEW ENGLAND AND ITS NEIGHBORS
WRITTEN AND ILLUSTRATED
BY
CLIFTON JOHNSON
Published by
THE MACMILLAN COMPANY
New York
MCMII
LONDON: MACMILLAN AND CO., LIMITED
Copyright, 1902
by The Macmillan Company
Set up and electrotyped September, 1902.
Reprinted November, 1902.
A CONSIDERABLE portion of the material included in this volume was first published in The Outlook, Woman's Home Companion, The Pilgrim, Frank Leslie's Popu­lar Monthly, The New England Magazine, The Boston Transcript, Town and Country, The Interior and in Harper's Weekly.
Electrotyped and Printed at the Norwood Press Norwood, Mass.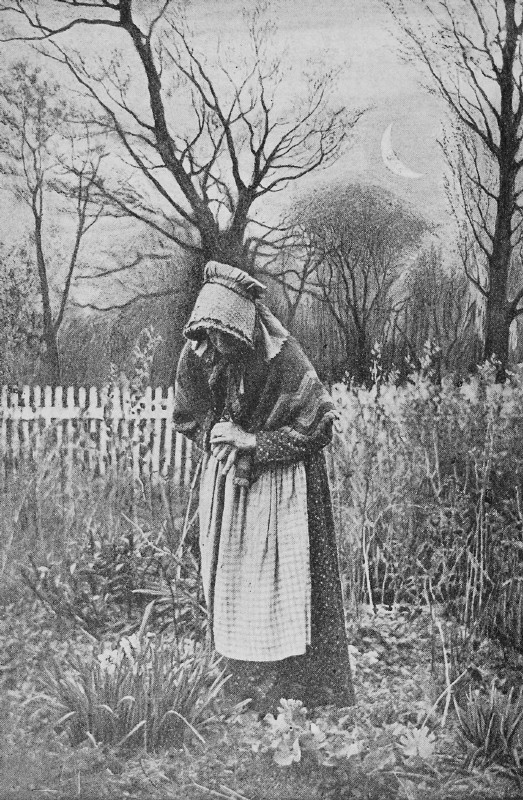 Springtime in an old garden
Contents
List of Illustrations
Springtime in an Old Garden
In Valley Forge
Valley Forge Pond
The Site of the Old Forge
One of the Bridges over "Valley Crick"
The Schuylkill at Valley Forge
A Valley Forge Footpath
The Entrance to the Headquarters Mansion
The House which was Washington's Headquarters
A Woodland Teamster
A Load of Logs on a Forest Roadway
Work at a Logging-camp Landing
The Choppers
A Woodsman's Rocking-chair
A Mountain Ox-team
In the Sleeping Apartment
A Corner of the Camp Kitchen
A Scaler
A Logging-camp Dwelling
Considering his Neighbor's Fields
In Crown Point Village
Mending the Pasture Fence
A Lake Champlain Ferry
Rhubarb
Ticonderoga Ruins
The Pasture in which stand the Old Fortifications
A Fisherman
An Adirondack Farmer
Shelling Seed Corn
Bringing in the Cows after their Day's Grazing
Picking up Chips
The Kitchen Door of a Log House
Sowing Oats
Spinning Yarn for the Family Stockings
A Home in a Valley
A Roadside Chat
On Cooperstown Street
Looking toward the Town from an Eastern Hillslope
The Margin of the Lake
Putting on a Fresh Coat of Paint
Getting Ready to plant his Garden
Spring Work in a Farm Field
The Monument on the Site of Otsego Hall
The Graves of J. Fenimore Cooper and his Wife
Setting out the House-plants
Saybrook Street
In a Back Yard
Ploughing out for Potatoes
A Roadway on the Saybrook Outskirts
Drawing a Bucket of Water
In the Old Cemetery
Cleaning up the Back Yard
The Seaward Marshlands
Starting the Garden Parsnips
A Long Island Stile
On Easthampton Common
The "Home, Sweet Home" House
An Old-fashioned Sitting Room
A Toll-gate on a Seven Cent Road
Making Fence Posts A Windmiller
Along Shore at Sag Harbor
Tinkering the Road
At the Schoolhouse Door
A Trout Stream
The Fiddler
Grandpa gives the Boys some Good Advice
The Rain-water Barrel
Taking Care of the Baby
The Lonely Little Church
A Home-made Lumber Wagon
A Mount Desert Well
A Lobster-pot
A Home on the Shore
Summer Calm
The Post-office Piazza
An Old Schoolroom
A Moonlit Evening
The Home Porch
The Dooryard Fence
After the Day's Work
Typical Outbuildings
A Grist-mill
Making Apple-butter
Childhood Treasures
Farm Market Wagons
One of the Street Pumps
On a Village Sidewalk
The Juniata
Old-fashioned Churning
Digging Potatoes in a Weedy Field
A Home on the Mountain Side
The Buckwheat Thresher — Fair Weather or Foul?
A Morning Wash at the Back Door
On the Way to the Barn to help Milk
Making Soft Soap
Binding Indian Corn Considering
Trading with a Bumboat
The Call to Dinner
Visiting
Drawing Water
Two Canal-boat Captains
The Steamer dragging the Tow
House-Cleaning Time
Arriving in New York
The "Nigger" Target
Children Sightseers
Without the Gate
The Stage from the Neighboring Town
The Cavalcade of Oxen
On the Grounds
To Buy or Not to Buy
Cooking Apparatus at the Rear of the Eating Tents
The Pounding-machine
Five Cents a Throw at the Dolls
A Village Sign
Anchoring his Haystacks
An Autumn Corn-field
A Cranberry Picker
Harvest on a Cranberry Bog
In Provincetown
Looking over the Cod Lines
An Old Wharf
Public Buildings on the Hilltop
A Cape Cod Roadway
The Mowers on the Marshes