MEMOIRS OF SHERLOCK HOLMES

BY
A. CONAN DOYLE

AUTHOR OF "ADVENTURES OF SHERLOCK HOLMES"
"THE REFUGEES" "MICAH CLARKE" ETC.

ILLUSTRATED

NEW AND REVISED EDITION

HARPER & BROTHERS PUBLISHERS
NEW YORK AND LONDON
1903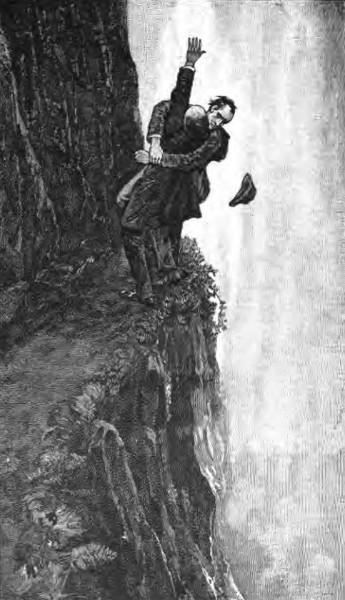 THE DEATH OF SHERLOCK HOLMES

CONTENTS




XIII.
XIV.
XV.
XVI.
XVII.
XVIII.
XIX.
XX.
XXI.
XXII.
XXIII.



NOTE. — The first twelve Adventures of Sherlock Holmes will be found in the volume published by HARPER & BROTHERS, entitled "Adventures of Sherlock Holmes." It is uniform in size and price with "Memoirs of Sherlock Holmes."



ILLUSTRATIONS

THE DEATH OF SHERLOCK HOLMES
"THE MAID CARRIED HIS SUPPER TO THE STABLES"
"HIS HEAD HAD BEEN SHATTERED BY A SAVAGE BLOW "
" 'PIPES ARE OCCASIONALLY OF EXTRAORDINARY INTER­EST,' SAID HE"
" 'SHE SEIZED MY SLEEVE AND PULLED ME BACK WITH CONVULSIVE STRENGTH"
"IN WALKED A MIDDLE-SIZED, DARK-HAIRED, DARK-EYED, BLACK-BEARDED MAN"
"I NEVER LOOKED UPON A FACE WHICH BORE SUCH MARKS OF GRIEF"
"FIXED HIS LARGE BLUE EYES UPON ME WITH A STRANGE WILD STARE"
"WHILE THE CHAPLAIN STOOD WITH A SMOKING PISTOL IN HIS HAND"
"HE BEGAN TO STUDY IT WITH MINUTE ATTENTION"
"STILL CLUTCHING AT HER TREASURE TROVE"
"TWO MEN CAME DOWN THE GARDEN PATH"
" 'THERE CANNOT BE THE LEAST DOUBT IN THE WORLD THAT IT HAS BEEN WRITTEN BY TWO PERSONS' "
"THE TWO WOMEN WITH THE COACHMAN LISTENED TO THE DISPUTE"
"HE WAS CROUCHING OVER A FIRE, AND THE ROOM WAS LIKE AN OVEN"
"SUDDENLY, HOWEVER, HE WAS SITTING BOLT UPRIGHT AGAIN"
" 'BLESSINGTON, I THINK, SAT UPRIGHT IN BED' "
"THE MAN TORE THE PLASTER FROM HIS LIPS AND RUSHED INTO THE WOMAN'S ARMS"
"IT THREW A LIVID, UNNATURAL CIRCLE UPON THE FLOOR"
"A YOUNG MAN, VERY PALE AND WORN"
" 'THE PAPERS HAVE BEEN TAKEN FROM THE DESK!' "
"STANDING ON THE RUG BETWEEN US"
"PHELPS RAISED THE COVER"
"MY DECREPIT ITALIAN FRIEND"