A Romance of Mount Desert Island

By BEULAH SYLVESTER OXTON

"List to a tale of love in Acadie."
IT WAS Indian Summer. A golden haze brooded over land and wave. The winds were stilled and the surface of the sea was undisturbed save by gentle tide currents eddying in and out of harbor, creek and bay and running so smoothly by rocky ledge and point that the brown seaweeds rose and fell as if toyed with by tender hands.
The huge shoulders of the granite hills lifting their rugged heights in solemn grandeur above the tranquil tide seemed touched by magic; their towering summits, wreathed with violet mist, loomed less distant and austere through the glowing, palpitating ether.
The spicy odor of pine and fir filled the air as their branches exhaled forest incense, a tribute to their deity, The Sun. Within their shadows the atmosphere was warm and mellow, while out on the bare capes and headlands it held almost the sultriness of midsummer, intensified by glowing clumps of goldenrod that garlanded their heights.
All nature rested in perfect peace and quiet. The only sound that broke the stillness was the cry of the seagull, as it circled on graceful wing or settled to the sea.
On this scene of matchless beauty Delphine Beauvais gazed with happy eyes, as with loitering steps she climbed the slope leading from. shore to woodland. Such a day as this seemed too rare to be devoted to homely, indoor tasks.
Indeed, why must one work at all when the great Outdoors seemed resting in dreamy quiet and each succeeding hour only added to the beauty and enchantment of the scene. The girl paused often and gazed seaward, shading her eyes from the sun's glint on the water, while she watched the fast lessening sail of her father's boat hanging limp in the morning calm as the fisherman labored patiently at his oars that he might early reach the fishing-grounds.
"Delphine," he had said, when she kissed him good-bye, "how could Jean Beauvais content himself with his hard, rough life did not his little girl make it bright and happy with kind deeds and loving words? Le Bon Dieu send you, some day, the good fortune you deserve."
And her heart echoed his words. How could he manage without her now that grand-pare was tied to the house with rheumatism, never able to aid at fishing, while poor grand-mere was deaf and almost too blind to find her way about? And over in the shadow of the pines slept her own mamma, laid there when she herself was placed, a helpless babe, in her father's arms.
With this thought she hastened toward the cottage that was their home, and singing a blithe song went busily about her morning tasks.
Though petite and delicately built, this young daughter of the desert isle radiated the glow of rugged health. Her limbs, though slender, were well rounded and beneath the soft skin played muscles, strong and supple. Her step was quick and elastic and her movements were as the flit of a bird from bough to bough. The ripe red of the wild strawberry was on her cheeks and lips, and in her dark eye, the sparkle of the dancing waves.
So close had been her girlhood years to the wild, free life of the great Outdoors that she resembled nothing so much as the robin that fearlessly built its nest in the balsam-fir growing beside the cottage door, or the wild blue-bell that graced the rocky cliffs of her island home. "Oh, fair in sooth was the maiden!"
She loved the sea and often spent days with her father in his fishing boat where she sat in the bow, gazing out over the ocean's wide expanse, dreaming dreams and seeing visions as only a young girl may. But not all her days were spent in romping or dreaming. She could spin and weave, knit and sew, bake and brew, and do all that a housewife should. In truth, she well deserved her father's praise, for since her grandmother had grown so blind, Delphine had kept the house and kept it well.
* * *
The cottage of Pierre Beauvais, Delphine's grandfather, was one of a small settlement that had taken root on the rocky shore of the Isle de Monts Desert in those years before the coming of the Gregories in 1788, but of which history contains no record and of which only a tradition now remains. At the head of what is now Southwest Harbor this little colony of fisher-folk, isolated and remote, maintained its existence against all hardships and privations.
Pierre's cottage, like the others of the colony, was built in part of stone, in part of rough-hewn timbers. The chimney with its wide fireplace was made of stone, chinked with clay from the seashore, and though the winters were long and cold, these houses were snug and warm. The furniture was of the simplest and made by hand from the material that nature plentifully supplied. But as these fisher-folk were of simple tastes, they were contented and even happy.
They had no time to sigh for the comforts that perhaps some of the older ones had known in earlier years, for life was a struggle for bare necessities and each must do his part of hard, rough toil.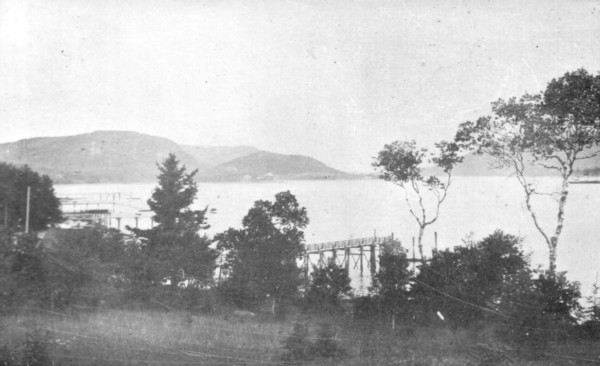 The Isle of Monts Desert, where the Little French Colony was Settled
The chief source of livelihood was the never-failing store of cod and haddock, mackerel and shad with which the waters along the coast teemed. These were dried or otherwise cured and taken to the larger settlements to be exchanged for needed supplies of food and clothing.
But sometimes, if the catch of fish was large, a doting father or admiring lover bought some little trinket et for a loved child or sweet-heart. So Jean Beauvais on his last trip to Falmouth had bought for Delphine a bit of gay muslin for a new dress and a string of shining beads for her pretty neck.
The muslin had been fashioned into a gown of simple beauty that enhanced the girl's charming face and figure, and when she clasped the beads about her slender throat, her proud parent exclaimed, "There is not another in all New France so lovely as my Delphine, and were she in the old land over sea, she should win the heart of some gallant lord and adorn his chateau with her grace and beauty!" The dress had been worn for an hour or two, then carefully folded away in the big chest to await some festive Occasion, or, who could tell, perhaps the coming of a lover.
The morning, filled with household tasks, sped swiftly and happily. Old Pierre sat on a bench beside the door and smoked and dozed in the warm sunshine or, in memory, lived again his early days in far-off, sunny France, his adventures here in the New World when life was all before him, his fortune to be won, and the long, hard years that had passed since then.
After the simple noon-day meal, Delphine had placed a cushion on the bench beside Pierre and assisted her grandmother outside, where the old dame, though nearly sightless, spent the sunny afternoon, busily knitting. And Delphine, close beside her, sat at the flax-wheel, singing or listening to the endless tales she had heard a hundred times from her grandparent's lips. And while her hands were busy with the flaxen thread, she spun a golden skein of romance on fancy's wheel.
Nightfall brought an orange sunset whose brilliant hues were long reflected by the placid sea and distant mountain tops, till purple sea-mist rising veiled them in its shadowy folds.
The old people went early to rest, but Delphine sat long by the open door "watching the moon rise over the pallid sea" and the mystic figures of her imagination that came and went in its silvery path of light. Then she, too, climbed to her bed in the tiny loft.
The weather of the Maine coast has ever been uncertain and changeable, so it is not surprising that the unusual heat and calm of that autumnal day in 1753 was followed by a storm that burst out of the northeast with tremendous fury — a blizzard of sleet and snow and a wind that soon became a gale.
The sea, that yesterday lay silent and peaceful, now bellowed and roared and thundered as it lashed and tore at the jagged cliffs, leaping up their sides in clouds of spray that froze as it fell. The entire landscape was blotted out by the driving cloud of snow that, fine and dry as dust, sifted into every cranny and crevice.
The air was stinging cold, intensified by the gale that increased in fury from hour to hour. The great boughs of the hemlocks and spruces writhed and groaned as gusts of wind wrenched and contorted them. The fisherman's cottage was shaken to its foundation, and though the fire leaped in the chimney and great sheets of flame darted nearly to its top, the inmates sat round its hearth and shivered. In their hearts was a sickening fear for the safety of the absent one, somewhere in his frail boat on that dangerous coast, and a prayer was on their lips for his keeping. Not only in the home of Pierre Beauvais were fear and anxiety; for Jean was not the only one away on the sea. Others had fared forth, all unconscious of the coming peril. In those days no storm signals flew from cape to cape, no lighthouse-tower held aloft its beacon light through the blinding snows, no warning bell tolled o'er the surging deep to guide past treacherous reef and sunken ledge, no brave Life Guards patrolled the sands or peered through the storm for boats in distress. Small wonder that some who went out that Indian summer day should never see again the harbor lights of home, or that brave Jean Beauvais should be numbered among that silent company!
All day and night the storm raged until its fury was exhausted. When the second morning dawned the wind had fallen and it had ceased snowing; but the air was still biting and heavy, leaden skies gave no hint of sunshine. The waves still roared and hissed, heaving in from sea in prodigious combers.
Golden autumn lay dead, but through its hours of travail lusty winter had been born.
* * *
On this second day, as the anxious watchers looked seaward for some sign of the fishing boats, hoping they had found safety in the lee of some sheltering isle, a strange craft made its way into the harbor and came to anchor. She was a large vessel, a ship of war as her guns and portholes showed, but of what nation none could tell, for no flag waved at her peak. That she had been caught in the storm was plainly to be seen. Her canvas hung in ribbons, some spars were entirely gone, while others hung as they had fallen when snapped by the gale; all entangled in sails and cordage.
The rattle of her anchor chain had hardly ceased, when a boat was lowered away and put off toward the shore. As its how grated upon the beach, one of its occupants, evidently an officer, sprang ashore and hastening up the slope, approached the cottage of Pierre Beauvais, standing nearest the beach.
The "Bon Homme," a French frigate, was on her way to Quebec, but by a series of gales that had swept the North Atlantic, she had been driven far out of her course. Upon approaching the coast she had been caught in the blizzard 'and nearly wrecked upon the dangerous rocks that lie about twenty leagues to the southeast of Monts Desert. The mountainous seas washed three of her men overboard and nearly swept her clear of sail and spar. She was so strained that her hull leaked dangerously. Her crew was exhausted with their terrible battle with wind and wave and suffering from thirst, for their water butts were either overturned or filled with salt water. Hence she had sought the shelter of this harbor and her commander asked permission to cut timber for new spars and inquired for some spring where their water supply might be replenished.
This was the tale the captain told when Pierre had bade him enter the cottage, the while his restless glance noted quickly the details of the humble dwelling and more quickly still the fair young girl who had so gracefully placed a seat for him before the hearth, then turned industriously to her flax-wheel in the corner, where she sat with downcast eyes and blushing cheeks. And he thought that a face so lovely he had not seen in many a day if, indeed, in all his life, which was a great compliment, had she but known, for the captain was a young nobleman who had seen many a high and titled beauty in the salons of the gay French capital. But though Delphine looked not up, she felt the admiring gaze and could not hide the blushes that mounted to brow and cheek.
Blushes? Yes, blushes. Had not the great ship come at last to the harbor, and had not its handsome young commander sped straight to her cottage door just as in her dreams it had always been?
"And what was the end of the dream, Delphine?"
"Oh, it was as father always said, we sailed away to the wonderful land of France where a noble chateau awaited the coming of her who should 'adorn it with grace and beauty'!"
With quick intuition the young nobleman guessed something of the thoughts that held her eyes so steadily on the distaff and caused the warm waves of color to mount to the ringlets, framing the piquant face, and determined that this should not be his only visit to the home of old Pierre, nor would he leave the harbor of the Desert Isle until he had plucked for his own, this sweet, wild flower.
For ten days the great ship lay in the harbor while her busy crew fashioned new spars and wrought new sails and put the ship in condition to continue her voyage.
Meanwhile, the fishing boats had returned, all but Jean Beauvais', and in spite of the hope that his boat had been blown off the coast farther than the others, or that he had been picked up by some merchant ship and carried to a distant port, old Pierre knew he should see his son no more, though he kept this knowledge locked in his aching heart for the sake of Delphine and his poor Marie. And if Jean were gone, what would become of them? Just in the hour of need had not. Le Bon Dieu sent this young captain to solve that knotty problem! Pierre might be an old man now, but he had once been young and gay and he knew it was not to talk with him that the handsome officer, night after night, sought their humble fireside. Yes, Delphine should be a lady, and she would not forget her old grand-pore when she had gold at her command.
Thus, between the old man's scheming and the girl's romantic dreams, the Bon Homme's captain found fair sailing on the sea of his heart's desire.
Night after night he sat by the glowing hearth and talked with Pierre, filling the old man's pipe with fragrant tobacco and his mug with sweet, red wine from old Burgundian vineyards — telling, the while, tales of his adventurous life upon the sea or of Pierre's old home in Normandy. But when the old folks at last retired, he was free to tell the tales more pleasing to a young girl's ear: tales of the grand chateaux that, vast and high, rose above rich gardens and ancient woods, even as the tall cliffs of her lonely isle rose from the encircling sea; tales of the beautiful women and brave men, who, dressed in gorgeous satins and velvets and sparkling with jewels, made gilded halls and salons gay and brilliant with feasting and dancing, music and song; tales of wonderful Paris with its flowers and fountains, bridges, parks and drives, its marvelous shops and bazaars and its beautiful churches, dim and sweet with incense that burns continually before splendid altars: tales of palace and king, of lords and ladies of high degree and the glittering life of a magnificent court.
And Delphine no longer sat with downcast eyes, but hung upon his words with cheeks and eyes aglow and with hands, always so busy before, now lying idly in her lap. Her whole body tingled with excitement, her mind was spell-bound with wonder and admiration.
Then, drawing closer and taking her little hand in his, the captain poured out a tale of passionate love and promises. Some day, if she would but return his love, she should see all these grand sights of which she had heard, and should herself become one of those elegant ladies and dress in soft satins and lace; for he was an heir of a noble line and over-seas his princely chateau awaited the coming of a little bride who should adorn it with her grace and beauty. And Delphine, wild little blossom of the desert isle, gave into his keeping her trusting heart and the jewel of her fair young life.
So the last night had gone. At morn the "Bon Homme" weighed her anchors and stood to the open sea. On Delphine's finger showed the captain's ring, on her lips and brow and eyes still clung the rapture of her lover's kiss, in her ears the echo of his last sweet words and in her hands she held a purse of gold. Again she must take up her round of homely household cares, again she must spin the flaxen thread but with the whirr of the flying wheel, ever she heard her lover's voice: "No wind so high, no sea so wide, that can keep me long from my darling's side!"
* * *
Again it was Indian Summer. Again the golden haze enveloped land and wave, and the sea was still. Again Delphine looked across the waves, but not at the fishing boats. Instead, her gaze swept the far horizon for some sign of the returning sail that should bring once more to the desert isle him who had her heart in keeping.
What changes one short year had wrought in the fisherman's cottage! No word had come of Jean Beauvais and at last Delphine had given up all hope.
Over in the shadows of the pines another mound was made where they had laid poor old grand-mere, just as the tender green crept over the forest and the little birds had come again to sing among its branches. Pierre, as before, sat on the bench beside the door in the fragrant shade of the balsam boughs, but Delphine sat within, and this time it was a lullaby she sang, for on her breast nestled a little son.
If she had been fair to see that other day as she sat by the wheel and spun a skein of reverie, now she was beautiful indeed! The divine light of mother-love shone in her eyes as she looked on her little one and spun for him another skein of fair romance, as she dreamed of what he should grow to be in the coming years — the heir of a noble line. And to-night as a year ago, Delphine sat by the open door watching the silvery path of moonlight on the sea. But was it a dream-ship that she saw looming on the distant verge and nearer, ever nearer, in the wavering, mystic glow draw on toward the silvern shore!
No, not a phantom; for into the harbor, as before, sailed the great "Bon Homme" and in the hush of the autumnal night Delphine was clasped again in her lover's arms.
Sometimes there come to mortals such days of supreme delight, such hours of exquisite happiness that whatever of pain and sorrow the after years may bring, the heart can bear it all for memory of those past sweet days.
So to Delphine came that hour of bliss. Again she and her lover sat beside the glowing hearth while between them slept their little babe, and as before she listened with beating heart to his tales of love and promises: tales of their life that was to be in that fair, distant land of sunny skies, when she should take her rightful place, as his wife and mother of his heir. And for their son another tale of fancy bright: he should be trained and tutored by the greatest minds and given all the advantage of his father's name and become, in time, a trusted courtier of his lord, the King.
But patient must Delphine be and await the day when he could take them from the lonely isle to live that happy life in far-off France. And if the gold in her purse was gone, then here was a larger store; she should not lack for aught that it could buy. Then, with the dawning of another day, before the sun had risen from the sea, his ship was gone, and with it vanished the romance of her life.
Let us not count the lonely years that follow, when Delphine watched and waited for him who never came. Not once did her trust or hope give way, and when the "Bon Homme" came not back and neighbors urged her lover's faithlessness, she always met the charge with good excuse; the wars had kept him over-seas, or else the ship was ordered to some distant port: he would redeem his promise in good time, else death had claimed him. But no thought of infidelity could poison or corrupt her love nor the steadfast faith she had placed in him.
* * *
Old Pierre at last lay sleeping with those others beneath the pines, so Delphine had only herself and little one for whom to work and plan. And what a joy it gave her to do for her child; to care for his little body and to make his pretty clothes, to teach him to lisp a prayer and to sing her sweet old songs. Every day was devoted to his welfare and almost her whole existence centered in his happiness. He was indeed her blessed treasure, her precious, darling boy. How sad that his papa should miss all these delights of his son's babyhood! But then, perhaps it was only fond mammas who found such happiness in their children's infant years.
Only one event had brought deep sorrow to Delphine's heart. One day, when little Maurice was just learning to walk, a dreadful thing happened. Busy one morning about the cottage, Delphine took from the crane in the chimney a pot of scalding water and was about to turn it into a tub when the little toddler caught her dress and pulled her to one side. Some of the boiling water had fallen on her darling's feet and so deep was the burn that the little toes were crippled and the child made lame for life.
Delphine never ceased to grieve over the accident, both because of her tender love for the child and because she thought he never could fill those high positions his father had planned for him. And with what sorrow, mayhap anger, that father might reproach her for such seeming carelessness!
But though lame, little Maurice was an active child and played on the beach, or climbed the rocks, or frolicked beneath the branches of the pines with the other children of the settlement. Sometimes he went with Delphine to the cliffs on the point where she would sit, looking far away across the water, and tell him tales of his gallant father and of the wonderful things that he should see and do when papa came to take them from the little cottage to sail with him across that shining sea. And the child, another little romancer like his mother, had already begun to dream dreams and see visions.
* * *
So the years flew by. One morning of a warm spring day in 1761, another ship dropped anchor in this harbor of Monts Desert. A boat was lowered away and once more a stranger ascended from the beach and knocked at the cottage door Delphine and her little boy had gone to the forest in search of the sweet, wild flowers that grew in the pine tree's shade, and the stranger turned to another house that stood not far away. His errand was soon told. He sought a child, a boy, the age of seven, whose name was Charles Maurice, and whose mother's name was Delphine Marie Beauvais. Did such persons dwell in their settlement? But why did this serious-faced gentleman, a stranger from a foreign land, seek these two on the Mountain in the Sea? That he told to Delphine alone when she returned from the forest.
Some natures are endowed with an unusual power, almost an instinct, by which they feel the foreshadowing of good or ill to befall them. Delphine possessed this power. From time to time, during all that pleasant spring, a vague uneasiness overshadowed her usually merry heart.
On these unhappy days she remained close by the cottage and could not bear to have little Maurice go beyond her sight. No harm must come to him, no unkind fate must take him from her side. Oh, she could not even brook the thought! So she gathered him close in her loving arms and strained him to her heart.
At the first sight of the new sail in the harbor and the stranger at her door, that vague sense of danger crept over her like a chill, the color died in her cheeks and her whole body trembled visibly at the sound of his deep, low voice.
At last the story was told, at last she knew the bitter, bitter meaning of her dread forebodings. How could her loving heart receive such a stroke and yet not break! Gone, yes, gone forever was her gallant lover, her brave captain, the father of her child! After all the years of patient waiting, never to know the joy of meeting, never to be clasped to his heart again, never to look into his dear face or feel his caress! Oh, cruel, cruel fate, more bitter than a thousand deaths!
But even that was not the keenest sorrow she had to bear. She must give up her precious child and send him away with this strange gentleman to that still stranger land of his father's birth. "Must," did he say? "No, never!" He was her own and she would hold him against all the world! Now that his father would never come again, what did life hold for her except to love and to be loved by their little child? So in the agony of her tortured heart Delphine cried out when she could bear no more.
But the stranger seemed not greatly moved by her suffering, and saying he would talk with her another day, returned to the ship in the harbor.
All night in that humble cottage Delphine fought her terrible battle alone, but when the first, gray light of coming day broke o'er the sea, she sank on her couch in a death-like sleep. "And into her soul the vision flew." When she awoke she understood its meaning.
It was his father's wish. Their son was the heir of a noble line and he must not spend his life on that desert island. He must go to far-off France to his father's home and people. His uncle would love him and guard him as one of his own and see that all his brother's wishes were fulfilled. Yes, she would let him go. It was hard, only God knew how hard, but she would make the sacrifice. Her love should prove its worth; she would bear all for the loved one's good.
Thus M. Neveu, the grave Paris lawyer, discovered a great change in Delphine when he next came to her cottage and it was soon arranged that little Maurice should accompany him to France, the ship sailing the following day, for her captain was anxious to be off the coast before a storm should arise.
And how did the child receive this wonderful news? At first he clung to Delphine in terror, for he had been ever a shy child with older persons, and could not be induced to make friends with this stranger. But when the lawyer had given the boy some tempting sweets, the like of which Maurice had never seen or tasted, and some curious toys brought over-seas for this very purpose, Maurice had been quickly won. Then, too, Delphine, since her decision was firmly made to give him up, used all her arts of pleasing tales to fill his mind with fair imaginings of all that awaited him across the sea, until he was impatient to be on his way.
All that last, sad night Delphine sat by her child's bedside and gazed through her blinding tears upon his little form. All night her prayer went up to Heaven that God would shield him from all harm, that he might find room in some mother-heart beyond the sea and grow to be a great and learned man, an honor to his father's name and noble family.
The morning dawned with cloudless sapphire skies. A fresh warm breeze sang through the piney woods and set a-dance the blue waves of the sea. All the world seemed free from care and joyous with the springtime's blossoming.
The great ship shook her canvas free, like some huge sea-bird, spreading wings for flight, and with the freshening breeze and ebbing tide, turned proudly from the harbor towards the sea.
And Delphine stood on the shore waving her hand and smiled, that her child's going and his last memory of her should be a happy one. Then, out on the Point's highest cliff, she watched the departing sail until it was lost to view in the purple mist of the far horizon.
* * *
Once more the fleeting years had brought the glory of an autumn day and Monts Desert glowed like a jewel on the breast of the tranquil sea. Softly the dreamy haze wrapped in its folds each mystic mountain top. The quietude of nature's resting-time lay over the ancient wood among whose dark pines and hemlocks shone the oak and maple, resplendent in their richest colorings, while in their shadows silvery lakes reflected every tint and line in wondrous beauty. No handiwork of man with brush or pen could e'er repeat the glory of the scene.
Again a stranger from a land far, over-seas had sought the mountain isle; had sought that sheltering harbor and the hamlet of the fisher-folk; a gentleman, familiar with the splendid life of courts, who talked with Europe's greatest monarchs as a trusted friend, one whose mighty brain was yet to fashion a great Nation's destiny. What thus brought this famous man to the home of these lonely ones?
That something which, since the world began, has made the humble and the proud akin; that sacred, holy, blessed thing, the memory of a tender mother's love.
There, in the softened light of the pine tree's shade, a son knelt by his mother's grave and did not the loving spirit of Delphine Beauvais know that all her prayers had been answered? For, bending above her quiet resting-place, was the son of her love and tears, — the heir of a noble line — Charles Maurice, Duke de Talleyrand.
AUTHOR'S Note: The historical claim for Mount Desert as the birthplace of Talleyrand will be found in Williamson's History of Maine, Drisko's History of Machias and Sylvester's Maine Coast Romance Vol. V.