LITTLE FOLKS OF OTHER LANDS

ZUMETTA.

Zumetta is a little Arab girl.

Zumetta's skin is olive-tinted.

Her nose is small and straight. She has full lips.

Her eyes are dark and large. They shine like stars when she laughs.

She wears little gold bands around her wrists and ankles.

She wears sandals on her small feet.




Zumetta

Her dress is brown cotton. It is loose, and reaches a little below her knees.

She wears a fine, white handkerchief on her head instead of a hat. It is fringed and hangs down like a veil around her face.

Her long hair is braided.

Zumetta has a sweet smile and pretty white teeth.

Zumetta's father is an Arab chief. His name is Achmet.

Her mother's name is Saidan. Her father has many servants and camels and horses.

They live in a desert. It is very hot and sandy there.

They have no home. They camp out. They live in a tent.

They move often to be near springs of water.

The tent is taken down and put up every time they move.

Three tall, stout poles are driven into the ground.

A large piece of goatskin-cloth is stretched on these poles.

Strong cords and pegs hold the cloth fast to the ground.

A white cloth curtain divides the tent into two rooms.

Mamma Saidan, Zumetta and ba­by Hassan have the inner room.

Papa Achmet, and Selim, a splen­did horse, sleep in the other room.

The whole family pet Selim.

The children put their arms round his neck and kiss him.

Selim is very gentle. He never hurts them.

There are no tables, chairs or beds in the tent.

The family sleep on mats or soft cushions.

They sleep nearly all day.

When evening comes, the winds blow soft and cool.

Then papa Achmet sits cross-leg­ged outside the tent.

He smokes his long pipe. Zumetta and Hassan play in the sand.

Mamma Saidan brings out a bag of dates, some hard cakes, and some butter.

Sometimes she brings coffee in little cups.

Papa Achmet eats first. The others wait until he has finished.

Zelma, the tall, dark servant, milks a camel. Then she offers her mas­ter a bowl of milk.

Zelma wears a loose, blue cotton gown. Her feet are bare. She wears a roll of white muslin on her head.

When papa Achmet has eaten his .supper, mamma Saidan and the children have theirs.

Afterwards the servants eat. Sometimes the family sleep all night out-of-doors.

Before dawn papa Achmet awakes them.

He says they are to start for a new home.

A camel carries the tent poles and the goatskin cover.

Another camel carries the food, the mats and the cushions.

Across the back of a third camel are hung large leather bags, filled with water.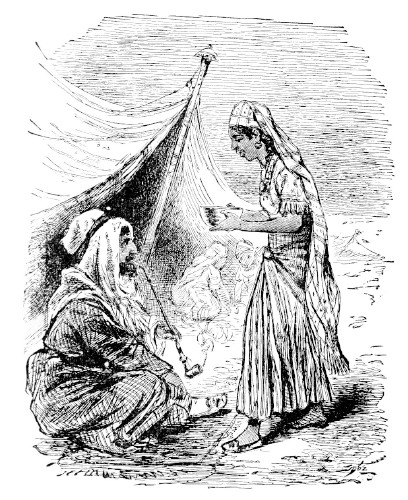 Zemla Offers her Master Some Camel's Milk

The family may travel for days and find no water.

They would die of thirst unless they carried some water.

Mamma Saidan and Zumetta ride upon another camel.

They sit upon mats and soft cush­ions.

Baby Hassan sleeps in a basket tied to this camel's back.

Black Selim carries his master. The servants and camel-drivers walk.

Zumetta likes this camping-out life.

Zumetta cannot read. She never even saw a book.

But she likes to watch the birds, and she can sing some sweet songs.

She sings as they travel at night, while the stars shine down upon her.

She counts upon her small brown fingers, as they ride past the waving palm-trees. These palm-trees have tops like tufted fans.

She tells little stories to Hassan. She pats the camel and tells him to go faster.

You can read about Zumetta. But Zumetta has never even heard of America.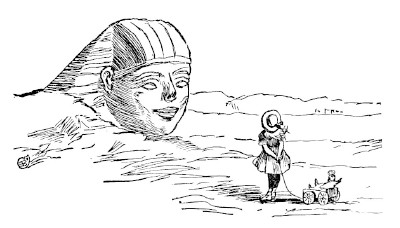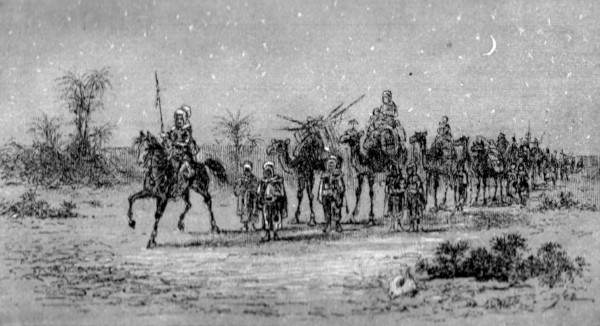 The Arab Family start for a New Home