Thusis on the Hinter Rhine
The Last Hohenrättier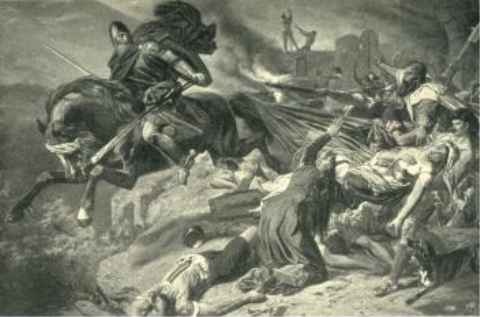 The Last Hohenrättier
Nach dem Gemalde von E. Stuckelberg
The Domleschg valley was formerly the scene of bitter feuds, and is mentioned in the struggle for freedom by the Swiss peasants of the ancient Bund, some five hundred years ago. There stood the castle of the Hohenrättier.
The last descendant of the degenerate race on the high Realt was rightly feared in the whole district. He was the terror of the peaceful inhabitants of the district, and harried not only them but also merchants and pilgrims who passed along the highway below.
The wrath against this unchivalrous wickedness increased mightily. One day this man perpetrated a daring deed of violence.
Whilst on an excursion into the valley he had discovered a charming maid who sought berries in a lonely wood. In his wicked eagerness he dragged the maiden on to his horse and fled. Amusing himself with her lamentations, he carried his booty up the steep castle hill.
A poacher had observed the occurrence and alarmed the inhabitants of the village. They carried the intelligence without delay into the Domleschg.
The oppressed people around then rose and joining together approached the castle that very night. Having felled giant trees they threw a bridge over the moat, cast firebrands into the interior, and stormed into the castle-yard through gaps in the gates and walls.
Then the baron appeared mounted on his war-horse, driven out of his abode by tongues of flame.
Before him he held the captured maiden, and in the light of the conflagration his naked sword glittered in his right hand.
Dealing mighty blows on both sides he forced his horse forward (the eyes of which had been bound), intending to make a way down the hill. But the living wall of peasants was impenetrable.
Quickly making his resolution the knight rushed to the side where the wall of rock fell some seven hundred feet sheer into the youthful Rhine.
The foaming steed stood trembling in front of the yawning abyss. The shout of the multitude echoed into the night. Thousands of arms were instantly stretched towards the river and one of them at the last moment succeeded in snatching his prey from the robber, just as the steed tortured and bleeding from sword and spur hurled itself with a mighty spring into the depths below. So ended the last of the Hohenrätiers.
In the dawn only the smoking ruins of the proud castle remained, and the morning bells announced to the peasants that their long desired freedom had been won.
These ruins are situated on the Hinter Rhine above Thusis, and it is said that the last Hohenrättier, like many others of the former tyrants of the Rittigau, yearly on St. John's Eve (when this event occurred) may be seen riding round the fallen walls of his castle, clad in black armour which emits glowing sparks.
Click

to go to the next section of the Legends of the Rhine