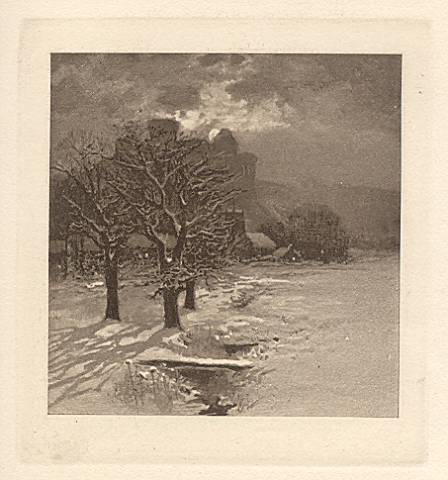 Prelude to Part Second
Down swept the chill wind from the mountain peak,
From the snow five thousand summers old;
On open wold and hill-top bleak
It had gathered all the cold,
And whirled it like sleet on the wanderer's cheek;
It carried a shiver everywhere
From the unleafed boughs and pastures bare;
The little brook heard it and built a roof
'Neath which he could house him, winter-proof;
All night by the white stars' frosty gleams
He groined his arches and matched his beams;
Slender and clear were his crystal spars
As the lashes of light that trim the stars:
He sculptured every summer delight
In his halls and chambers out of sight;
Sometimes his tinkling waters slipt
Down through a frost-leaved forest-crypt,
Long, sparkling aisles of steel-stemmed trees
Bending to counterfeit a breeze;
Sometimes the roof no fretwork knew
But silvery mosses that downward grew;
Sometimes it was carved in sharp relief
With quaint arabesques of ice-fern leaf;
Sometimes it was simply smooth and clear
For the gladness of heaven to shine through, and here
He had caught the nodding bulrush-tops
And hung them thickly with diamond drops,
Which crystal led the beams of moon and sun,
And made a star of every one:
No mortal builder's most rare device
Could match this winter-palace of ice;
'T was as if every image that mirrored lay
In his depths serene through the summer day,
Each fleeting shadow of earth and sky,
Lest the happy model should be lost,
Had been mimicked in fairy masonry
By the elfin builders of the frost.
Within the hall are song and laughter,
The cheeks of Christmas glow red and jolly,
And sprouting is every corbel and rafter
With lightsome green of ivy and holly;
Through the deep gulf of the chimney wide
Wallows the Yule-log's roaring tide;
The broad flame-pennons droop and flap
And belly and tug as a flag in the wind;
Like a locust shrills the imprisoned sap,
Hunted to death in its galleries blind;
And swift little troops of silent sparks,
Now pausing, now scattering away as in fear,
Go threading the soot-forest's tangled darks
Like herds of startled deer.
But the wind without was eager and sharp,
Of Sir Launfal's gray hair it makes a harp,
And rattles and wrings
The icy strings,
Singing, in dreary monotone,
A Christmas carol of its own,
Whose burden still, as he might guess,
Was -- "Shelterless, shelterless, shelterless!"
The voice of the seneschal flared like a torch
As he shouted the wanderer away from the porch,
And he sat in the gateway and saw all night
The great hall-fire, so cheery and bold,
Through the window-slits of the castle old,
Build out its piers of ruddy light
Against the drift of the cold.