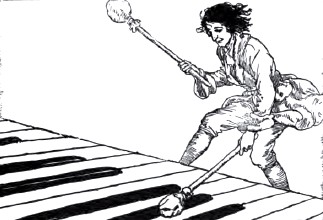 CHAPTER VI

Several contrivances of the Author to please the King and Queen. He shows his skill in music. The King enquires into the state of Europe, which the Author relates to him. The King's observations thereon.

USED to attend the King's levee once or twice a week, and had often seen him under the barber's hand, which indeed was at first very terrible to behold: for the razor was almost twice as long as an ordinary scythe. His Majesty, according to the custom of the country, was only shaved twice a week. I once prevailed on the barber to give me some of the suds or lather, out of which I picked forty or fifty of the strongest stumps of hair. I then took a piece of fine wood, and cut it like the back of a comb, making several holes in it at equal distance with as small a needle as I could get from Glumdalclitch. I fixed in the stumps so artificially, scraping and sloping them with my knife towards the points, that I made a very tolerable comb; which was a seasonable supply, my own being so much broken in the teeth, that it was almost useless: neither did I know any artist in that country so nice and exact, as would undertake to make me another.
The King, who delighted in music, had frequent concerts at court, to which I was sometimes carried, and set in my box on a table to hear them: but the noise was so great, that I could hardly distinguish the tunes. I am confident that all the drums and trumpets of a royal army, beating and sounding together just at your ears, could not equal it. My practice was to have my box removed from the places where the performers sat, as far as I could, then to shut the doors and windows of it, and draw the window curtains; after which I found their music not disagreeable.
I had learned in my youth to play a little upon the spinet. Glumdalclitch kept one in her chamber, and a master attended twice a week to teach her: I call it a spinet, because it somewhat resembled that instrument, and was played upon in the same manner. A fancy came into my head that I would entertain the King and Queen with an English tune upon this instrument. But this appeared extremely difficult: for the spinet was near sixty foot long, each key being almost a foot wide, so that, with my arms extended, I could not reach to above five keys, and to press them down required a good smart stroke with my fist, which would be too great a labour, and to no purpose. The method I contrived was this. I prepared two round sticks about the bigness of common cudgels; they were thicker at one end than the other, and I covered the thicker ends with a piece of a mouse's skin, that by rapping on them I might neither damage the tops of the keys, nor interrupt the sound. Before the spinet a bench was placed, about four foot below the keys, and I was put upon the bench. I ran sideling upon it that way and this, as fast as I could, banging the proper keys with my two sticks, and made a shift to play a jig, to the great satisfaction of both their Majesties: but it was the most violent exercise I ever underwent, and yet I could not strike above sixteen keys, nor, consequently, play the bass and treble together, as other artists do; which was a great disadvantage to my performance.
The King, who, as I before observed, was a prince of excellent understanding, would frequently order that I should be brought in my box, and set upon the table in his closet. He would then command me to bring one of my chairs out of the box, and sit down within three yards distance upon the top of the cabinet, which brought me almost to a level with his face. In this manner I had several conversations with him. I one day took the freedom to tell his Majesty, that the contempt he discovered toward Europe, and the rest of the world, did not seem answerable to those excellent qualities of the mind he was master of. That reason did not extend itself with the bulk of the body: on the contrary, we observed in our country, that the tallest persons were usually least provided with it. That among other animals, bees and ants had the reputation of more industry, art and sagacity, than many of the larger kinds. And that, as inconsiderable as he took me to be, I hoped I might live to do his Majesty some signal service. The King heard me with attention, and began to conceive a much better opinion of me than he had ever before. He desired I would give him as exact an account of the government of England as I possibly could; because, as fond as princes commonly are of their own customs (for so he conjectured of other monarchs, by my former discourses), he should be glad to hear of any thing that might deserve imitation.
Imagine with thyself, courteous reader, how often I then wished for the tongue of Demosthenes or Cicero, that might have enabled me to celebrate the praise of my own dear native country in a style equal to its merits and felicity.
His Majesty, in another audience, was at the pains to recapitulate the sum of all I had spoken; compared the questions he made with the answers I had given; then taking me into his hands, and stroking me gently, delivered himself in these words, which I shall never forget, nor the manner he spoke them in: My little friend Grildrig, you have made a most admirable panegyric upon your country; you have clearly proved that ignorance, idleness, and vice, are the proper ingredients for qualifying a legislator: that laws are best explained, interpreted, and applied by those whose interest and abilities lie in perverting, confounding, and eluding them. I observe among you some lines of an institution, which in its original might have been tolerable but these half erased, and the rest wholly blurred and blotted by corruptions. It doth not appear from all you have said, how any one virtue is required towards the procurement of any one station among you; much less that men are ennobled on account of their virtue, that priests are advanced for their piety or learning, soldiers for their conduct of valour, judges for their integrity, senators for the love of their country, or counsellors for their wisdom. As for yourself (continued the King), who have spent the greatest part of your life in travelling, I am well disposed to hope you may hitherto have escaped many vices of your country. But by what I have gathered from your own relation, and the answers I have with much pains wringed and extorted from you, I cannot but conclude the bulk of your natives to be the most pernicious race of little odious vermin that nature ever suffered to crawl upon the surface of the earth.