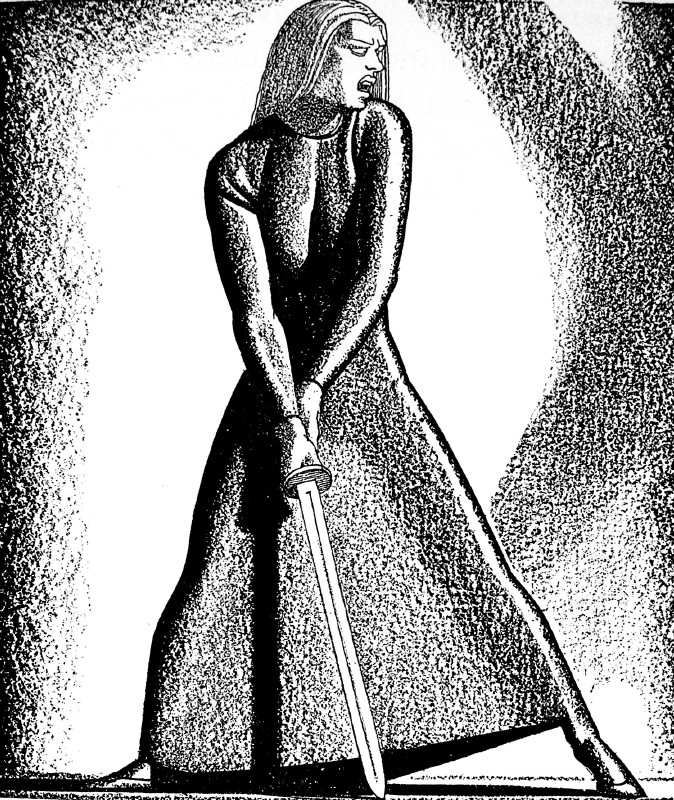 CHAP­TER XI
EYJOLF then fared with eleven men from home southwards to meet Bork
the Fat and told him the great news and all the par­ticulars. Bork rejoiced much to hear it and bade Thor­dis to take well to Eyjolf: "And thou must have loved a great love, thou who lovedst Thorgrim, my brother; use therefore Eyjolf well."
"Weep I could for Gisli, my brother," answered Thordis, "and I shall not welcome his murderer be­yond making and giving him porridge."
In the evening when she was bearing food from the hall, she let the spoon-box fall. Eyjolf had laid the sword which Gisli had owned between the planking-beam and his feet. Thordis recognized the weapon when she stooped down to pick up the spoons, and she suddenly snatched it up by the heft and drove it at Eyjolf intending to run him through the middle. But she did not notice that the guard was turned up, and it caught partly against a plank of the table so that she struck him lower than she had planned. The blow hit him in the thigh and made a great wound.
Bork took hold of Thordis and wrenched the sword from her hands. All the men leaped up and pushed away the food and tables. Bork offered Ey­jolf self-judgment for his hurt, and Eyjolf made it full weregild and said he would have demanded more if Bork had acted worse in the matter.
Thordis named witnesses and declared herself parted from Bork and said she would not from that time forth come into the same bed with him. And she kept her vow. She then went to live at Thordis­stead out on the island of Eyrr, and Bork stayed be­hind at Helgafell until Snorri the Priest drove him away. Then he went to live at Glerarskog. Eyjolf fared home and had only ill from his journey.
The sons of Vestan went to Gest, their kinsman, and urged him that he help them away from Iceland, Gunnhild, their mother; Aud, who had married Gisli; Gudrid, Ingjald's daughter; and Geirmund, her brother. They all fared out to Hvitr with Sigurd the White. Gest paid for their passage with his money. They were but a short while out to sea and came to land north in Norway.
Berg went walking down the street, for he wished to buy for them room for a booth in the market­place. Two men went with him. They met two others, one of whom was dressed in scarlet clothes; a young man he was, great of stature. He asked Berg his name. Berg told him the truth about it and his kin, for he thought that he would go by this, the use of Vestan, his father's name, further than he could by the use of money. But the one who was in the scarlet cloak drew his sword and hewed Berg his deathstroke. That was Ari, Sour's son, the brother of Gisli and Thorkel. Berg's companions went back to the ship and told the tidings.
A skipper helped them to get away and gave Helgi passage to Greenland. Helgi came safely thither and lived to be a man and seemed to be of valiant men the best. Men were sent to take his head, but this was not to be. He lost his life on a fishing trip, and great scathe his loss seemed to be.
Aud and Gunnhild fared to Heidaby in Denmark, where they took the faith. They went south and never came back again.
Geirmund stayed behind in Norway and married and fared well in his manhood.
Gudrid, his sister, was given in marriage to a man. She made a clever wife, and many men were de­scended from her.
Ari, Sour's son, went to Iceland. He came to land at Hvitr and sold his ship. He bought land for him­self at Hamri and lived there several years. There­after he lived many years about the moors. Men have come from him.
Here ends the saga of Gisli, the son of Sour.