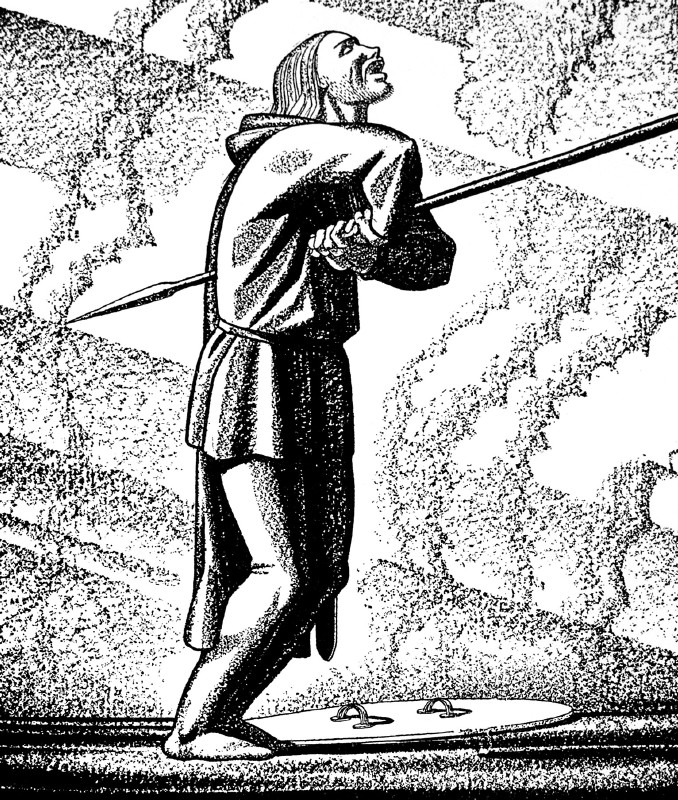 CHAP­TER VI
MEN thereafter went home from the mound. Then Gisli spoke with Thorkel, his brother: "This I think, that thou hast a brother and that now there might be such a friendship as when it had been of the best; and that, therefore, we take up the games again." Thorkel took this well, and each of them went to his home.
Gisli had not a few men with him, but now was broken off the guesting, and Gisli gave good gifts to those he had asked thither.
The funeral ale was drunk after Thorgrim, and Bork gave good and friendly gifts to many men. This is next to tell, that Bork struck a bargain with Thorgrim Nose to the end that he work a spell so that no help such as was given to outlaws should ever come to that man who had killed Thorgrim (even though men might wish to aid him) and so that he might nowhere find rest. An ox, nine years old, was given over for the sorcery.
Thorgrim then recited the spell and made prep­aration according to custom. He put up an incan­tation scaffold and invoked the sorcery with all wick­edness and devilry. A thing happened, too, which seemed to be a strangeness, namely, that the snow never stuck fast to the mound of Thorgrim on the south side, nor did the ground freeze as in other places. And men made this guess, that Thorgrim must have been so beloved of Frey for his sacrificing that Frey did not wish the frost to come between them.
So the winter wore on, and the brothers held their games together.
Bork went there into the house with Thordis and married her. She had not been faring alone as one at the time when this thing happened and gave birth to a man-child. He was sprinkled with water and was first named Thorgrim after his father. Afterwards, when he grew up, it seemed to them that he was gloomy of mind and unruly, and his name was changed, and he was called Snorri.20 Bork lived there the half year, over the winter, and they all held sports together.
There was a woman named Audbjorg who lived in the upper part of the dale at Annmarkastead. She was the sister of Thorgrim Nose. She had had a hus­band who was called Annmarki. Her son was named Thorstan. He was one of the strongest at games, Gisli excepted. Those two were as a rule ever at play, and on opposite sides to Bork and Thorkel.
One day there came a great multitude of men to the play, for many were curious to see the games and to find out who was the strongest, or the best player. And true it was of this as of other places that by the men engaged was there more zeal displayed when more people came to the games to look on.
This is mentioned, that Bork had not prevailed against Thorstan during the day, and at the close Bork grew angry and broke Thorstan's bat in half, whereupon Thorstan felled him and threw him down on the ice. And when Gisli saw that, he said that Thorstan should play as he had strength to do it against Bork "and I shall exchange bats with thee." So they did, and Gisli sat down and fixed the bat. He looked over toward Thorgrim's mound. Snow was on the ground and women were sitting up on the slope, Thordis, his sister, and many others.
Gisli then made a strophe:

I see twigs on the ground showing bare through the thaw
Of the great home of Talgrim,21 the giantess' friend
And Odin's own sword, in battle bright-gleaming.
To him I did scathe. Now, he who made louder
The clashing of spear has from sickness of death
Ample land-choice for home. This helmeted warrior
Rents earth for his rest from a generous man.
Thordis heard the verses immediately. She went home and had by that time understood their mean­ing. The men broke off the games, and Thorstan, likewise, went his way to his own house.
There was a man named Thorgeir. He was called Orri, or Heathcock. He lived at Orristead.
Berg was the name of another man. He was nicknamed Skammfot, or Short-footed. He lived at Skammfotsmeadow, east of the river.
When the men fared home, Thorstan and Berg spoke about the games, and the end was, they quar­reled. Berg favored Bork, but Thorstan held the con­trary. Berg struck Thorstan a blow with the back of an ax, but Thorgeir came between them, and Thorstan got not his revenge.
He went home to his mother, Audbjorg. She bound up his wound and found little to like about his journey and bearing. The old woman could not sleep in the night and went outside, for she was grieved in mind. The weather was a still cold, calm and cloudless. She walked around the house against the course of the sun a certain number of times. Im­mediately the weather began to change, and there came a driving snowstorm, and after that a thaw so that a flood broke down the mountainside and a great snow-slip leaped down upon the house of Berg. Twelve men there came to their death. Traces of that earth-fall are still to be seen to this day.
Thorstan went to visit Gisli, and Gisli gave him shelter. Then Thorstan fared south to Borgarfirth and thence away from Iceland.
Bork journeyed up to Annmarkastead, where he laid hold of Audbjorg and took her out to the island of Saltness and stoned her to death. And after that happened, Gisli set out from home and came to Nef­stead. He laid hold of Thorgrim Nose and brought him to Saltness. A calf's skin was drawn over his head, and he was beaten to death with stones, and earth was heaped upon him near his sister on a ridge between Hawkdale and Medaldale.
All was now quiet, and time ran on toward spring. Bork fared south to Thorsness and had in mind to settle there, for he thought that he had had no hon­orable journey westward to Dyrafirth when he had lost such a man as Thorgrim and received therefrom no satisfaction. He, therefore, set about his journey and made arrangements for his house and stead. He put his plan to work, and intended to make another journey back for his goods and his wife.
Thorkel, Sour's son, also wished to go thither to settle and made ready to accompany Bork, his brother-in-law.
It is further said that, as Thordis, Sour's daugh­ter, led Bork down the path, he said to her, "Now it is my will that thou say to me why thou wast so unhappy at first when we broke off the games, and this thou hast promised to tell me before ever I went from home."
They were now come to the mound of Thor­grim as they spoke. Thordis stopped short and said she was not going farther. She told him also what Gisli had said when he looked at the cairn of Thor­grim, and then she recited the verse to Bork. "And I think," said she, "that thou hast no need to seek elsewhere for Thorgrim's murderer and mightest rightly bring action against him."
With that Bork grew exceeding wroth: "I will turn back at once and kill Gisli. No wish have I now to delay."
Thorkel said he would not agree to that. Said he, "Still do I not know what truth is in that which Thordis has spoken, and it seems to me not unlikely that all this talk amounts to nothing. Often baneful and cruel is the speech of women."
Then they rode the way over the Sandar (Thor­kel had brought him around by his talk) until they came to Sandar-mouth. There they alighted, and rested and put out their horses to graze.
Bork was chary of words, and Thorkel said to him that he wished to visit Onund, his friend. He rode away at once so hard that he soon was out of sight. Then he veered his way out to Hol and told Gisli what had happened, to wit, that Thordis had found a hole in the matter and ransacked the strophe -- "and thou mightest expect this, that the deed has been discovered."
Gisli grew silent, then spoke a strophe:

And vain of her headdress this sister of mine
Has nought of the heart such as Gudrun showed,
Great daughter of Gjuki, who fast and unchanged
Kept her thoughts in her breast, abode of the soul.
This goddess of gold, the flame of the sea,
Let her husband be killed. This Freya bejeweled
Her brother avenged with her unbending will.
"Little do I seem deserving of this from her; and this will I know, brother, what I have to expect from thee on thine own account, now that it is known I did the deed."
"To give thee warning if men wish to kill thee, but I shall give thee nothing at all of other help which might bring trouble to me. It seems to me also that much has been done against me, in that Thorgrim was killed, my brother-in-law, fellow­worker, and trusted friend."
Gisli answered, "Was it not to be expected that, for such a man as Vestan was, there should be sought revenge and retribution? I would in nought make such answer to thee as thou hast now given to me; nor would I act as thou."
Now they parted. Thorkel rode away to meet Bork, and the two journeyed south to Thorsness. Bork made arrangements for his home, and Thor­kel bought land at Bardastrand; the place is called Hvamm.
Then came the days when summoning could law­fully be done, and Bork fared westward with forty men and intended to charge Gisli at Thorsness Thing. Thorkel, Sour's son, was in the company, as well as Thorod and Saka-Stein, sons of Bork's sister. There was also on the journey an Eastman, named Thorgrim. They all rode to the mouth of the San­dar.
At this point Thorkel said, "I have a debt to claim here at a little farmhouse"--and he named it--"and I want to ride thither to get it. Go on ahead slowly."
So Thorkel rode off, and when he had come there where he had said he was going, he bade the woman of the house that she change horses with him and let his own stand before the door,--"and cast wadmal22 over the saddle; and when fellow-farers of mine come here after me, then say thou to them that I am in­side, in the sitting room, counting silver."
Then she got him another horse. He rode fast and came to a wood and met Gisli and told him what was up, that Bork was coming thither from Thors­ness.
Gisli asked his brother's counsel and also what he was bringing with him and whether he would give him any help whatever.
Thorkel answered as before, that he said he would bring news to him if onslaught were to be made against him; and further that he would save himself from the charge of giving aid to an outlaw. Thorkel rode away quickly and so planned it that he came up behind Bork and thereby made delay to their journey.
Gisli forthwith took two sledges and packhorses to the woods with his goods, and with him his thrall, Thord the Faint-hearted. Then said Gisli, "Oft hast thou been, and ever, willing to do my will, and I owe it to thee to reward thee for thy goodness." It was the custom of Gisli that he was always dressed in a black, hooded cloak and well clothed otherwise. He threw the cloak from himself and said, "This cloak will I give to thee, my friend, and it is my wish that thou have the use of it henceforth. Thou shalt wear it and sit on the sledge, the one behind, and I shall lead the sled and be dressed in thy cowled cloak."
They did so.
Then said Gisli, "If it so happen that men call aloud to thee, thou shalt take great heed of this, to answer nary a word; and if any men should wish to do thee harm, then hold thy course to the woods." They exchanged clothes, and Gisli took to lead­ing the horses. Thord had grown into a big man and towered high on the sled. He began now to boast and held and thought himself grandly fitted out.
Bork and the rest saw them as they were going to the woods, and they leaped straightway after them. And when Thord saw that, he jumped from the sled and made for the woods as hard as he could. They thought it was Gisli who was running there, and they rushed after him furiously, and called to him, as they guessed him to be.
But Thord kept still while moving his fastest. Thorgrim the Eastman shot a spear after him, and it hit him between the shoulders so hard that he fell forward from the blow. That was his death-wound. At that Bork yelled out: "Thou shootest of all men the most blessed."
The brothers, Saka-Stein and Thorod, decided by themselves that they would make after the thrall and see whether there was any game in him. So they turned into the woods.
Now is it to tell that Bork and the rest came to the black-cloaked man and snatched the hood of his cloak from him, and there seemed then less good luck in it all than they had thought, for they recog­nized there Thord the Faint-hearted, when they ex­pected to find Gisli.
It is said that the brothers neared the woods as Gisli entered them. He saw them and they, him as well. One of them hurled a spear at him, but Gisli took it in the air and shot it back, and it struck Tho­rod in the middle and plunged through him. Stein thereupon turned back to meet his companions and said it was rather hard going to find one's way through the woods.
Bork, however, wanted to make search there, and so they did. When they came thither, Thorgrim the Eastman saw in one spot how the bushes moved, and he dispatched a spear on a line, and it hit Gisli in the calf. He sent the spear back whence it had come and drove it through Thorgrim, and that was his end. Then they searched about the place but found not Gisli; so they turned back and made for the house at Hol and instituted the suit23 against Gisli for the manslaughter of Thorgrim. They took away thence nothing that belonged to Gisli, and turned back homewards.
Gisli fared to the fell at the rear of his house and bound his wound while Bork and his men were at the farmstead. And when they had gone, Gisli went home and prepared his journey thence. He sold his land to Thorkel Ericson and had his pay therefor in loose money. Thorkel had plenty of it ready at hand.
---
NOTES:
20. The Icelandic word is a verb meaning to change. Snorri is, therefore, `the changed (in disposition or name).' This is the famous Snorri the Priest of Iceland's sagas and history.
21. (a) Although Gisli conceals from most people the name of Thorgrim by the use of Talgrim ('Tal' was an enemy of trolls and giants, as was Thor. Therefore Tal- =Thor-), he reveals himself to Thordis as the slayer of her husband.
(b) Thorgrim he calls the friend of the giantess, i.e., a witch's helper, because he notices the mysterious phenomenon of the thaw.
(c) Odin's sword also refers to Thorgrim, perhaps for his pow­erful thrust in the slaying of Vestan.
22. Coarse, home-spun cloth, often used for money. Thorkel would take his own saddle on the other horse; he would, therefore, wish to hide his own horse's bare back, and naturally by what he had presumably collected in part payment.
23. By reciting a formula in the presence of witnesses at the home of the one being summoned in the suit.