PARKMANS WREN
(Salpinctes obsoletus)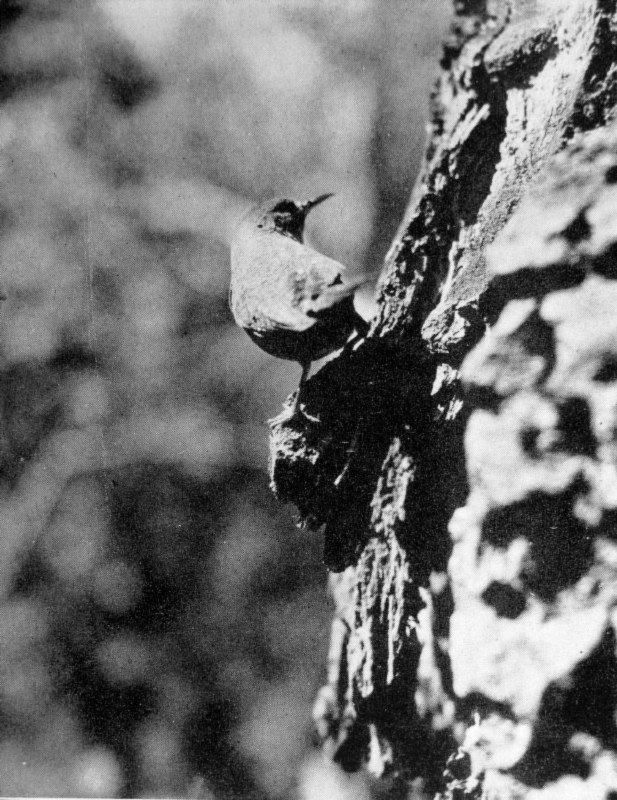 WHEN THE TREE WAS SCRAPED WITH A LONG STICK THE WREN WOULD HOP OUT TO SEE WHAT WAS UP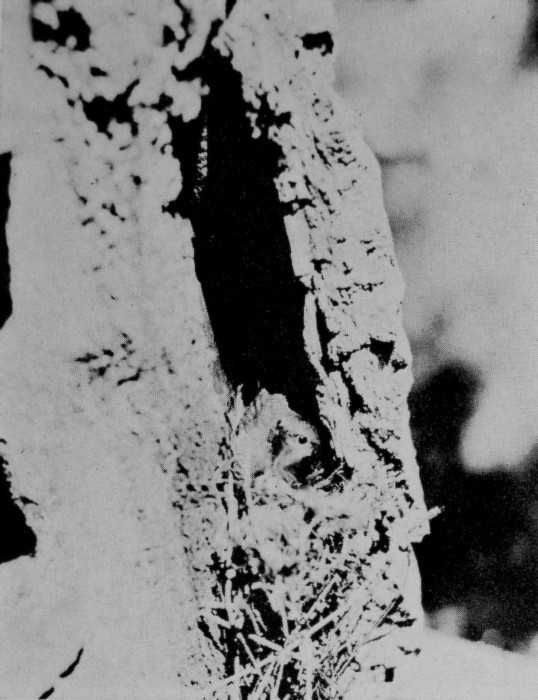 THE BARK REMOVED TO SHOW THE INCUBATING WREN
UP in the Wasatch Mountains of Northern Utah, an interesting little bird, the rock wren, makes its summer home. During one season spent in studying the birds of this region, I was fortunate enough to become well acquainted with this sociable little member of the wren tribe, for which I developed a friendship that gave me much pleasure. I discovered seven or eight of their nests, and my observations of their home life included many instructive glimpses of social relations among the birds that afforded a rare insight, indeed, into bird nature.
The rock wren starts nesting early in June. The nests are frequently located behind the shaggy bark of ash trees, but in some cases the old holes of sapsuckers are selected as nesting sites. Their nests are usually to be detected by a bunch of twigs sticking out from behind the bark, where they are situated. Also, if one passes within four or five feet of the tree the female generally slips out, thus disclosing her secret, if it has not already been revealed by the protruding twigs. The twigs forming the foundation of the nest are as large as one would expect so small a bird to be able to lift. The nest lining is composed largely of hair, feathers, fine grasses, particles of bark, with sometimes a little wool and willow down included. In one instance, I found a piece of cast-off snake skin. The crested fly-catcher has the habit of regularly placing an old snake skin in its nest, but with the rock wren this cannot be a universal trait, as only in a single instance was this material found.
These small wrens courageously undertake a load that, without knowing of their active, business-like nature, one would believe would weigh heavily on them. Their eggs, at least six in number, are white, spotted with brown. The male is in every way an exemplary husband. From a perch nearby he cheers his sitting mate with frequent melodious songs, and occasionally brings food to her. At one wren home where I was a frequent visitor, the male, though according to wren custom he did not take part in incubating, yet felt great responsibility in regard to seeing that the eggs were well cared for. The female quickly grew accustomed to me and the camera, so that with the latter placed two feet from the entrance to her home she would return to her duties without hesitation. Her movements were so active, however, that securing the desired poses of her proved difficult. For this purpose I employed the stratagem of scraping the tree with a long stick, which would cause her to hop out to see what was up, without alarming or driving her away. After having been disturbed a good many times, however, she would grow tired of this game and leave. Almost immediately the male would appear, pouring forth one of his harmonious strains. Before he had repeated it many times, his conscience-stricken mate would usually come hopping submissively back, take a few sly peeps at me, and resume her duties of incubation. Once or twice when her patience was tried to the extreme, causing her to remain absent unusually long, the male became particularly agitated, and attempted to drive his reluctant mate back by darting at her, while continuing at the same time to sing in a beseeching strain. She was not long in obeying, and then with a few final notes of music as if to impress on her the urgency of staying at home, he departed. Any description of a bird's song is unsatisfactory, but it may be mentioned that the song of the rock wren begins somewhat like that of the song sparrow, runs along in a peculiarly sweet strain, with a line or two of chatter occasionally inserted, ending with a drop in the scale, expressive of "I told you so."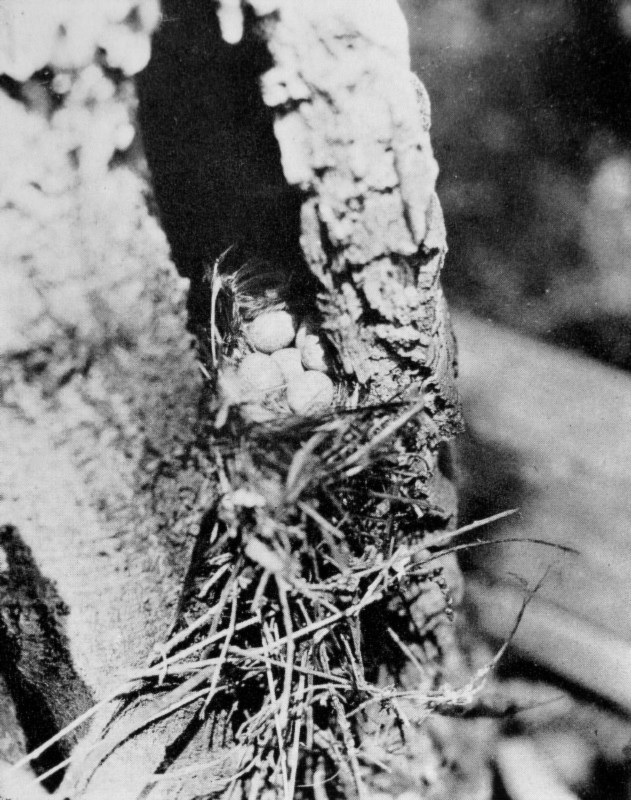 THE NEST OF THE PARKMAN'S WREN WITH ITS COMPLIMENT OF SIX EGGS.
THE NESTS ARE EASILY DISCOVERED BY THE TWIGS STICKING OUT THE NEST
OF THE PARKMAN'S WREN WITH ITS COMPLEMENT OF SIX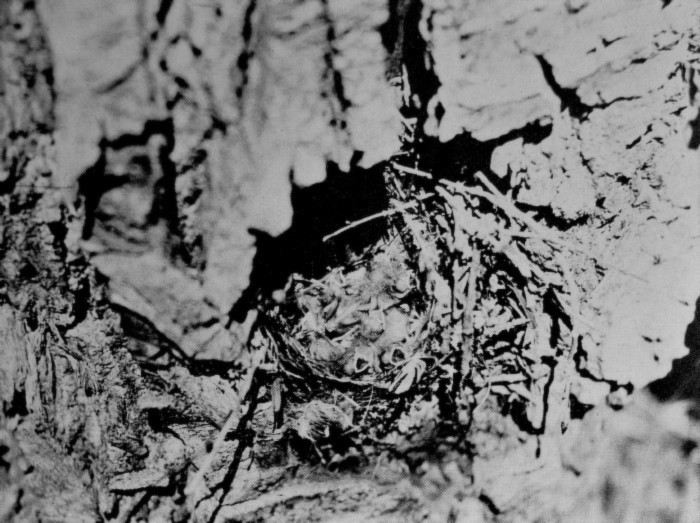 THE YOUNG WRENS SOON AFTER HATCHING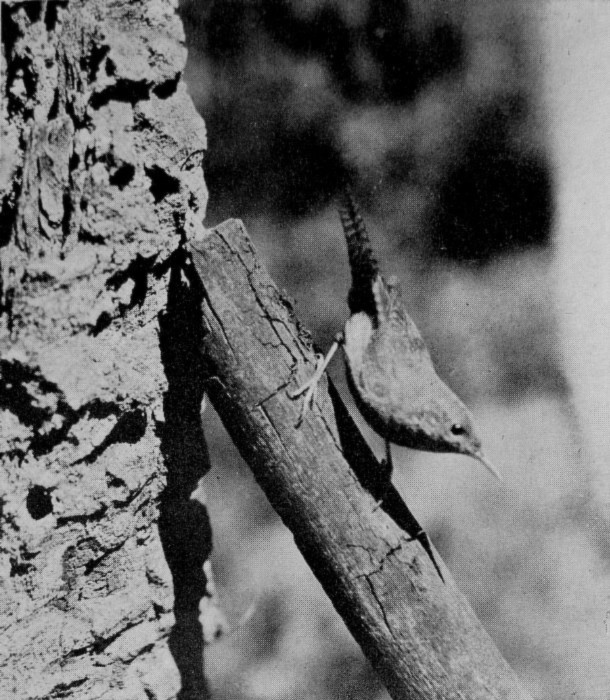 A CHARACTERISTIC POSE OF A PARKMAN'S WREN
When I removed the bark in order to photograph the eggs as well as the sitting bird, she hopped nervously around inspecting the changed aspect of her home, crawling repeatedly behind the slab of bark (which was merely swung to one side), as if expecting to find her nest behind it as before. She plainly could not understand what had happened, and when she finally hopped into her now exposed nest, not finding the situation to her liking, she twisted around so vigorously that she shoved four of the six eggs out onto the ground, two of them breaking. None of the set hatched, probably because I had unfortunately exposed them too long to the sun. The female, urged without doubt by her persistent mate, continued to sit, to my knowledge, for more than three weeks, and was still on the nest the last time I saw her.
While the male above referred to was so conscientious, inspiring such confidence and obedience in his mate, he was more wary than she of the camera. On one occasion, bringing a choice morsel for her, he sat at a distance and sang enticingly, too shy to approach, until she, unable longer to restrain herself, started to go to him; but, changing her mind, she hopped back. Another pair of wrens more cautious than these, would crawl up the opposite side of the tree, peeping out at me from behind it, then inspect several other holes before eventually entering their own.
When the young hatch, the male turns his attention from singing to the more important task of feeding the family. Unless familiar with their visitor, the wrens are very wary of approaching the nest. I found it necessary to conceal myself in the bushes when I wished to observe, without disturbing a certain pair of birds. The female brooded the young almost continually the first two days, the male being busily engaged bringing food. Sticking his head into the nest hole, he handed the supplies over to his mate, and quickly departed, being at great pains to be inconspicuous. Later, both wrens were continually on the go in the effort to satisfy their hungry family of six. In meeting as they passed to and fro, they shook their wings in a comradely way, peculiarly expressive of a. mutual understanding of the important and serious task they had before them. When the young were six or seven days old, they began giving voice to their hunger by peeping vigorously, though not so persistently as young sapsuckers, for they subsided after being fed until another meal was forthcoming.
One nest I knew of was used by the parents for sleeping quarters after the young had flown, for one morning as I passed just before sunrise I saw the pair sitting together in the early dawn in the entrance of their hole, evidently waiting for more light before venturing out. In the fall when the young are well developed, the wrens wander around in small groups. It is truly a treat to have such bright-eyed, lively little visitors come around one's camp, chipping companionably as they flit actively from branch to branch, even though they stop but a few moments in passing. It is during the nesting season, however, that the males indulge in their real powers of song, and once having heard one peal forth his melodies, answered occasionally by appreciative chirps from his mate on the nest, one cannot soon forget this friendly rock wren.