The Country School
by Clifton Johnson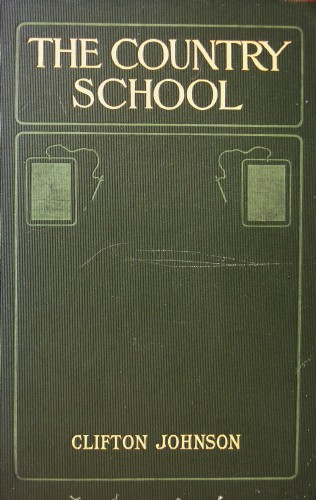 With Illustrations by the Author

New York
THOMAS Y. CROWELL & CO.
Publishers
Copyright 1907,
By THOMAS Y. CROWELL & CO.
Published, September, 1907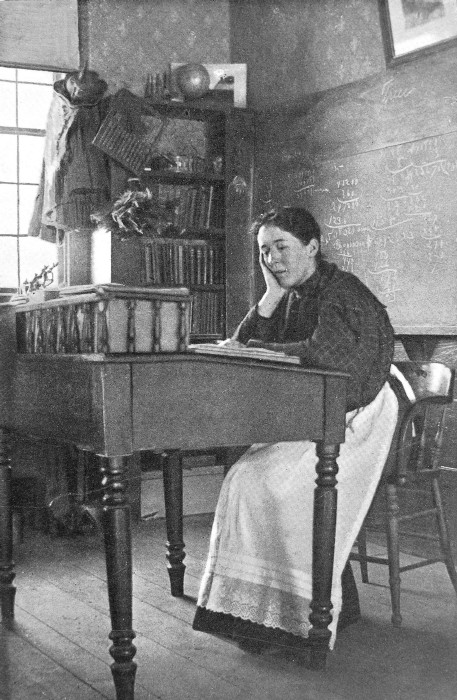 The end of the day.

INTRODUCTORY NOTE
THIS book is in no sense a history of education, but is an attempt to present intimately and clearly the salient features of the schools of the last century in their more picturesque and poetic aspects. I do not deal with theories or ideals or technical details, but portray those things which linger in the memory of whoever has attended such schools. The charm of the old school days never wears off — and it is the charm that dwells in one's remembrance, even if there was some bitter mixed with the sweet. My endeavor has simply been to make this mystic and delectable past alive once more.
The material is not a compilation from other books, but is based entirely on personal experiences, in part my own, but more largely those of friends and acquaint­ances. Some of these friends and acquaintances are no longer living, and the reminiscences of the earlier schools with which they supplied me it would be diffi­cult again to duplicate.
In addition to the descriptions of characteristic schools, I devote a chapter to verbatim compositions and defini­tions which seem to me to have an unconscious humor that is exceedingly attractive. Lastly, there is a chapter containing two schoolhouse dialogues. These were written for the occasions when they were produced, and they have a kind of rude and rustic individuality which made them quite successful, and I think they will prove entertaining to a much larger public.
CLIFTON JOHNSON.
HADLEY, MASSACHUSETTS.


ILLUSTRATIONS
THE END OF THE DAY
SCHOOLGIRLS
A LITTLE RED SCHOOLHOUSE
GETTING THE TEACHER'S HELP IN A HARD PROBLEM
A VISIT FROM THE SCHOOL COMMITTEE-MAN
TELLING GRANDMA ABOUT THE DAY AT SCHOOL
GETTING HIS ARITHMETIC LESSON
STARTING FOR SCHOOL
SNOWBALLING
A DRAWING BY ONE OF THE SCHOOL CHILDREN
LEARNING HER LESSON AT HOME
THE ROAD TO LEARNING
A PLAY-SCHOOL IN THE HAYFIELD
A. RECITATION IN ARITHMETIC
"WRASTLING"
PLANTING FLOWER-SEEDS
THE END OF RECESS
AN EXCUSE FOR BEING LATE
A HOLIDAY-PLAYING AT GYPSIES
THE TEACHER GOING HOME
ON THE WAY TO SCHOOL
AN OLD-TIME SCHOOLGIRL COSTUME
ENJOYING A SATURDAY HOLIDAY
THE SCHOOL AT WORK
PASSING THE WATER
GYMNASTICS
A PRESENT
AFTER SCHOOL
READY FOR SCHOOL
OUT AT LITTLE RECESS
LOITERING ON THE WAY HOME FROM SCHOOL
A PUNISHMENT
THE BOYS OF THE SCHOOL GO FOR A BOAT-RIDE
PLAYING DROP THE HANDKERCHIEF
IN THE MEADOW AT RECESS
A SCHOOLBOY
THE RIVERBEND SCHOOLHOUSE
THE COMMONEST TYPE OF THE COUNTRY SCHOOLHOUSE
SHARPENING HIS SLATE PENCIL
A CLASS IN GEOGRAPHY
GOING TO SCHOOL WITH THE TEACHER
A SCHOOLYARD GAME OF TAG
STARTING THE FIRE
FIRST DAY WAITING FOR THE TEACHER
CUBBYHOUSE DOLLS
A HARD SUM
A DRINK FROM A STREAM ON THE WAY HOME FROM SCHOOL
THE YOUNGEST SCHOLAR
DOING ARITHMETIC EXAMPLES
A NEW ENGLAND ACADEMY
SHARPENING ONE OF THE CHILDREN'S PENCILS
A RAINY-DAY SCHOOL AT HOME
THE CLASS IN THE FIFTH READER
THE GOOD BOY WHO IS ALLOWED TO STUDY OUT OF DOORS
WRITING
THE LOOKING-GLASS IN THE ENTRY
THE SECOND CLASS IN READING
TOMMY'S SHIP
AN ILLUSTRATION BY ONE OF THE LITTLE GIRLS
A HILLSIDE SCHOOLHOUSE
THE PRIMER CLASS
WHEN THE DOOR IS LOCKED
HELPING A LITTLE ONE ON WITH HER THINGS
THE TEACHER GIVES ONE OF THE BOYS A SHAKING (DRAWN BY THE BOY)
OUT CAMPING. A STORY
A SCHOOLBOY
THE SCHOOL ON SKATES
FACSIMILE OF ONE OF THE YOUNGEST SCHOLARS' MANUSCRIPT
THE PERILS OF THE EARLY SETTLERS
THE SCHOOLHOUSE IN FLOOD-TIME
A HAY FIELD
BLACKBOARD DRAWINGS: "A FARMER, HIS LITTLE GIRL AND HIS WIFE"
TRIMMING THE CHRISTMAS TREE
SPEAKING HIS PIECE
SCHOOLROOM DECORATION
A HUNT FOR STOCKINGS
MAKING READY FOR SANTA CLAUS
THE BOYS GO TO BED
CAUGHT
SANTA FACES THE AUDIENCE
GOING TO THE WOODS FOR THE CHRISTMAS TREE
COMFORT BY THE OPEN FIRE
THE CHILDREN SURPRISE THEIR GRANDPAS
COMPANIONS