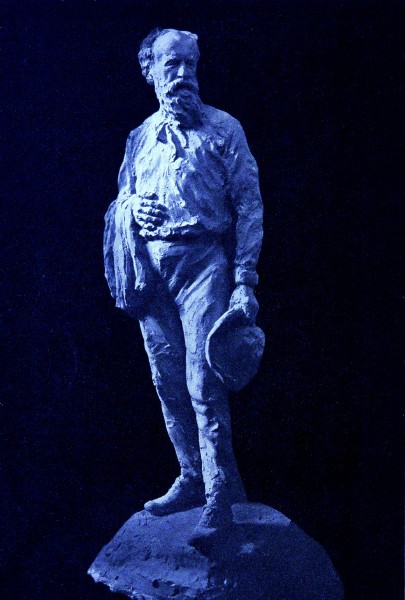 JOHN BURROUGHS
From a statuette by C. S. Pietro



UNDER THE APPLE-TREES



BY
JOHN BURROUGHS

BOSTON AND NEW YORK
HOUGHTON MIFFLIN COMPANY
The Riverside Press, Cambridge

COPYRIGHT, 1916, BY JOHN BURROUGHS
ALL RIGHTS RESERVED

Published May 1916
FIFTH IMPRESSION, APRIL, 1922



PREFACE

I AM quite certain that the majority of my readers would have me always stick to natural history themes. I sympathize with them. I am myself never so well pleased as when I can bring them a fresh bit of natural history, or give them a day with me in the fields and woods or along the murmuring streams. Birds and squirrels come home to us all in a way that speculative ideas do not. While writing my more philosophical dissertations, my mind often turns longingly toward the simple outdoor subjects which have engaged me so many years, and doubtless the mind of my reader does also when he is perusing them. But one cannot always choose at such times. Natural history is a matter of observation; it is a harvest which you gather when and where you find it growing. Birds and squirrels and flowers are not always in season, but philosophy we have always with us. It is a crop which we can grow and reap at all times and in all places, and it has its own value and brings its own satisfaction.

We are all philosophers, we all delight in finding the reason of things and in tracing the relation of things, and to know, for instance, what part chance plays in our lives, and what part is played by rigid law, is a worthy and engaging problem. I do not flatter myself that I can resolve it, or any other similar question, but I find the effort stimulating, and now and then I get a gleam of light.

We live in a wonderful world, and the wonders of the world without us are matched and more than matched by the wonders of the world within us. This interior world has its natural history also, and to observe and record any of its facts and incidents, or trace any of its natural processes, is well worthy of our best moments.

I have given the name of the initial chapter, "Under the Apple-Trees," to the whole collection, because most of the essays were written in my camp under the trees, in the old orchard where I gathered apples as a farm-boy. The wild life about me appealed to my love of natural history, while thoughts and suggestions from beyond the horizon occupied my more philosophical meditations.


JOHN BURROUGHS.